More than 130 executives of the broadcast and satellite industry across the MENA are slated to attend the two-day event starting October 3, 2017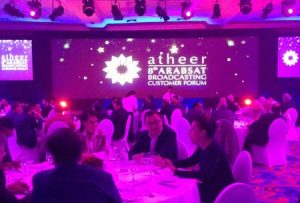 The ninth edition of Arabsat's annual customer forum, Atheer, will take place between October 3-4, 2017, at Salalah, Oman. The two-day event at the Rotana Hotel will offer a series of thought leadership presentations and panel discussions on shared customer experiences in the MENA broadcast industry and the future of satellite broadcasting in the region.
More than 130 delegates attended the eight edition of Atheer that was held in October 2017 in Marrakech, Morocco. In the year since, the MENA-based satellite operator has had an eventful run. From a dedicated frequency for Tunisian channels to broadcasting new MBC channels and more recently France24, the operator has expanded its operations both logistically and content wise. Among the  significant initiatives was the adoption of end-to-end networking services for ground operations and the launch of the DVB-S2 platform, offering critical spectral efficiency towards the expanding operations of Arabsat.
The ninth edition of Atheer, will see panel discussions on the state of broadcasting in the MENA, an overview of current trends in broadcasting technologies, advertising in the MENA and how to converse with the disrupters, among other critical topics. Speakers include CEOs  and senior executives from Arabsat, MBC, Selevision, MyHD, BBC, Newtec, Nielsen and Globecast and other key players in the region.
The BroadcastPro and SatellitePro teams will be in Salalah tweeting and reporting. Follow us  @BroadcastProME.