Based on real cases from the Abu Dhabi Judicial Department, Justice is a legal and family drama set in Abu Dhabi.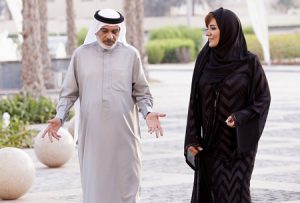 IM Global Television has closed a deal with OSN for the Middle Eastern premiere rights of Qalb Al Adala (Justice), a co-production by Image Nation Abu Dhabi and Beelink Productions.
Oscar nominee, Walter Parkes (He Named Me Malala, Flight), and Emmy Award winning producer, William Finkelstein (L.A. Law, NYPD Blue), are creators of what is touted as the first legal drama from the UAE.
Based on real cases from the Abu Dhabi Judicial Department, who have partnered on the production for authenticity, Justice is a legal and family drama set in Abu Dhabi.
Speaking about the deal, Eli Shibley, President of International Distribution and Co-Productions, IM Global Television said: "This creative partnership between Image Nation, Beelink, Walter, and William is the first of its kind in the region, which sets the bar for local drama and production value in the Middle East. We're proud to be working with this creative team, alongside OSN, to bring the premiere broadcast window of Qalb Al Adala (Justice) to this territory."
Emad Morcos, Chief Content Officer, OSN added: "Regional content is hugely sought after and this recent deal with IM Global Television and Image Nation will see us adding to our premium Arabic entertainment choices."
Ben Ross, Head of Narrative Film and Television at Image Nation Abu Dhabi, added: "Justice is a great example of Image Nation's commitment to the MENA audience, to produce top-class Arabic language entertainment with high production value and storytelling that reflects the experiences and locations of modern day life in the region."
The series focuses on Farah, an ambitious and passionate young lawyer who has just returned home after having attained a law degree in the US. Farah's father is one of the UAE's top lawyers, and has big ambitions for his daughter's career at his prestigious firm. Although she has always looked up to her father, Farah, however, has other plans. She is determined to succeed on her own, and does so while pushing the legal and cultural envelope in the process.
Justice is directed by Ahmed Khaled, and stars Fatima Al Taei, Mansoor Al Feeli, Mohamed Alamiri, and Malak Al Khalidi. While Marc Lorber, Safa Aburizik and Mohammed Mashish serve as executive producers.