In an exclusive interview with Nickhil Jakatdar, founder and CEO of Vuclip, BroadcastPro ME finds out how mobile video on demand is making inroads into emerging markets, and what lies ahead What is Vuclip all about? Vuclip is a mobile video on demand service for emerging markets. Our aim is to bring the world of mobile […]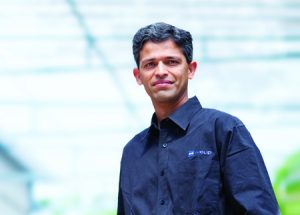 In an exclusive interview with Nickhil Jakatdar, founder and CEO of Vuclip, BroadcastPro ME finds out how mobile video on demand is making inroads into emerging markets, and what lies ahead
What is Vuclip all about?
Vuclip is a mobile video on demand service for emerging markets. Our aim is to bring the world of mobile video to markets, where most people access the internet using their mobile phones rather than a PC. In emerging countries, 90% of mobile subscribers use their devices exclusively for making phone calls.
We work with mobile operators and content owners on the ground in Asia, the Middle East and Africa to provide a simple, affordable experience for people who have started exploring the internet using their phones but who have very little money to spare. Vuclip works with more than 200 studios around the world to bring our viewers access to blockbuster Hollywood and regional movies, TV shows and music videos in 25 different languages, including Arabic.
How long have you been operating in the Middle East?
We began operations in the Middle East and Africa in 2013 with the establishment of our office in the UAE. Since then, we have actively grown our partner and subscriber base, and are working towards expanding to other key markets in the region.
What's the potential for mobile VOD in this market?
The Middle East continues to witness heavy smartphone penetration, with the latest figures from IDC indicating smartphone penetration in the UAE at 75.5% and Saudi Arabia at 73.5%. These markets are home to what we call the Experience Generation — the young, savvy, always-connected individuals on the move. This segment of the population has increasing purchasing power and is hooked onto their mobile devices. For them, mobile is the natural one-stop destination for all entertainment, communication and social networking needs.
According to a recent Vuclip Global Video Insights study, mobile is becoming the first and preferred screen. 66% of Middle East respondents preferred mobile devices as their primary method for watching their favourite movies, music videos and TV shows.
We hear you recently partnered with Melody Entertainment?
That's right. Vuclip aims to offer our subscriber base in the region access to popular premium content across a variety of mobile platforms. Through this partnership, our subscriber base in the region can enjoy the latest Arabic content from Melody Entertainment, including long-form movies in addition to music videos, movie scenes and the famous comedy sketches of Melody Tatahada Al Malal.
Is a partnership with regional carriers essential to your business?
Yes, of course. The Middle East has migrated to smartphones faster than India. Because of this, we've found quick adoption of our apps. Our growth in the emerging markets is, in part, due to the ambitious mobile infrastructure and mobile penetration in the region. We work with mobile operators to provide consumers with an affordable subscription model.
What are the challenges in delivering an unhindered viewing experience on mobile devices?
Our aim is to deliver a video experience to consumers viewing any content on any device and on any network. Critical to this mission is the promise of no buffering when consumers view mobile video.
Even with the introduction of 4G, the problem of buffering has not gone away. Increasingly today, consumers are adopting smartphones with higher resolution screens and they want to view HD-quality videos. Sure, bigger pipes are being built, but those are already being filled with more data. While networks will get better, so will the quality and resolution of the smartphones, from 720p to 1080p to HD and 4K. Add to this the fact that we have a huge number of consumers still to get on to data, the sheer volume of data is growing several orders of magnitude faster than the pace of investments and growth in infrastructure. This creates a much more acute challenge for operators, consumers and everyone in the mobile ecosystem.
Our Dynamic Adaptive Transcoding technology enables the simultaneous transcoding or optimisation of the content to each specific device and dynamically adapts the video stream to the constantly varying bandwidth of carrier and Wi-Fi networks. Video loading times and frequent buffering often exasperate consumers. Dynamic Adaptive Transcoding combats this frustration offering a quality experience across device and network types.
With so much free content online, what could potentially draw viewers to paid content like yours?
We have learnt that consumers don't mind paying for quality content offered at a fair price, and they are even more willing when the payment method is simple and convenient. We find that offering consumers a combination of free and paid-for content also works well, because they get a taste of the experience without an initial investment.
For consumers, we offer a balance between price, selection and quality. For content providers, we help them expand their audience to reach out to the surging numbers of mobile phone users across the world; and for mobile operators, we help them monetise their user base by upselling fresh, personalised content to data subscribers, thereby increasing their average revenue per user (ARPU). We also keep bandwidth usage within acceptable limits by reducing the size of videos while still maintaining quality. This helps consumers make the most of their data plans.
How do you ensure that the content you provide is secure?
One of the biggest challenges is piracy. But as I mentioned before, we have found that when presented with high-quality premium content, an excellent viewing experience and a way to easily pay an affordable, fair price, consumers do the right thing.
How will your partnership with Verimatrix improve your operations?
The partnership between Vuclip and Verimatrix provides ironclad security for the premium content of top studios. Specifically, Vuclip has integrated the Verimatrix
Video Content Authority System (VCAS) platform with its Vuclip Prime subscription mobile VOD service. Deployed to support a subscription-based model, VCAS provides a complete digital video security solution for over-the-top (OTT) services over networks implementing HTTP Live Streaming (HLS).
Featuring multi-format support, VCAS for video secures OTT services to multiple screens and across multiple network types. The integrated solution will be rolled out to India, the Middle East and Southeast Asia.
What kind of content works on a mobile? How is it different from, say, a tablet or a smart TV?
Our recent GVI (Global Video Insight) study revealed that only 14% of 1300 respondents preferred their televisions to consume video content.
The study also reported that shows like Arab Idol, Desert Force, Driven and Al Hokm continued to dominate the search and download charts. The Middle East also saw a spike in Tagalog music and TV entertainment, and celebrity gossip remained high on the agenda with popular searches around celebrities We are seeing a surge in interest in longer-form content these days.
What's the rate of success for a business model such as this?
If you look at most mobile operators, they used to make a lot of money out of voice calls, and as more and more competition picked up and more and more players came into the market,
voice charges started going down because of the intense competition. Since that has happened, the biggest thing for these carriers in terms of growth is data. Now, the focus has moved from voice to data. Unless they can differentiate on data – how one carrier is going to win against the other – the debate will continue.
Operators have to make the quality of their network better, provide data at a cheaper rate and so on. There has to be a solution that works best for consumers as well as carriers.
If the carriers don't make money, they won't invest in fielding better networks; at the same time, if the consumers feel like they have been cheated and they have to pay for every megabyte they use, they will stop using data, which will impact the carrier's revenues.
In order to expand our reach in the mass market, it is crucial to involve carrier billing offering service to viewers across the lowest economic strata to the highest.