Available in four standard sizes ranging from 110" to 220", Absenicon can also be a multi-screen display.
LED display manufacturer Absen has announced a new screen called Absenicon, a video wall product designed to cater to any event room, especially meetings and presentations.
Absenicon has been designed to suit all known spaces such as training rooms, board rooms, lecture halls, auditoriums in corporate, government, higher education, schools, hospitals, banks and the other indoor environments that require a reliable fixed display solution for effective communication.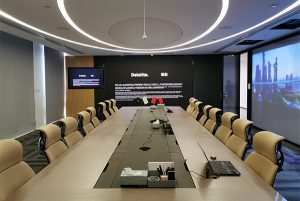 The screen allows for open and bright meeting space with promising adjustable brightness levels from 0 to 350nits, enabling users to choose the right brightness to adapt to different environments whether dark or bright.
Besides high brightness, LED also boasts high image quality and the ability to create large-size seamless video walls. Absenicon features a colour gamut of 110% and a contrast ratio of 4000:1, promising exceptional images with more accurate and richer colours.
The LED display aims to provide completely bezel-free display and eliminates the distracting dark lines associated with LCD video wall technology. In addition, the 160° ultra-wide viewing angle looks to enable meeting members within the space to receive complete presentation content.
Absenicon can be installed by two engineers in four hours or less, with four installation methods available, including wall-mounting, hanging, mobile and floor-to-wall installations. End users can share their computer or mobile screen via either Wi-Fi or Bluetooth.