ATEM Mini Pro is available from Blackmagic Design resellers for $595, while the Blackmagic Camera Update 6.9 and HyperDeck Studio Mini v7.1 are available for download from the Blackmagic Design web site.
Blackmagic Design has announced its latest developments in live production and camera software such as the ATEM Mini Pro, Blackmagic Camera Update 6.9 and HyperDeck Studio Mini v7.1.
ATEM Mini Pro, a new low-cost live production switcher has all the features of ATEM Mini but now with extra features for recording, streaming and monitoring. ATEM Mini Pro includes a new hardware streaming engine to allow direct streaming via its Ethernet connection to YouTube Live, Facebook and Twitch.
There is also support for recording the stream direct to USB flash disks in H.264, plus support for recording to multiple disks for continuous recording. The new model also includes a multiview on the HDMI video output that allows all inputs to be monitored on a single monitor, as well as the live status of recording, streaming and the audio mixer.
The Blackmagic Pocket Cinema Camera 4K and 6K models include powerful studio camera features. Now, users can connect to an ATEM Mini switcher and get control of the camera parameters, lens and tally light. ATEM Mini can control up to four cameras via the HDMI video connection and ensure all cameras are perfectly matched for a professional live studio workflow.
Video and control are via the HDMI connection, which is available as soon as customers plug the cameras in. The record light becomes a tally light so customers can see which camera is on air.
The ATEM Software Control camera page has a camera control unit (CCU) style interface for adjusting and matching their cameras. Move the CCU control vertically for iris and left to right to adjust the black level. It's the same as a broadcast CCU. There are also controls for colour tint to balance the camera as well as focus, gain and shutter speed. Customers can even ISO record Blackmagic RAW in the camera for editing later.
With the updates, the same Blackmagic Pocket Cinema Camera can work as a digital film camera and a studio camera. Blackmagic Camera Update 6.9 is available for download now from the Blackmagic Design web site.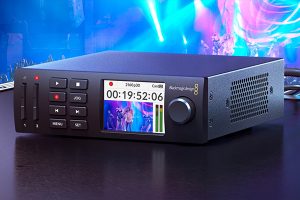 The new HyperDeck v7.1 software update adds multiple new features to HyperDeck Studio Mini broadcast recorders. The new updates include a new H.264 codec that supports true interlaced HD formats, a new AAC audio codec allowing uploading files direct to YouTube, much faster Ethernet transfers of 110 MB/s and support for longer duration in a single file of at least 3 hours.
HyperDeck Studio Mini is a miniaturized broadcast deck that's so compact and portable customers can use it anywhere. Customers get a choice of incredible quality H.264, ProRes or DNx codecs recorded to SD or UHS-II card media in either QuickTime or MXF file formats. HyperDeck Studio Mini has features such as 6G-SDI for all formats up to 2160p30, HDMI for monitoring, dual SD card slots for non-stop recording and built-in sync generator that lets customers daisy chain and synchronise multiple decks together.
HyperDeck Studio Mini v7.1 is available for download now from the Blackmagic Design website. HyperDeck Studio Mini features traditional deck style transport controls, including a small search dial for jog and shuttle. The compact LCD shows timecode and transport information, plus a full-colour thumbnail preview of the current clip in record or playback. It also displays information about each card's recording status, along with video format, frame rate information and audio levels, all on the same display.