The new equipment includes new Switchers and Routers as well as a range of FT-ONE variable frame rate cameras.
Broadcast and production products manufacturer FOR-A Corporation of America has announced new equipment for live production workflows.
Among its offerings are the new MFR-4100 and MFR-6100 12G/6G/3G/HD/ASI routing switchers, as well as the HVS-6000 Series of HANABI video switchers, which support HD and 4K production. Built to support 12G-SDI infrastructures, the MFR-6100 provides single-cable transfer of 4K video for less complex cabling. Users can add up to 16 input and 16 output cards (nine channels per card) to configure a matrix up to 144×144 in a 13 RU frame. For smaller installations, the MFR-4100 routing switcher supports up to 72×72 I/O in a 7 RU frame. 
While conventional 3G-SDI routing switchers require four cross-points to distribute 4K video, the MFR-4100 and MFR-6100 support 12G-SDI cabling that carries 4K content over a single crosspoint. Even in an 8K (quad link 12G-SDI) environment, the MFR-6100 configures a matrix up to 36×36 and the MFR-4100 configures a matrix up to 18×18. The routing switchers automatically determine the type of SDI input. Both models feature multi-format I/O support, SNMP monitoring support, multiple redundancy options including CPU and power supply, and a built-in web server that allows GUI-based configuration.
The HVS-6000 Series of video switchers includes two models. Housed in a 12 RU enclosure, the HVS-6000 is a 2 M/E switcher (expandable to 3 M/E) with standard 24 I/O that is expandable to up to 80 inputs/32 outputs or 64/48. For mobile video production and smaller control rooms, the HVS-6000M is a 2 M/E switcher with standard 24 I/O that is expandable to 32 inputs in a 7 RU enclosure. The HVS-6000 offers four keyers per M/E, while the HVS-6000M includes four keyers per M/E. All I/O support 12G-SDI.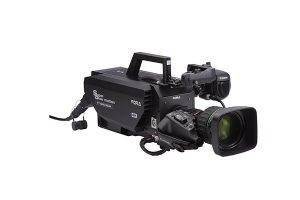 The company has also announced a range of FT-ONE variable frame rate cameras for sports coverage to deliver the action in super slow motion. The cameras now allow playback of 4K video at up to 1,000 frames per second for live broadcast applications.
One of the key features of the FT-ONE-SS4K is "brightness". When equipped with a B4 bayonet lens, the camera shoots footage up to four times brighter than models with a PL lens. Plus, the FT-ONE-SS4K shoots up to 1,000 fps in 4K, offers simultaneous record and playback with internal memory, and features independent real-time 4K or HD output. Other features include 24-axis colour correction and compatibility with Canon's OLED viewfinder.
The camera can also be used with FOR-A's ZE-ONE 4K zoom extractor, which can frame and extract specified HD scenes from 4K sources using an intuitive touch-screen interface. The ZE-ONE promises to track specified objects, such as a player, automatically in real time for extraction, and also allows simulated zoom, crop, and camera motion with slo-mo replays.
Commenting on the Switchers, Ken Truong, President of FOR-A Corporation of America, said: "For live event production and broadcasters, 12G offers increased bandwidth for uncompressed 4K/60p/59.94p/50p video over a single SDI cable. That single SDI cable means reduced weight and wiring for mobile production units and easier troubleshooting for engineers. FOR-A offers a number of switchers, routers, and other products to help video professionals take advantage of 12G-SDI technology."
On the FT-ONE-SSK camera, Troung explained: "Sports continue to be a driving factor in the need for high frame rate cameras, and nobody delivers instant replays like FOR-A. Our FT-ONE special purpose cameras are designed for super-slo-mo 4K acquisition of sports and other live event footage, and can be combined with other FOR-A tools to deliver unprecedented replay flexibility."