FUJIFILM Corporation is adding three new models to its UA series of 4K broadcast lenses.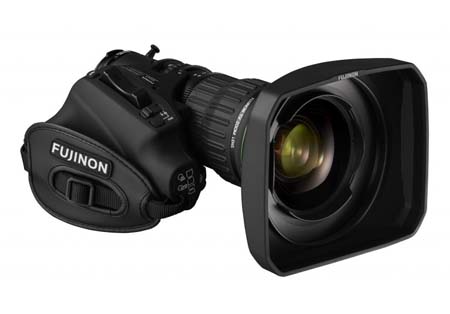 FUJIFILM Corporation is adding three new models to its UA series of 4K broadcast lenses. The compact and lightweight portable zoom lenses, FUJINON UA18x5.5 and FUJINON UA14x4.5, will be released in late April, 2017, while the 27x studio zoom lens, FUJINON UA27x6.5, is scheduled for release in late June, 2017.
The UA18x5.5 covers the focal lengths of 5.5mm –100mm to capture a wide range of scenes. The UA14x4.5 is an ultra wide angle lens covering the focal lengths of 4.5mm-63mm. The UA27x6.5 is a 27x zoom lens that covers the focal lengths of 6.5mm –180mm for versatility.
The addition of the latest three models expands Fujifilm's 4K broadcast lens line-up to seven models in total, catering to the growing global needs for 4K video production.
The demand of 4K-compatible broadcast equipment is spreading rapidly in Japan, Europe, North America, for live broadcast of sporting events such as soccer and golf tournaments, as well as the production of dramas, documentaries and other genres of programmes, produced both in studio and outdoors.
Fujifilm released the world's first 4K-compatible broadcast lens in 2015, and already offers four broadcast lens models worldwide in response to the expansion of the 4K broadcast market. The company's lenses are used in a wide range of applications in recognition of their premium image quality and superior operability.
The new UA18x5.5, UA14x4.5 and UA27x6.5 broadcast zoom lenses deliver 4K quality across their zoom ranges by preventing resolution degradation around the edges and controlling all types of aberrations.
The UA18x5.5 and UA14x4.5 are portable lenses with compact and lightweight bodies for advanced mobility. With the recent market introduction of compact and lightweight 4K camcorders, these lenses will cater to the needs of an increasing number of videographers who shoot while carrying 4K equipment on their shoulder. The UA18x5.5 weighs 2.04kg and covers focal lengths from 5.5mm on the wide angle end to 100mm on the telephoto end, making it useful for production situations that require added mobility such as news reporting and on-location production.
The UA14x4.5 covers the ultra wide angle focal length of 4.5mm despite its compact body, measuring just 238.5mm, allowing you to go up close and personal during live sport coverage or on-location production with a real sense of depth.
The UA27x6.5 is a 4K-compatible 27x zoom lens, suitable for in-studio applications for news and variety shows. With the wide-angle focal length of 6.5mm, it can also be used to give a full view of a concert venue in live coverage. The UA27x6.5 has a built-in extender, which doubles its focal lengths, covering up to 360mm in focal length while maintaining image quality in advanced definition.
These three models will be on display at NAB 2017.