Ikegami will debut new 4K and 8K technology and exhibit an advanced range of systems at CABSAT 2017.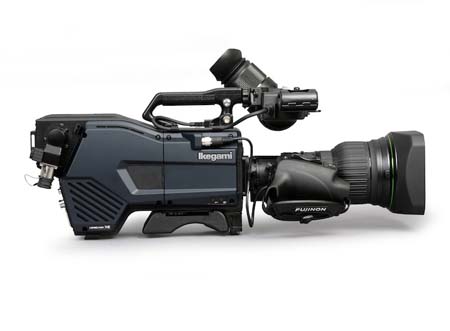 Ikegami will debut new 4K and 8K technology and exhibit an advanced range of systems at CABSAT 2017.
Ikegami's UHK-430 portable broadcast camera will be in the spotlight at the show. The newest addition to Ikegami's range of cameras, incorporates three newly developed 4K-native 2/3 inch 8 megapixel CMOS sensors, delivering four times more image detail than high definition, boasting a colour depth of 10 bits per pixel.
At the heart of the UHK-430 is Ikegami's fifth generation high-speed video processing engine, the AXII, reducing power consumption and delivering a wide range of features. The AXII also provides the processing for Ikegami's newly developed transfer characteristic, which delivers high contrast for a wider dynamic range (HDR).
CABSAT also marks the first showing of Ikegami's HQLM-3120W 31-inch 4K UHD LCD monitor with 12G-SDI input, and the new HDK-97A2 16-bit full digital 3G progressive-scan dockable HDTV camera system. Featuring a 2/3-inch 3CCD 2.3 megapixel progressive sensor, newly developed "AXII" 38-bit FPGA digital signal processor, and 16 axes of colour correction. Technology prototypes including an extension adaptor for the UHK-430; an12G-SDI output option for CCU-430 will also be demonstrated.
Ikegami's 8K ultra high-definition television (UHDTV) camera will also be on display. The 2/3" portable 8K camera utilises standard SMPTE hybrid camera cable between head and CCU with available portable and studio viewfinders. Additionally, the standard B4 mount makes lens selection much easier.
Also on show will be Ikegami's BS-98, the new half rack size base station. Providing rack-mountable fibre transmission units for UnicamHD series cameras, high quality 4K ultra HD and 3G /HD-SDI output are supplied simultaneously when connected with a UnicamHD camera, such as the UHK-430. The BS-98 is equipped with a built-in 4K SR CONV video processor to provide a high quality 4K (3840 x 2160) live output, allowing not only upscaling from HD signal but also Super Resolution with image enhancement in the Ultra HD band, a new technology to reconstruct high resolution signals that is not possible in conventional HD processing.
Demonstrations of the PF-531A ultra low-latency HD/SD digital microwave link will also take place. The PF-531A is the latest high performance microwave link system from Ikegami based on the ARIB standard, employing OFDM & QAM modulation. The PF-531A is suitable for various applications, such as ENG and sports coverage, and point-to-point applications.
In addition, the RF head units achieve IPX level-4 for weatherproof and realise a semi-sealed structure. As a result, the PF-531A is engineered to operate in tropical weather conditions such as hot and high humidity environment or strong windy accompanied by rain showers and wind storms which is common in the Middle East region.
A series of Ikegami's reference monitors, all built for television production studios, post production suites, master control rooms and playout centres, will also feature on the stand.