Adobe introduced the successor to its Creative Suite recently – the Adobe Creative Cloud solution. Adobe expert Renji Mathews brings you the lowdown on the new entrant  A moment of silence for the Adobe Creative Suite please…thank you! And now, meet its successor, Adobe Creative Cloud. It has been completely reinvented to support a more […]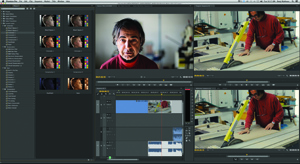 Adobe introduced the successor to its Creative Suite recently – the Adobe Creative Cloud solution. Adobe expert Renji Mathews brings you the lowdown on the new entrant 
A moment of silence for the Adobe Creative Suite please…thank you! And now, meet its successor, Adobe Creative Cloud. It has been completely reinvented to support a more intuitive and connected way of creating, whilst retaining all the creative applications. Although Creative Cloud's subscription-based model has generated a lot of controversy, we won't be talking about that here. Instead, this article will review of two of the thoroughbreds in Adobe's post-production stable.
At the heart of Adobe Creative Cloud's video/post tools is Adobe Premiere Pro CC that comes with a ton of new features. The latest iteration enables users to sync all their settings, workspaces, preferences and keyboard shortcuts securely to the cloud, deploying them on edit bays anywhere in the world by just logging in with the same account. It also sports a redesigned timeline displaying critical information to the editor at a glance. Duplicate frame indicators ensure that media is never accidentally reused through edit indicators make simple edit tasks easier than ever. Clear effects badges on the clips give easy access to effects and parameters directly from the timeline.
Commonly used tasks like nudging clips up and down across different tracks now have keyboard shortcuts. The much requested paste attributes functionality lets you copy only the desired audio/video effects from one clip to another. You can also copy and paste ranges of clips in the timeline now. Multicam editing has also received a total revamp in the new suite. It's a relief to see intelligent syncing based on the audio tracks, a welcome feature if you are using DSLR footage that does not support time-code. Media management gets a boost with the new Link & Locate feature – quickly track down media files and backups saved on multiple drives.
Another great addition is the Lumetri Deep Colour Engine, (the brains of Speedgrade, Adobe's colour grading software) that allows for selection from a rich palette of high-quality pre-built looks using the built-in looks browser. Add looks as easily as adding a dissolve! The only drawback is that these preset looks are not editable, nor can you create your own without the Speedgrade software. You can also import LUTs from other systems. Edit and mix audio with precision using the new Audio Clip Mixer.
Fine-tune audio with the TC Electronic Radar Loudness meter, and access effects plug-ins like VST3 and Audio units (limited to Mac OS only). This version also adds brand new capabilities for importing and manipulating closed captions, allowing you to import, view, edit, adjust positioning and layout, and export media with closed captions — either embedded or as separate files.
Premiere Pro now integrates with Adobe Anywhere for video, which is a modern, collaborative workflow platform that empowers users of Adobe professional video solutions to work together, using centralised media across any network. The team members can work with files on a shared server, make and review edits without downloading the media files and eliminate geographic boundaries.
Premiere Pro also takes full advantage of computers with multiple GPU cards for significantly accelerated export times. The application is updated with HiDPI support for enhanced viewing on screens like Apple's retina display. Yet another addition is the smoother workflow when importing or exporting Avid or Final Cut Pro projects. AAF import is more accurate and the big news is that Avid and MXF-wrapped DNxHD media works natively with Premiere Pro. You can extend the power of Adobe Premiere Pro using the integration with Adobe Story, a scriptwriting tool and the Adobe Exchange panel, a convenient way to browse, install and find support for free and paid add-ons.
Adobe After Effects CC
Adobe recently announced its partnership with Maxon, the creator of Cinema 4D, one of the best 3D apps in the market. Cinema 4D plays well with After Effects and has always been the 3D app of choice for several motion graphic artists around the world. Adobe has taken this integration to a new level with the new live 3D pipeline. Entire projects from Cinema 4D can now be imported into After Effects CC as if they were footage items without the need for pre-rendering. Once placed in a composition, their pixels are rendered on the fly as you jump between frames. You can also extract scene data from project files, including the position of lights and cameras, and add new camera moves with a camera you create in After Effects. Access individual layers from the original Cinema 4D file and multi-pass render components such as only highlights or shadows.
I honestly don't think this pipeline is ready for real-world production just yet because the integrated rendering is pretty slow, even on a hefty system. It's great for a quick 3D logo or text animation, but I wouldn't use it for anything more at this point in time.
On the VFX front, Adobe's Rotobrush has been greatly enhanced with the addition of the new Refine Edge tool. After you have created a basic Matte with Rotobrush, Refine Edge then detects the partially transparent areas where you brush along the Matte edge, revealing fine details such as strands of hair, as well as motion-blurred or out of focus areas. If you've ever tried to mask or key hair before, you will understand how tricky this is and how significant this new tool is going to be to your workflow.
A separate Refine Soft Matte effect has been added, enabling you to recover more detail from images that you have already cut out or keyed. The greatly enhanced Warp Stabilizer, rechristened Warp Stabilizer VFX, is yet another amazing tool. It's like having a small Mocha AE inside After Effects. You can now reveal the underlying tracking points the Warp Stabilizer creates when analysing your footage, and delete undesired ones to make sure it doesn't try to stabilise the wrong feature. You can also now reverse the stabilisation, which allows you to add effects that track the original movement in the footage as well as composite other layers over the shot and have them follow the movement inside that footage. The dramatically improved 3D camera tracker now includes the ability to set ground plane and origin point. It works faster, better, more reliably and even makes it easier to exchange information (like ground plane and origin) with other 3D applications.
In addition to these major features, there are other important ones such as bicubic resampling, which provides better results whether you're scaling a layer up or down. The new Pixel Motion Blur (I've waited a long time for this) can add or enhance motion blur for moving objects in live footage and rendered scenes. This effect adds realism, exaggerates movement, matches shots, and makes stutter or strobing footage easier to watch. It is especially useful when compositing CG elements into live action footage.
A greatly enhanced find command takes you directly to the compositions and layers that have missing fonts or effects, saving you a lot of time. I love the seemingly simple additions to the programme such as layer snapping, which addresses After Effects' earlier limited ability to snap layers around. It's going to make arranging layers, and in particular, building 3D objects in After Effects CC, simpler.
I was disappointed that there is no direct support for Arabic in Premiere Pro and After Effects. The best alternative workflow is the tried and tested method of importing Arabic material created in Photoshop or Illustrator. Arabic language support is available for Photoshop, Illustrator, Dreamweaver and InDesign in the Creative Cloud suite.
So, the question remains, is the upgrade to Adobe Creative Cloud worth it? Or more importantly, are you ready or willing to buy into Adobe's subscription model? While Adobe has not done anything drastic with the subscription implementation since launch, it has fulfilled the promise of releasing significant and useful updates for the software much faster and with more features.
I saw more than 175 new features being added across the CC suite in separate updates, as I was writing this article. I consider myself software agnostic, being equally at home with rival products from Apple and Avid. But what I like the most about the Adobe suite is the unparalleled workflow that its dynamic linking capability offers. I love the fact that I can move effortlessly from Premiere Pro to After Effects or Photoshop or Audition or all of them, without dealing with import/export hurdles. This functionality alone, to me, is worth staying with Adobe. Add to that a plethora of tools that Creative Cloud offers, and you have a software that offers you the best in post production.
In Brief
How Adobe Creative Cloud Subscription works
• Buy a single app or the entire suite with a monthly plan.
• Install and run all the apps from your hard drive; you do not run any app from a browser.
• You are required to be online when you install and license your apps. For annual memberships, connect to the web at least once a month to validate your licence.
• Install your apps on two computers – can be a combination of Mac and Windows computers.
• Get 20GB of cloud storage for saving settings & preferences; file sharing and collaboration.
Pros & Cons
Pros
Premiere Pro:
• Improved File handling and relinking of media; better media browser and timeline, audio syncing for multicam; Lumetri deep colour engine with preset looks.
After Effects
• 3D Live pipeline; free copy of Cinema 4D Lite; greatly improved Warp Stabiliser and 3D camera tracking; new Refine Edge tool, Pixel Motion Blur and Layer Shaping.
Cons
Premiere Pro:
• High-spec GPU required for Mercury Playback Engine; rendering is not the fastest and colour grading is not as clever as FCPX.
After Effects
• Rendering in After Effects when using 3D live pipeline is very slow; high spec GPU is required; and no Arabic support.
Renji Mathews is an Adobe Certified Expert in Premiere Pro and After Effects and is a faculty member at the College of Fine Arts & Design, University of Sharjah.