Dubai-based cameraman Andrew Clemson tests the new Fuji MK 18-55 zoom lenses and gives us his verdict.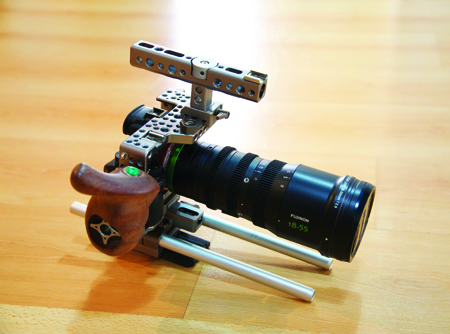 Dubai-based cameraman Andrew Clemson tests the new Fuji MK 18-55 zoom lenses and gives us his verdict
The Sony E mount is one of the most widely used mounts in the world, thanks to the success of the FS7 and A series mirrorless cameras. It shares the adaptability of the MFT mount, and as such, can take almost any lens via the appropriate adapter, with the benefit of an S35 or FF sensor.
The success of the Sony mount has led to Fuji releasing a new series of cine lenses that take advantage of its flexibility, and I was delighted to be offered the first one, the MK18-55mm zoom.
Cine lenses are fantastic tools, but the advantages they offer are often outweighed on low- to mid-range budgets by their prohibitive cost and weight. As such, the first thing that strikes you about the MK is its weight.
Considering cine zooms are traditionally quite bulky and heavy, the 18-55 weighs in at an absurdly low 990g, around the same as a Canon EF mount 24-70mm. This weight (or lack thereof) means the MK will last longer on your shoulder and lends itself more to gimbal rigs than other cine zooms might.
I didn't have an FS7 at hand while I had the MK, so I used it on my A7S2. The Fuji is designed for an S35 sensor rather than the FF of the A7s, but using either the HD crop or the clear image zoom mode allows the MK to work great.
The construction of the MK is fantastic; it feels like a solid piece of kit at home on any level of production. It offers hard focus stops and fitted 0.8 teeth for using follow focus or remote motors. The focus throw is longer, a welcome addition when compared to the short focus throws on DSLR lenses, and helps for more precise control of focus pulls.
Optically, the lens has clearly been designed to prevent flaring. I found it difficult to introduce a major element of flare, even when wide open and shooting into direct light. It also ships with an ENG-style flip-open lens hood, which adds to this ability to control glare.
Like other high-end cine lenses, the MK18-55 operates as a parfocal lens. As such, it holds focus throughout its zoom range. For documentary and event shooters, this feature is invaluable, as it means you can punch in for focus and crash zoom wide with no fear of a soft image. The MK has a built-in back focus adjustment that allows you to quickly tune the lens to maintain its focus. This can be done in 30 seconds once you have done it a few times, and any ENG shooter will see it as a welcome addition and something they have seen on lenses in the past.
The MK also shares another feature with traditional ENG lenses in the form of its macro function. Adjusting the macro ring on the rear of the lens allows more precise control and the shortening of close focus. This function allows a close focus of around 2-3 inches, even at 18mm. Breathing, or the lack of it, is excellent. There is a tiny amount (considering it is a zoom after all), but the breathing is worlds apart in comparison to DSLR lenses. The level of chromatic aberration is also excellent. It was almost non-existent in the real-world footage I shot.
Overall, for the money Fujifilm is asking for this lens, it is an absolutely remarkable piece of kit. I don't think there is another lens on the market that can offer half of what it does for anywhere near its RRP. It has its quirks, but I for one will be keeping this as one of my go-to lenses for Sony camera work, and eagerly look forward to adding the upcoming MK50-135mm to my camera bag.
Andrew Clemson is a Dubai-based cinematographer.