Sony's latest camera release, the PXW-FS5, launched at IBC this year, is a smaller, sleeker version of the PXW-FS7. Our resident DoP Harvey Glen tests the camera to find out if it lives up to the benchmark set by big brother, the FS7 The PXW-FS5 is Sony's newest offering to the market and I had […]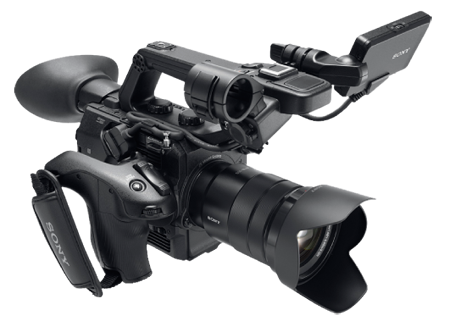 Sony's latest camera release, the PXW-FS5, launched at IBC this year, is a smaller, sleeker version of the PXW-FS7. Our resident DoP Harvey Glen tests the camera to find out if it lives up to the benchmark set by big brother, the FS7
The PXW-FS5 is Sony's newest offering to the market and I had the chance to test it out.
Straight out of the box, it's impressive. It has a compact, lightweight body, a top handle that fits snugly via two quarter-inch threads, an LCD that is easily adjustable and mounts on the side and a handle grip similar to big brother, the Sony PXW-FS7. This handgrip can be set to varying angles for the shooter's comfort.
The FS5 takes the standard Sony batteries that have been around for decades, handy as most people have built up a collection of these over the years, and records to an SD card or micro SD within an SD converter. So it's small, lightweight, quick and simple to set up. So far so good.
There's been a lot of chat about the FS7 and it's had very positive reviews. Its smaller counterpart, the FS5, has the same sensor, the 4K Super 35 Exmor CMOS. Now you can't argue with that, unless you already bought an FS7.
Its native ISO is 3200, which is incredibly high and means you can confidently shoot in low-light situations. The Sony AS7 has become known as the low-light camera of choice, but that's still packaged in a stills camera body and requires primping to make it operational in the filming world.
The Sony FS5 is packaged as a video camera and the fact that its native ISO is 3200 is great news. As you'd expect, it is very clean. Once I pushed it up to 6400, I did notice some noise, but having the ability to record at such a high ISO still allows you to capture footage which was previously unobtainable without lighting.
The best thing about the camera for me is that it has built-in ND filters, but not just a single function of ND. It has two modes. First a standard wheel with four-setting clear, then you have a second option of controlling the amount of light to hit the sensor in fine increments via digital stops of ND, in much the same way you would adjust the exposure/ F stop.
On the side of the camera, you can flick a switch from exposure to ND and then control the ND via a scrolling function (same as exposure control) from 1/4 to 1/128 increments. For me, this is awesome. It's the first time I've come across a camera with this function.
What does this practically mean for a cameraman? It means you can set your exposure to a desired stop and, therefore, a consistent depth of field, which is F4 at 3200 ISO, then set the ND wheel to a position to expose for position 3. Following which, you have further control to get the exposure/ stop exact using the incremental ND – 1/64.
It means you could film on the sun at 3200 ISO – well maybe not on the sun, but I think you get what I mean.
No more glass ND filters, no more messing around with ND faders and colour shift. This double ND solution makes using high ISOs like 3200 very practical.
The FS5 has the option of recording to S-Log3 and S-Log2 so you can retain as much information as possible in the picture. This function is very useful if you intend to professional grade the footage in post. Of course, when shooting the footage, it will look low in contrast and potentially scare any clients uneducated in the matter. To counter this, there is a Gamma Display Assist option, which will apply a Rec 709 LUT (look up table).
There are varying Gamma options in this camera that people familiar with Sony will recognise. So by no means do you only have to shoot in log mode and then grade.
Resolution
The resolution of the FS5 doesn't disappoint. You can record in 4K – yep, that number again, 4K. The mode is QFHD 3840×2160 at 25fps and either 60 or 100Mbps in XAVC.
Incredibly, it can also shoot high frame rates in XAVC 4:2:2 10bit with no sensor cropping to 240fps for eight seconds. I know this will get loads of people super excited!
You can set the camera to start or end trigger. I found the end trigger very useful. This means you cut once you've got the shot, so there's no wasted pre-roll. However, you do have to wait for the recording to buffer and play back, essentially saving it, and you cannot shoot immediately afterwards. I'm cool with this, as once you've shot a slow-motion shot, for instance, a skateboarder performing a trick, you are normally so hyped that you want to watch it back immediately anyway. It's a small price to pay for such a function.
In full HD, you can shoot 120fps for 16 seconds, and in HD a whopping 480fps for nine seconds. I know people will have all sorts of fun with this.
So to round up, this is a very light 0.8kg camera body, with the ability to record 4K internally at 100mbps. You can crank the camera to super high frame rates at quality resolutions. With its base ISO of 3200, it's very capable in low-light situations and good for night shoots. It has the option of S-Log. Sony claims it has 14 stops of dynamic range – I never quite believe the number of stops, but it has a lot.
Everything is at your fingertips and easy to adjust. Like a real video camera, it has all the user functions, from zebra to peaking, expanded focus, SDI and HDMI out, 2x XLR inputs, all you'd expect from a professional camera. It records to cheap and easy-to-find SD cards.
The camera comes with the Sony A mount, but you can add a lens adaptor or a speed booster to change it to Canon EF, if you prefer. The handgrip is easy to use and set to the operator's preferred position. The camera aesthetically looks cool and is way less bulky than the FS7.
The LCD is a decent resolution. It could definitely do with a sun shield, and it's a shame Sony didn't build one into it, but third parties will sell them or you could make your own.
So what's not to like? I hate to say it, but not much really. The Canon C300 has reigned for many years now, but I think Sony has finally come up with a camera that will challenge it, as it's a unique and highly capable tool. I'm sure it will quickly find its way into cinematographers' hands globally!