Bahrain-based filmmaker Saleh Nass explores the capabilities of the Lightworks Pro while editing his latest short film, Central Market. He shares his experience with BroadcastPro ME I have been using Final Cut Pro for most of my edits for the past 11 years. I've dabbled a bit in Avid MC/Symphony but it never really grew […]
Bahrain-based filmmaker Saleh Nass explores the capabilities of the Lightworks Pro while editing his latest short film, Central Market. He shares his experience with BroadcastPro ME
I have been using Final Cut Pro for most of my edits for the past 11 years. I've dabbled a bit in Avid MC/Symphony but it never really grew on me because of the clutter. Lately, I've been using a lot of different tools in my workflow including FCPX, DaVinci Resolve and Smoke 2013. I still have Symphony installed somewhere, just in case, but rarely ever use it.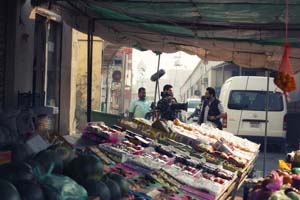 Traditionally, when cutting a film, I have favoured FCP7 – even when FCPX was first out, I still used FCP7 for drama and long documentaries. For my latest short film Central Market, a co-production between Bahrain's Ministry of Culture and Enjaaz (a post-production and production funding support programme of Dubai Film Market) and my company Elements Cine Productions, I wanted to try something different before going into feature film editing and my own debut feature.
I had heard about Lightworks Pro, which was supposed to be released for the Mac. Until then, I had thought that this was a new NLE (non-linear editing) that was trying to make its mark on the cutting scene and capitalise on the FCPX premature launch along with Premiere (FCP8). I learnt, however, that this solution was designed with film editors in mind. Upon further reading, I learnt that it was used to edit several feature films over the past 20 years – making it almost the same age as Avid!
It was released in 1989 and was sold to Tektronix and went through a few owners until it was bought by Editshare in 2009. Originally available as a full editing solution along with hardware – Editshare re-developed the software to support cross platforms with an optional keyboard and keeping the control console.
The latest notable film that was edited on Lightworks, was Martin Scorcese's The Wolf of Wallstreet with Thelma Schoonmaker at the helm. The King's Speech, Hugo, Braveheart and Pulp Fiction were all edited on Lightworks – enough for me to make a decision to try using it for my short film – afterall short films are where you experiment.
I initially wanted to use the Mac version of the software, so I could use it to cut Central Market. It was still under development so I decided to use it on Windows 7 through bootcamp on my Macbook Pro. Learning how to use the software through online tutorials was quite simple. In fact, acclimatising to the Windows interface took a little bit longer than using a new software.
There are two versions of Lightworks –
a free edition, which supports basic formats, and the Pro edition, which, of course, is the one you want because of the codec limitations on the free version. The Pro edition is available at $60 with one year's licence (you can buy the software outright for $279 (slightly less than FCPX).
Central Market was filmed in a verité run-and-gun style with available lighting in the market using real traders on a Red Epic with cinema zoom lenses – we had to keep the crew extremely small and mobile. Because of the amount of improvisation I did and the footage that we shot, I needed a solution that could handle the organisation process before I edited it.
When Lightworks Pro is started up, you're met with a project pane and login (like Resolve or Smoke) where you can access or create new projects and set the project settings like frame rates. Once the project is created, you are greeted with a clean interface that, at first, looked alarmingly amateurish, but that was because I was using a retina screen and my display settings were all wrong. When that was fixed, I was a little more reassured that I was using the right software to edit the film.
The toolbar on the right hand side of the screen is basically the whole editing process – settings, import (if you're using files), record (if you're using tape-based media), new edit, search (a powerful search feature that helps you find anything in your edit, we just just got that with FCPX new bin, new rack, export to tape, export and preferences). Using these options was straight forward to import my Red footage in the project.
Since I was using my laptop to edit for portability and I only had a Red Rocket at the studio, I converted everything into ProRes422 Proxy which imported fine apart from a slight hiccup, which prevented sound from playing back properly but this has since been fixed.
You can have an unlimited number of bins in Lightworks Pro, and it has a neat feature where you can "storyboard" your shots in order in the bin and with a click of a button insert the clips in the timeline. I created a bin for each scene in my film to organise my thoughts. All the bins then went into a rack and there are a number of ways, in which you can order your clips according to how you think or edit. There is an additional organisational tool 'Rooms' (essentially, a layout). This will appeal to editors who like different layouts for different tasks – for example, Room 1 can be for the edit and Room 2 to re-arrange the layout to just organise footage and bins.
What is different about Lightworks Pro is that each thumbnail or clip is a viewer and timeline rolled into one; there are two viewers like the traditional FCP. The interface is simple with most commands implemented using drag-and-drop. Instead of setting in and out points for the edit, Lightworks has a feature called "Mark & Park", where you set the in-point and the out-point is where the playhead lands. I like the colourful timeline, which makes it easy to differentiate between shots in your edit or tell if they came from the same clip in the bin.
The clips snap together on the timeline magnetically, which I liked and precision editing was much stronger than what I was used to in an NLE. No Ctrl+S in Lightworks because it saves automatically – a habit that I've stopped ever since using FCPX and I was glad that this was the same. The number of projects I've lost on Resolve because I forget to save are unbelievable!
A lot of decisions also had to be made on the timeline and it was very easy to make a compilation of shots, lift it from the timeline, save it into a bin to try out at a different part of the edit (or abandon it all together which is so often the case!) I guess you can do this with compound clips or versions in FCPX but in Lightworks, it's simpler, just mark and park and drag it to the bin.
I could have done with the Lightworks keyboard when editing as a lot of shortcuts would have come in handy. I would definitely like to try Lightworks Pro's dedicated console ($2,800) which supposedly makes editing faster and is like editing film on a Steinbeck – not to mention that it would make the edit suite look cooler. I would really like to try the Mac version when out, and preferably on the Mac Pro.
When it was time to export the locked picture for grading and the sound edit, Lightworks can export to almost anything you want it to: EDL, OMF, AAF, AVI and MOV – I did feel the ProRes422 options were a bit limited and sometimes, didn't work at all when going back to a Mac environment. I wonder if that was because I was doing something wrong or this is a limitation due to the software running on Windows.
For new Lightworks editors like me, I don't think I've ever experienced user forums that were nearly as helpful. I was pleasantly surprised at how helpful their forums were and the level of involvement of the Lightworks' team members, which will appeal to editors like me, who need that support.
My overall experience was that Lightworks Pro is an undiscovered gem at a very decent price-point. Although I would still use it to edit drama, Lightworks Pro is a great tool to add to the post-production arsenal. It is worth considering especially for feature length drama or documentary work, which needs a good organisational facility and reduced clutter. I will definitely be looking forward to using it again on my next film as my NLE of choice.