Filmmakers Kamil Roxas and Alison Sheehy test the Sony Alpha 7s and give us their verdict Ever so often, there's a new feature added on a camera that's touted as a game-changer for filmmakers. For most of last year, the superior low-light shooting capabilities of the Sony Alpha 7s received special mention from camera experts. […]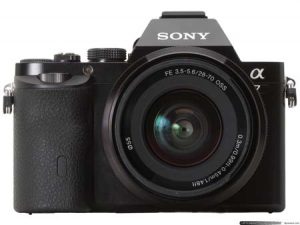 Filmmakers Kamil Roxas and Alison Sheehy test the Sony Alpha 7s and give us their verdict
Ever so often, there's a new feature added on a camera that's touted as a game-changer for filmmakers. For most of last year, the superior low-light shooting capabilities of the Sony Alpha 7s received special mention from camera experts. The Alpha 7s is a mirrorless digital camera that features a 35mm sensor with large pixels for high ISO and dynamic range. It shoots uncompressed 4:2:2 full HD and 4K via external HDMI storage.
I have always advocated shooting documentaries or for TV with the full-frame HDSLR offerings from Canon, but the features of the Alpha 7s also seemed impressive.
I was looking to tinker with one when an opportunity presented itself in the form of a review for BroadcastPro ME.
Alison Sheehy says:
I had the pleasure of using Sony's new Alpha 7s camera to record the Big Project Awards in November at the Conrad Hotel in Dubai. The Sony Alpha 7s is the world's smallest full-frame interchangeable lens camera. The 12.2MP full-frame Exmor CMOS sensor and BIONZ X image processor work together to provide dynamic range with minimal noise, making it one of the best low-light cameras available in the market.
The first thing I liked about the camera was its retro style and how slim it is. Its size makes it perfect for travelling – discounting lens, it only weighs a little over a pound. It's easy to pack and light enough that you don't even notice it hanging around your neck for hours on end, which in comparison to a bulky DSLR is a big deal. It measures just 3.75x5x1.9 inches (HXWXD), partially due to its mirrorless sensor.
I'm happy to say what it lacks in sensor size, it doesn't lack in quality! The camera was used only for video with a 55mm prime lens and a 24-70mm zoom lens. It has an ISO from 50-409600, which in conjunction with its 12.2 million pixel full-frame CMOS sensor makes it perfect for shooting in low light. Furthermore, its impressive auto focus sensitivity in low light allows it to go to as low as -4EV. This mirrorless camera can also record video in 4K resolution, though it needs a convertor to do so. It also has a 4K output which can be used with its HDMI connection – which again, unfortunately, requires an adapter.
The Alpha 7s design is very user-friendly; the controls are right at your fingertips, including two control wheels. The three-inch LCD screen easily tilts up and down, allowing you to get those difficult high and low angled shots. It has an impressive 921K dot resolution and a very impressive optical view finder that is ultra-sensitive and responsive, switching the view immediately as your eye meets it or leaves it – the OLED electronic viewfinder is 2.36 million dots.
Unlike some cameras, the live screen is a true representation of the final product, so you can trust that the quality of the final image matches the image on the screen. Furthermore, the silent shutter mode allows the user to be discreet when taking photos or videos. It also boasts a continuous shooting rate of 5fps.
Another great feature of the Alpha 7s is its built-in Wi-Fi and NFC. These make it really easy to share your photos and videos instantly, as well as letting you easily control the camera with your smartphone via its 'one touch' connection. Sony even has its own app store for this camera. I had a browse through it, and my favourite was an app for doing timelapse videos. There's a huge range of apps available, with many different effects.
I was quite impressed with the battery life – I got three to four hours of life out of it, with the camera switched on and recording videos the whole time. I presume if it was being used for still photography, it would last a lot longer.
My usual camera of choice for videography is Canon's 5D Mark III, and I was pleasantly surprised at how well the Alpha 7s matches the video quality, as well as its many modern features and sleek, vintage design. The only disappointment I had with the camera was the need for an adapter to record or view with 4K, considering 4K is increasingly becoming the standard for television and now, some computers.
This is not intended to be an in-depth camera review, but I have tried to extensively identify what the camera can offer independent filmmakers and whether it does the job in a run-and-gun setting.
Shooting in the real world
I was shooting a feature documentary and a music video project at the time I received the Alpha 7s, so I was able to use it as a secondary camera for both projects. I wanted to place the camera in as many difficult and challenging situations as possible to see how it fared against the Canon 5D MKIII and the C100 we were primarily shooting with. Both these cameras are capable full-frame cameras in a run-and-gun shooting scenario, and both render a cinematic image quality.
In several instances, I found myself shooting with the Alpha 7s without image stabilisation – lengthy hand-held shots and constantly pushing the ISO way past values that I would normally use. I must say the camera held up really well.
While the Alpha 7s may not have the full arsenal of native full-frame E-mount lenses to choose from, the Metabones EF to E adapter certainly gave me that full line-up of prime Canon lenses to shoot with.
I shot some images with the Canon EF 50 1.2L and the Canon EF 85 1.2L via the Metabones adapter on the Alpha 7s.
The ergonomic design of the Alpha 7s is especially worthy of mention. It feels really solid and makes handling the camera quite comfortable. The placement of the dial on the top makes shutter speed and aperture adjustments easy. The thumb grip at the back also adds a sturdy feel, and overall, the camera feels comfortable to hold with small and medium lenses. Familiarisation with the menu system, as with most new cameras, however, takes some time. Once you have this sorted, there seems to be quick access to everything you need and it gets you right back to filming.
As someone who also loves shooting outdoors in the night, I was particularly keen to try out the camera's low-light performance. The ISO range goes from 100 all the way up to 409,600 – although you wouldn't want to shoot at the top end of that, since it just makes for overexposed, ridiculously unusable images.
I found, however, that shooting between ISO 3,200 and 12,800 definitely yields cleaner results than most other cameras.
Even at ISO 25,600, the noise introduced into the image can be minimal. It's almost filmic.
There's no doubt that the Alpha 7s handles low light extremely well. However, that's not all I was impressed with. I also found the colours that you get from it, including the skin tone, and the dynamic range very impressive for a camera of this size.
Image quality
When shooting with the Alpha 7s, I set the camera to XAVCS at 25/50fps and chose the PP5 flat picture profile. The Alpha 7s has a variety of flat picture profiles that enable you to take full advantage of the camera's dynamic range. This gives you added flexibility when colour grading your footage in post production.
Another favoured picture profile on the Alpha 7s is the S-Log2 gamma, which can also be found on the high-end range of Sony Cinealta camcorders like the F5 and the F55.
In this mode, the image is extremely flat with no contrast at all. This profile makes the most of the sensor capabilities if you want to leave all colour and contrast adjustments to post production.
The Alpha 7s records with different codecs – XAVCS, AVCHD, MPEG-4. The highest quality comes from XAVCS, which can record full HD in 1920×1080 at 60p, 30p and 24p at 50Mbps, and 120p at 1280×720 resolution.
While it does not record 4K internally, external monitors and recorders like the Atomos Shogun provide the flexibility to bypass the Alpha 7s' internal compression and record 4K ProRes 4:2:2 HQ via HDMI.
The Alpha 7s is often pitted against another compact camera, the Panasonic GH4. The GH4 boasts 4K internal recording, superior image handling and great all-round performance in the hands of experienced filmmakers. However, much of the comparison ends there. The GH4 has a micro 4/3 sensor, unlike the full frame offered on the Alpha 7s, which is a big advantage for getting a better cinematic depth of field. While the GH4 does offer some great specs, the biggest advantage of the Alpha 7s is its superior low-light capabilities.
The verdict
Since most of my commercial work and TV projects require me to deliver output in full HD, the Canon C100 and 5D MK III have been steady fixtures on set. However, having now shot with the Alpha 7s, I find myself more excited about digital cinematography with compact cameras. On set I have been reaching more and more for the Alpha 7s, as it easily handles even the most demanding tasks.
While I don't have specific camera preferences (there is always that one right camera for the job), the technical advances on the Alpha 7s – the low-light performance, very wide dynamic range and full-frame cinematic qualities – definitely make it my pick as the go-to compact camera for independent productions.