Paul Mongey puts the new SONY PMW-300 XDcam through its paces The new Sony PMW-300 XDcam camcorder replaces Sony's PMW-EX3. It is essentially a 'semi-shoulder' mount camera with an interchangeable lens. The PMW-300 is an evolution of the EX1/EX3 camera, adding 50Mb HD MPEG 4:2:2 recording, quite similar to the PMW-500. It adds 100Mbps HD […]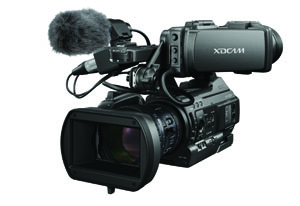 Paul Mongey puts the new SONY PMW-300 XDcam through its paces
The new Sony PMW-300 XDcam camcorder replaces Sony's PMW-EX3. It is essentially a 'semi-shoulder' mount camera with an interchangeable lens. The PMW-300 is an evolution of the EX1/EX3 camera, adding 50Mb HD MPEG 4:2:2 recording, quite similar to the PMW-500. It adds 100Mbps HD XAVC 4:2:2 recording with a future firmware update.
One wonders if Sony is confusing the market again, with a mix of XDcam cameras complete with the PMW-100, 150, 160, 200, 300, 320, 350, 400 and 500. I know Sony is targeting different sectors of the industry with its comprehensive camera spread, but do we really need that huge a range? For me the PMW-200, 300 and 500 would cater to the industry needs just as well. Perhaps, Sony could have offered the new XAVC codec as a paid firmware upgrade for the PMW-500 rather than releasing another camera in the form of the 400.
Sony will release the PMW-300 with two lens options. The first package is the PMW-300K1 which supplies a 14x Fujinon ½" lens similar to the EX3 lens and the PMW-300K2 has a 16x lens Fujinon (plus mount conversion adaptor supplied) similar to the ½" lens supplied with the PMW-350 kit. But you can purchase the ACM-21 lens adaptor (with 1.4x magnification) to mount any 2/3" HD broadcast lens to this camera.
The PMW-300 has three full HD ½" Exmor sensors with the sensitivity and dynamic range similar to the EX3. My experience with ½" sensors is that the image always suffers a little more in low light but Sony has introduced 3DNR, a new noise reduction system, which should offer lower noise in low-light environments.
I am not a fan of semi-shoulder cameras, having shot on full size camcorders over the past 25 years. A good camera has been designed to balance perfectly with lens, battery and top light attached. I spent a couple of days test shooting with the new PMW-300 and on the shoulder it is challenging to shoot for too long as the camera is front heavy and a little heavier than I imagined.
The PMW-300 is a welcome second camera on a shoot, shooting on Sony's familiar SxS memory cards in 50Mb MXF HD 4:2:2 in UDF format or 35Mb XDcam EX 4:2:0 similar to the EX3. In 50Mb HD 4:2:2, the PMW-300 can record on to either an SxS memory card or the new XQD cards (64Gb for USD 300.00) via the QDA-EX1 ($ 35.00) adaptor similar to the PMW-400 camera. But, at present, I do not know how many minutes you can record in XAVC 100Mbps on a 64Gb card.
A 3.5" LCD 16×9 viewfinder comes as standard with the camera with a higher resolution of 960×540 pixels than the EX3's viewfinder with 640×480 pixels. The test unit that I had on loan from Sony had this viewfinder but as it was a demo unit, there was no model number on the viewfinder. It did remind me of the 3.5" LCD CBKVF01 that comes with the PMW-350 camcorder. Similar to the 350, the 300's viewfinder has a flip up cover allowing easy viewing of playback by the team on location. The 'mirror' switch on the operator's side allows the image on the LCD to flip left to right or top to bottom. The rotating support arm, which mounts the viewfinder to the handle allows movement of four inches or so back or forwards.
Regarding the battery options for the camera, when I brought the camera home first, I thought, I could use NP-F970 batteries from my old retired second camera sitting on my kit shelf, the Sony HVR-Z1. But unfortunately, Sony is using the BP-U90, 60 and 30 battery system from the EX1 & EX3 range of cameras. This meant that I only had the supplied BP-U30, giving me an hour or so to work on this camera between charging.
This XDcam camera uses three ½" full HD (1920×1080) Exmor CMOS sensors and records up to 50Mbps in MPEG HD422, making it ideal for Chroma Key filming. I was surprised to see that this camera will be able to shoot 100Mbps data at 10bit XAVC and it will be available as a firmware upgrade next year. But until the 100Mbps upgrade pops along, this camera always has the many flavours of HD in Progressive, Interlace, 1920×1080, 1280×720 in 35Mb (FAT format) and 50Mb MXF (UDF format)… and for those who still need it, there's also DVcam 25Mbps.
Of course, the PMW-300 is not a replacement for the F55 but will sit comfortably in the corporate or event industry. The PMW300 is the ideal next step to the very successful PMW EX3. It is a great camera for the mid-level market, allowing for the regular 35Mb from the traditional use of the EX1/EX3 and for clients who would like to move up to 50Mb or higher with the XAVC firmware upgrade next year.
Slow & Quick
The Slow & Quick (S&Q) settings allow the camera operator to record from one frame up to sixty frames per second. Sony recommends the SxS Pro and the SxS-1 cards for S&Q recording but also suggests that the XQD, Memory Stick and SD cards are not guaranteed for S&Q.
Unfortunately, I did not have one of the new XQD cards to test. I used my regular SxS-1 memory cards. Sony considers the XQD, Memory Stick and SD cards via the MEAD adaptor as 'emergency' media.
IN & OUTs
With the Sony CBK-WA100 optional wireless adaptor, you can view the recording/playback, transmit lo-res proxy files from the camera during recording and transmit the video out, where your client can use their smartphone as a mini monitor on location.
But I was interested in the remote control facility of both the CBK-WA100 and the supplied CBK-WA01 wireless adaptor. You can control the iris, colour balance, zoom and focus, which makes it very useful in a multicam set-up for a webcast, where you can change the camera settings in the control room during the event coverage.
Together with regular two XLR connectors with the Line/Mic/+48 settings similar to my PMW-500 you can record 4x audio channels at 24bit 48khz broadcast specification in HD mode. You can also have the internal camera stereo mic recorded on channels 3 & 4 for safety.
The 300 has both Genlock and Time Code IN/OUT connectors, which allowed me to sync lock the timecode with my 500 during some test two-camera shooting. There is one single BNC for Time Code with an external switch on the side to select TC in or out.
There are also two SDI outputs, allowing HD and or SD outputs with on-screen info which can be sent to your field monitor. It is good to see an HDMI out connector on this camera allowing playback of video footage on regular HD televisions used on event coverage or media training sessions.
It was good to see a regular composite video and audio channel 1, 2 out on the side of the camcorder that allowed me to hook up direct to a DVD recorder, should I need to make a quick DVD for a client in a media training session.
Assignable buttons
There are eight assignable buttons on the PMW-300. During my test, I assigned these buttons with the Colour Bars, Focus Magnifier, last clip delete, Picture Cache, Rec Review, ATW and ZEBRA. There are several other options to select including histogram, shot marks and clip continuous recording.
It was good to see the SxS memory card Slot Select button on the camera operator's side of the camera unlike the PMW-500, where it's stuck on the other side and difficult to get to when you are in the middle of filming an event.
I have heard that a large proportion of EX3 owners have never changed the Sony lens, which came with the EX3. As I can see, this camcorder serves well as a second camera on shoots and I would probably never need to exchange the lens for a longer Canon or Fujinon broadcast HD lens. But for those who do exchange alternative lenses – the 300 with a Canon EF 100-400 lens or longer would make a great set-up for a wildlife or documentary cameraman/DoPs who needs high data rates for their broadcaster.
I look forward to seeing what Sony's 100Mbps XAVC update in 2014 will offer. And this data rate should make the PMW-300 an ideal multi format unit for events, conferences, webcasting and broadcast television.
The pricetag for the PMW-300/K1 (with 14x Fujinon lens) is just under $ 8,000, which is again a little too high for the camera that you get. If I was buying a new XDcam camera to accompany my PMW-500 and were to choose between the Sony PMW-300 and the slightly smaller PMW-200. I would choose the latter.
It costs just under $ 6,300 with a fixed lens.