Toby Plummer, a Dubai-based DoP recently invested in arnRED EPIC-W with HELIUM 8K S35 sensor. He gives us the lowdown on the camera and why he now owns one.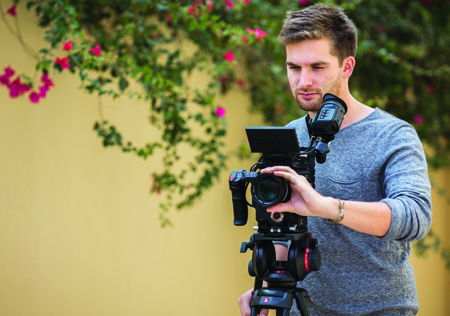 Toby Plummer, a Dubai-based DoP recently invested in a
RED EPIC-W with HELIUM 8K S35 sensor. He gives us the lowdown on the camera and why he now owns one
When it comes to owning cameras, a lot of boxes need to be ticked. Back in June 2016, when I was looking to purchase a camera to fulfil the role of high-end imagery and performance, there were a few familiar brands to choose from: ARRI, Blackmagic and RED.
ARRI was a no-go for me, as even its Alexa Mini came in way over my budget. Blackmagic had launched its Ursa Mini 4.6k a few months earlier, and while the price tag was extremely tempting, I was put off going down this route, having owned the 4K Production Camera a few years back. I then turned to the new DSMC2 line-up from RED, which had been on my radar since the end of 2015.
DSMC2 is RED's term for the accessories that work with its second generation camera bodies, often referred to as a Brain. After re-reading some of the improvements the DSMC2 included, I started to consider whether the RED was a real contender for me. One improvement that instantly stood out was its new modules. Although a basic change, it massively improves the experience on set.
RED's DRAGON line-up has both SDI and DP Power at the back of the camera, between the base plate and battery, which is difficult to work with. On the new I/O expansion, everything is easily accessible on the back right of the camera. In addition, DSMC2 marks the arrival of a cable-less set-up with the new monitors and EVF featuring direct connections to the Brain.
RED has also finally managed to include scratch audio – the simplest additions are often the most satisfying to see. I rapidly came to the decision that with the new changes to RED's ergonomics and an increased range of Brains offered by them, from the new entry level model – RED RAVEN, priced at just under $7,000 – to the new flagship RED WEAPON, priced just shy of $50,000. I went ahead and placed an order for the SCARLET-W, RED's previous entry-level camera, at almost $10,000.
These prices only cover the cost of the Brain, and without the purchase of several key accessories, the camera will not run. RED's website offers a few different packages that include all the essentials to turn the camera on and make changes to settings. I opted for the DSMC2 Base I/O package at $5,600, which includes the new DSMC2 – RED Touch 4.7" LCD, base expander, V-Lock battery module and Red Brick power pack. Still missing is media (cards), costing $850-3,000 per card depending on size.
I customised it from there, firstly with RED's new DSMC2 side handle, which compared to the original model is a great ergonomic improvement. Along with a newly shaped grip, the handle also features a record button, a d-pad for menu navigation, four assignable function buttons, a scrollable focus control for motored lenses and iris control.
I also placed orders for some third-party accessories from Wooden Camera. On my list were a new base and top plate, a safety NATO arm for convenient mount points and the A-Box for a professional audio solution. All these accessories are modular, working across all of RED's DSMC2 line-up.
Winding forward to September 2016, months after my order was placed, RED was experiencing issues with production for its DRAGON sensors, and there was no shipping date in sight for my SCARLET-W order.
That same month, RED announced its new EPIC-W, retailing at $30,000.
Looking through the specs, I was instantly impressed. It had a brand-new HELIUM S35 sensor capable of capturing 8K at 30fps, with 16.5+ stops of dynamic range, 275MB/s data speeds and REDCODE RAW + Apple ProRes. Better still, RED was offering a very appealing upgrade path for those patiently waiting in line for a SCARLET-W – I couldn't turn down the opportunity. I called up my dealer, Advanced Media, and it arranged the upgrade.
Before getting into the less obvious improvements offered by the latest EPIC, I want to talk about 8K for a moment. RED has been at the forefront of pushing cinema cameras to reach higher resolutions for a while, and now with the introduction of 8K, you get video imagery with a pixel density equivalent of 35.4 megapixels – 17x more resolution than HD. There is some controversy concerning the value of 8K. Do we need an image with that amount of detail, and will 8K just add to both cost and time of projects?
Initially I had worries about the post process of 8K, but there are a couple of easy ways to tackle what at first glance could be seen as the downside of working with such a detailed image.
First, the camera offers an option to shoot ProRes, either alongside an R3D or as a standalone file. ProRes options range from 422 HQ down to 422 LT at 4K and 4444 XQ down to 422 LT at 2K. The higher end works well for low-budget shoots with no need for an R3D workflow, and the lower end is perfect for proxy work or any work with R3Ds. Having the option of both R3D and ProRes opens up so much versatility to the type of productions this camera is suitable for, as the proxies are available and ready to use straight from RedMag.
Popular editing software such as Adobe Premiere has added new options to help with the workflow of 8K, including a proxy option on import, using the media encoder to create proxy files to work from almost instantly. These proxy files are linked to the original R3Ds, and with the click of a button you can switch your timeline from proxy to source. That way, you can edit the entire project on an HD timeline and then switch to source for online delivery. When using 8K FF, you must use either the 512GB or 1TB cards if you want the lower compressions. These cards have a fast enough data rate, unlike the older 120GB and 240GB cards.
For those of you interested in media management, here are a few statistics. Shooting at 8K FF at 24fps with a compression of 6:1 will give you 79 minutes per TB of storage. At 10:1, it's 132 minutes, and at the highest available compression of 22:1, it's 289 minutes. Once you see the numbers, shooting 8K becomes much more appealing.
Enough about 8K workflow – what else does the camera offer?
For me, a real highlight has been the sensor's ability to handle low light conditions. My past experiences with the RED MX and SCARLET DRAGON have been something of a love-hate situation, as my go-to look is making use of natural light and practicals on location.
With RED's previous cameras, I often struggled in dimly-lit situations. This was particularly true with the documentary work I did with the SCARLET DRAGON. There was often no opportunity to stop and add additional light to the scene, and I was forced to compromise image quality by increasing the ISO upwards of 1250. The HELIUM sensor is rated at around 1280 ISO but can be pushed much higher with clean, deep blacks at 3200 ISO. I now have an extra stop, even two, to play with (when using the low light OLPF), complementing the way I enjoy working and giving me the visual look and feel I want.
Once again RED states that, as with the DRAGON sensor, the HELIUM has 16.5+ stops of dynamic range. Although the majority of professionals disagree on that figure, you can't deny that with its in-built HDR function and some magic in post, you have the ability to go above and beyond 16.5 stops if required. The high frame rate options on the camera unfortunately do not differ from the EPIC DRAGON, giving the same 75fps at 6K FF down to 300fps at 2K WS. Being a big fan of slow motion, it would have been nice to see some improvements in this department; however, RED has decided to make this a key area to differentiate between the EPIC-W and the WEAPON.
Lastly, the image the new sensor produces has a more natural, neutral feel to it, especially the colour rendition of skin tones. The new release of IPP2 helps with highlight roll-off and retains more accurate tones within the highlights. It's worth noting that RED says IPP2 is a work in progress, meaning more improvements to come.
So is it the best camera for any owner operator? No. But for me, weighing up both price and performance, the EPIC-W stands out as the camera to own due to its quality and versatility.
I would have really liked to see a practical ND system built in, as in the Alexa Mini. It's not a necessity, but with the DSMC2's improved ergonomics, it would be a welcome improvement to help with run-and-gun shoots. It would be amazing to have the camera turn on instantly and shoot at even higher ISOs and 100fps at 8K, but we'll have to hang in there for future upgrades.
Owning this camera, I feel somewhat future-proofed. I believe that the EPIC-W will see prominent use on productions for years to come.
With the improved colour science closing the gap with rival Arri , a vast improvement on low light capabilities, 8K crisp images, an assortment of frame rates, and an improved post workflow, what more do you really need from a camera? Despite my wish list of improvements to flexibility, it is already a very flexible camera. It exceeds the essentials required to create stunning imagery. All that's needed to go with it is a good eye and great content.
Toby Plummer is a Dubai-based DoP. He works both as a freelancer and for his own indie production house, Capture Dxb.