Arab Telemedia Studios has modernised its content workflows and storage system with a raft of new Avid solutions that will enable it to undertake 8K productions seamlessly. BroadcastPro ME brings you the lowdown.
With more broadcasters and content creators pushing forward with UHD/HDR announcements, high-resolution content is gaining popularity with Arab audiences and producers alike. Jordanian firm Arab Telemedia Studios sought a comprehensive end-to-end upgrade from long-time partner Avid to go beyond 4K and meet future 8K production requirements; earlier this year, it announced a new end-toend upgrade and multi-year subscription agreement with Arab Telemedia Studios (a subsidiary of Arab Telemedia Group), as part of the company's push towards futureproofing high-resolution productions and workflows.
In recent times, Arab Telemedia Group, founded as a family business in 1983 by late producer and director Adnan Al-Awamleh, has been transformed into an independent commercial media enterprise specialising in producing rich content in different genres that has built a large and loyal audience across the Arab world, such as the first-ever International Emmy award-winning series The Invasion, The Sons of Al Rashid, Al Hajjaj and Malik Ben Al Rayeb.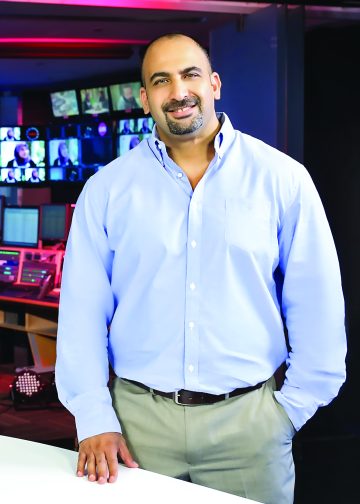 Under CEO and producer Talal Al-Awamleh, the company offers filmmakers and production companies the opportunity to benefit from its production services and latest technologies to produce outstanding content. In addition, it licenses and distributes thousands of hours of content to a variety of platforms and networks. To achieve its goals and produce high-quality international films and television, it uses the latest Avid technologies to fuel its existing production workflows and power its roster of acclaimed cast and crew.
The long-term relationship between Avid and Arab Telemedia Group stretches back to 2015, when the production house was searching for a partner to help deliver cutting-edge solutions to boost operational efficiency and improve the quality of its productions. Faced with fierce competition, rising viewer demand for content and ever-shrinking production budgets, ATG chose Avid to provide the technologies needed to improve operational efficiency, deal with the challenges of working in 4K and quickly produce a large volume of media under tight deadlines.
The deal made the company the first Middle East production house to base its workflows around 4K productions and the Avid DNxHR codec, enabling it to quickly adapt to the evolving requirements of high-resolution media and produce content in 4K without dramatically straining the production infrastructure. It included advanced media management solutions from the Avid Media Suite, including Interplay | Production and Interplay | Archive media asset management systems, Interplay | Capture ingest control, and Avid MediaCentral | UX, the cloud-based, web front-end to the Avid MediaCentral Platform. To effectively archive a massive volume of 4K media, Arab Telemedia Group deployed media storage solutions from the Avid Storage Suite, including multiple ISIS shared storage systems and AirSpeed servers.
With Avid Everywhere, contributors throughout the organisation could quickly gain access to and monetise the extensive archive of valuable media assets. Media Composer video editing software with Avid Resolution Independence also gave Arab Telemedia's creative teams the ability to acquire, edit and deliver content in any format and resolution, 4K and beyond. Media Composer's floating licensing enabled the company to share licences across its entire network and scale workgroups on demand.
Arab Telemedia Group returned to Avid when it realised that its older tools and systems needed an upgrade. Aside from naturally occurring system failures in legacy storage hardware, which posed a threat to the secure retention of highly valuable archived material, present solutions had reached a point in the technological cycle when they couldn't keep up with current technology. Even though the hardware could still be relied on, it wasn't ready for the demands and strains of future high-resolution production workflows.
In addition, much like other productions around the world, creative teams adjusted remarkably quickly to the increased need for remote editing and collaboration during the Covid-19 pandemic. The introduction of newer ways of working and processes provided a new work-life balance for teams used to working within the safe confines of their homes for the past two years.
This not only increased productivity and benefited those looking to express their creativity, it also shone a spotlight on the challenges of dealing with variable internet speeds away from the turbocharged studio-grade hardware, and the need for better and more efficient software-based solutions in the cloud. With more editors working from home, Arab Telemedia Studios needed to move away from the original installation prioritising hardware-based workflows in the studio, to adapt to remote working and globally distributed workflows.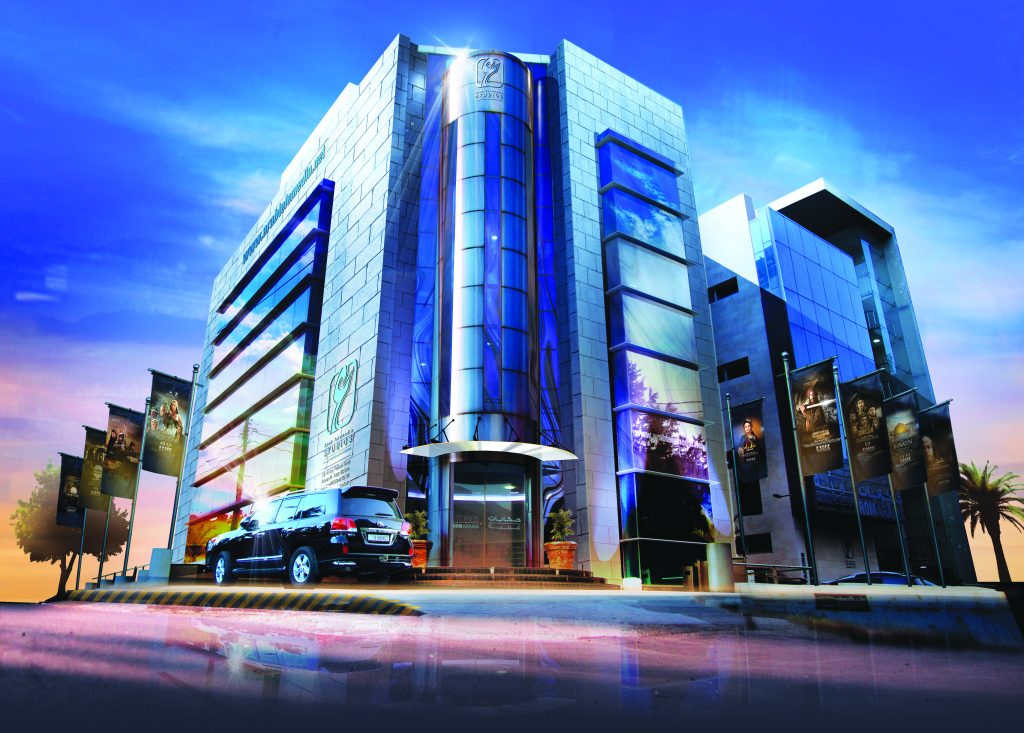 Raad Haddadin, Senior Vice President for Technology at Arab Telemedia Group, says: "Regardless of how new a system is, there comes a point in time where an upgrade is needed – either to keep up with the latest technological advancements or due to newer demands on productions, the cycle always reaches a tipping point. We also needed to increase our storage requirements both from a bandwidth and transfer of files perspective. We knew it was time to upgrade so that our productions using the latest cameras and tools can match our post-production workflows and enable us to continue delivering on our award-winning work."
Avid pushed Arab Telemedia Group to not only upgrade its systems to the newest available versions, but also to enhance existing workflows. This upgrade required modern technologies and solutions that could provide reliability and predictable spending while allowing the same degree of creativity from creative teams working remotely. Working on high-profile projects as an editor can be daunting, however, as it requires open collaboration with hundreds of other editors and contributors, using myriad tools and screens.
That's why Avid introduced ATG to MediaCentral, a fully modular platform that connects and integrates Avid and third-party partner solutions to streamline and accelerate production workflows. With this integration, it adopted resolution independence across many MediaCentral-enabled solutions, including Media Composer and MediaCentral | Production Management, allowing teams to work with and manage high-res and UHD media as easily as HD and SD media, and have it displayed consistently across all different tools.
With the adoption of subscription-based creative tools and content platforms by a growing number of post-production houses, broadcasters and other content creators, Avid decided it was time to introduce Arab Telemedia to subscription-based creative tools and content platforms, for optimally flexible and scalable workflows that ensure production resources are always available.
"This upgrade means that Arab Telemedia Group's creative teams will be able to tackle all future productions remotely while reducing overall costs and carbon footprint" – Raad Haddadin, Senior Vice President for Technology at Arab Telemedia Group
As a key requirement in allowing remote access to teams regardless of physical location or time constraints, the new subscription agreement to the latest Media Composer I Ultimate editing software removes reliance on perpetual licence software and ensures editors are equipped with all the required tools. It also enables editors to work from anywhere without changing their workflow and to extend collaboration to assistants, showrunners, producers and other creative contributors. This floating model of licence subscription not only allows anyone as many seats as needed, whenever needed, it also increases predictability when overseeing operational spend.
MediaCentral | Collaborate was also deployed to empower teamwork and connect teams in the studio, in the field and at home, across any device. Building on the need to collaborate remotely, it allows teams to plan stories, gather resources and delegate assignments to tracking tasks, topics and ideas. The fact that this is available as a phone or web browser app thrills editors, who can now take advantage of working together seamlessly from anywhere, without added travel costs or other operational expenses.
The upgrade also prioritised the replacement of legacy Avid ISIS storage systems with an Avid NEXIS | E4 shared storage platform, enabling any number of editors using Avid and third-party tools to connect, share media and collaborate on projects in real time from anywhere. The world's first and only software-defined storage platform that enables true storage virtualisation for any media application, this powerful system delivers unmatched flexibility, scalability, control and extensibility to Avid MediaCentral platform applications. It helps accelerate Arab Telemedia Studio's team's workflows and is future-ready in that it grows with every production need.
"Now, armed with the latest production tools across both software and hardware, this upgrade means that Arab Telemedia Group's creative teams will be able to tackle all future productions remotely while reducing overall costs and carbon footprint. With more pressures globally and inside the MENA region for faster, better and more cost-beneficial, sustainable productions on the agenda, we have a great future ahead of us," says Haddadin.