TV channels in the MENA are on a growth spurt and shows no signs of slowing down; co-operation with other teleports is the only key to success according to Andrej Lovsin, CEO, STN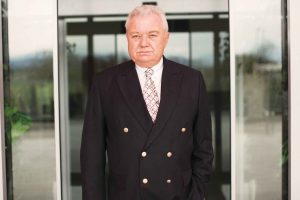 The broadcast market has been witnessing a swelling number of TV channels in the MENA region for some time, with significant growth seen in the last 10 years. The cherry on top is that industry insiders expect this robust growth to continue, just like the situation over in Asia and that of down below the equator in South America and Sub-Saharan Africa.
For satellite services provider and teleport operator STN, business appears to be very good. The company will see this new growth starting in the Q1 of 2015. This robust increase in TV channels surpasses the company's 2008-2009 boom, when the number of TV channels, antennae, revenues and employees grew. This upcoming rise sets a new precedent, one that the company is ready to not only realise but also sustain.
According to Andrej Lovsin, CEO of STN, the company has already gone through a series of expansion and can presently accommodate the new 150-200 TV channels, in addition to the 450 channels it already transmits.
"The existing capacity of our equipment centre, without any additional investment, is already capable of broadcasting 900 channels. It includes 65 RX antennae, 24 TX antennae, of which three are new, and 5,400 fully equipped rack units. Currently, we are transmitting more than 450 TV channels and approximately 300 radio channels. While we have a new round of expansion in the pipelines, we are ready now to accommodate these new TV channels," says Lovsin.
In 2007, STN ushered in its first significant expansion just in time for the boom. Serving 30 TV channels to European audiences with its new direct-to-home platform, the company had already began transforming from its humble beginning of two channels, two employees, 50 square-metres of work space and just three RX antennas and one TX.
By 2013, the company had its headquarters on 10,000 square-metres, accompanied by another 10,000 square-metres ready to accommodate further expansion.
This additional operating space will be developed as STN's third phase of expansion, explains Lovsin, adding that it is scheduled to begin in 2015 and be completed in 2016.
"Once the third phase of STN's expansion is completed, the area of 10,000 square-metres will house 20 new antennae, ranging between six and 15 metres in size. This will, of course, be built to STN's standards and based on the latest technology, which ensures secure, reliable and uninterrupted high-quality services," says Lovsin.
With a hard-earned reputation for quality and state-of-the-art facilities, STN will fully utilise the growth evident in the Far East, South East Asia, the Middle East and Africa.
"The additional 150-200 channels are a result of new projects due to start in the Q1 of 2015. We secured this client's projects because of our proven high-quality service and commitment to ensuring success,"
says Lovsin.
"New secured channels will originate from geographic markets worldwide. In addition to the MENA region, we see overall market potential in North and South America, the Far East and Africa. We are also particularly focused on the continuation of market expansion in China and India," says Lovsin.
With growth on the horizon, STN is upbeat. However, Lovsin calls for greater competitiveness, considering that collaboration can bring in industry success.
"The key is to strengthen the competitiveness, which can be achieved by matching core competencies with opportunities. This should be in addition to ensuring and facilitating growth and development within the company. STN's strategy includes collaboration with similar teleports. STN's management board is convinced that mutual cooperation will offer amplified and complementary services that will ensure continued success."