With the growth of bandwidth requirements, and proliferation of applications and smart devices, satcom in the maritime industry is set for a turn around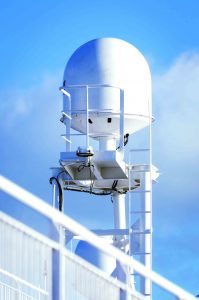 Satellite communications is essential to the modern maritime industry, providing vital safety, operational and crew welfare services that cannot be delivered effectively in any other way. With increased bandwidth requirements, and the need for fast broadband on board vessels, new antennas and satellite capacity will be a game changer. Be it for tracking ships, sending secure naval communication, providing cruise ships with on-board connectivity for passengers to be always connected, or even to boost crew morale by allowing them to speak with their families that they are away from for months on end; satcom is the answer.
Jan Michelsen, Vice President, Maritime Business at Cobham Satcom says that the role of satcom at sea has evolved considerably over the past decade, and that vessels today consume much more bandwidth, partly because big data allows for smoother workflows.
"Commercial vessels today consume much more bandwidth because it is more available and at a lower cost than before. This enables shipping companies to work with 'Big Data' in order to improve operations. Satcom has the potential to radically transform the way the shipping industry operates and it can even affect operations on land. If data about an entire voyage is always available, the goods receiver can plan the land part of the chain much better," says Michelsen.
Moreover, emergency communication is also vital, and on the sea, this is facilitated through satcom.
According to Ben Griffin, Regional Director, Middle East Africa, Inmarsat, every passenger vessel and cargo ship over 300 gross tonnes on international voyages are required, under international treaty, to carry Inmarsat C, which can be used to alert the relevant Maritime Rescue Co-ordination Centre in the event of an emergency at sea.
Access to the emergency services, while at sea, may also require specialist support such as an air ambulance. This calls for a satellite communications system that can swiftly raise the alarm in an emergency situation and initiate a speedy rescue effort.
Gavan Murphy, Director of Marketing EMEA at Globalstar says: "For the crew on a vessel, it's not just a luxury to keep in touch with colleagues on shore; it is essential. They require a communications system they can trust, rain or shine, 24/7, and that enables an always-on link with colleagues on land. In such cases, a satellite-based solution offers the only viable communications lifeline."
Along with a need for communications, satellites also track ships on the ocean, and positioning information is beamed back to the headquarters of the vessel's owner.
Tore Morten Olsen, Head of Maritime Satellite Communications at Airbus Defence and Space says: "Ship tracking is usually done via L-band Mobile Satellite Services such as Inmarsat mini-C and Iridium Short Burt Data. The advantages of using L-band over VSAT for vessel tracking are quite clear. The terminals are small, low-power and unobtrusive. Vessel tracking actually requires very little data to be transmitted so costs are low and there are services available being able to track vessels anywhere globally."
Michelsen adds that communication satellites don't do the actual tracking, but they receive the data from the positioning system – usually GPS or GLONASS (Global Navigation Satellite System) and send it back to the shore office.
"Shipping companies can view the location of their entire fleet on a world map and the data can be linked to a vast array of applications and databases that are used to improve operational efficiency. Mobile Satellite Services are usually chosen to track ships because they offer greater coverage. Iridium even provides global Pole to Pole coverage which is helping ships to save time by using the Great North Route safely and efficiently," he says.
Murphy adds that Globalstar's simplex M2M tracking devices can be configured to transmit at pre-determined intervals or programmed to react to events such as water ingress.
"They typically contain a Globalstar communications chipset, such as the STXIII, a GPS chipset, an antenna and a power source, all mounted on a PCB board. For example, Jakota Cruise Systems' FleetMon, based on a Globalstar communications chip, gathers intelligence about a ship's environment as well as providing accurate tracking. Live on many hundreds of sea-faring ships, it transmits details about the local conditions, building a profile of the ship's performance that can be used for SLAs including speed and fuel consumption," says Murphy.
Additionally, Globalstar also offers satellite phone handsets, fixed maritime kits and Wi-Fi modems, which allow users to make and receive phone calls via Globalstar's satellite network, independent of traditional carriers. These products boosts morale and welfare among crew who are away from home for extended periods of time and need an easy way to call friends and family.
Different types of vessels have their own types of communications needs. The needs of a freight carrier are mainly to be in touch with base, and they don't really need high broadband speeds, whereas cruise ships need broadband to allow travellers fast access to internet and apps, while o the move.
Hussein Oteifa, GM, SES Middle East says: "Naval ships require a dedicated network. They have more specific and secure requirements, and use encryption standards. The data rate for naval ships would also be different. These vessels would be more interested in transmitting than receiving, because of the nature of their work. On the other hand, cruise ships need low latency, they need fast internet. For cargo ships they just need to track where every ship is going. They are connected via satellite to their head offices, and exchanging data."
Internet on board cruise ships drives significant revenue as everyone on-board wants to be connected to Facebook, Instagram and other applications. With the way Internet and connectivity has been a huge part of everyone's lives, few can bear the thought of not using their smartphones and tablets. This makes cruise ships the largest sector that invests in communications per vessel than any other maritime sector, according to Michelson. He explains how on-board connectivity is established.
"Size of antenna is important – the bigger the antenna, the more bandwidth you can have on board. And if you have more than one antenna you can add even more bandwidth to meet your passengers' needs. Considering the size of cruise ships today, it's not uncommon for them to use two Sea Tel 2.4m (or bigger) C-band VSAT antennas in addition to Sea Tel or SAILOR Ku-band."
Another huge segment of maritime in the Middle East is super yachts.
Oteifa says: "Traditionally, customers want global C-band satellite coverage that moves from one satellite to the other. Nowadays, with new technology we can still use Ku-band if you apply certain regulations like DVBS2, and it will help take care of certain issues like rain fade."
Maritime communications, however, are not without their limitations. Olsen says maritime satellite service providers typically don't own the satellites, but Airbus Defence and Space and Marlink, have developed close relations with satellite operators to help drive the development of maritime coverage.
"Today we have near global coverage on Ku-band VSAT. Another limitation is the weather. Satcom is the transmission of radio signals through the atmosphere, so if it rains or snows, the signal can be degraded. Depending on what frequency you are transmitting on, the effects may vary, so it's important to have an alternative frequency available for critical communication," he says.
Griffin adds: "Previous limitations of satellite services for the maritime industry are two-fold; speed and cost.  Both these issues are directly addressed through the new Fleet Xpress service, which will deliver the highest speeds available on a global basis, from a single operator, and significant reductions in the cost per bit."
Michelsen says that latency is another issue with maritime communications.
"Due to the distances involved from the ship to the satellite, latency can be an issue. Services are designed to mask the effects, but it will always be an issue with any satcom service on land or at sea. Maritime satcom can still provide high quality video calling services though (which are one of the applications most affected by latency). 'Shadowing' can be a problem too. This is where the super structure of a ship can block an antennas view to a satellite. A dual antenna system will overcome this problem though," he says.
Olsen thinks HTS systems will offer more throughput meaning more bandwidth delivered in a more efficient way which again can drive the costs down. But most important for ship owners is not whether they get their IP connection from HTS or wide-beam satellites, but that they get the service and throughput they have paid for.
Oteifa agrees and says that SES-9 was specifically designed to provide HTS coverage over ocean routes.
"With the launch of HTS satellite, the problem of lower bandwidth will be resolved. We're launching a new satellite called SES-9 which is going to be positioned at 108.2 East. This will bridge the gap over the ocean from the Middle East to India. There were previously issues with the use of C-band, but now we're offering more flexibility by introducing Ku-band to these vessels," explains Oteifa.
Michelsen is of the opinion that HTS could allow ships to become more efficient, but thinks that HTS itself is not more efficient.
He says: "It suffers the same limitations as any satcom service and service providers will have to work out innovative solutions and packages to offer the most efficient, reliable and available services. HTS will drive even more growth in maritime VSAT though, allowing equipment manufacturers and forward thinking ship owners to leverage Big Data and generate significant cost-savings."