Dina Nimer's progression from editorial researcher to Head of Media Operations at Al Arabiya is a testament to the changing landscape for women in broadcast technology.
Dina Nimer was recently promoted to Al Arabiya's Head of Operations. An expert in media lifecycles, she likes to call herself the glue of the channel. Armed with a passion for creating editorial content and an innate understanding of technology, she has emerged as the Jill of all trades in a cross-functional role at the news channel, working with different departments including the master control room (MCR), editorial, newsroom, websites, on-air, social media, engineering, finance, procurement, legal, and international offices.
"I have to stitch things together; it all works with collaboration. Different teams are involved, whether those who report to me directly or external teams that I work with." Nimer's role clearly involves much multitasking, a skill she believes comes to her naturally.
With both her parents media professionals, Nimer has had exposure to the industry from her childhood. "It runs in my blood," she says passionately. A graduate in Mass Communication/Broadcasting & Computer Science from the American University of Cairo, she interned at Agence France-Presse (AFP) and Orbit news channel during her college years, where she dabbled in editorial and production. She was also awarded a scholarship by the US Association for Journalism Educators for a journalism training programme where she familiarised herself with ethics, editing, TV news writing and online journalism.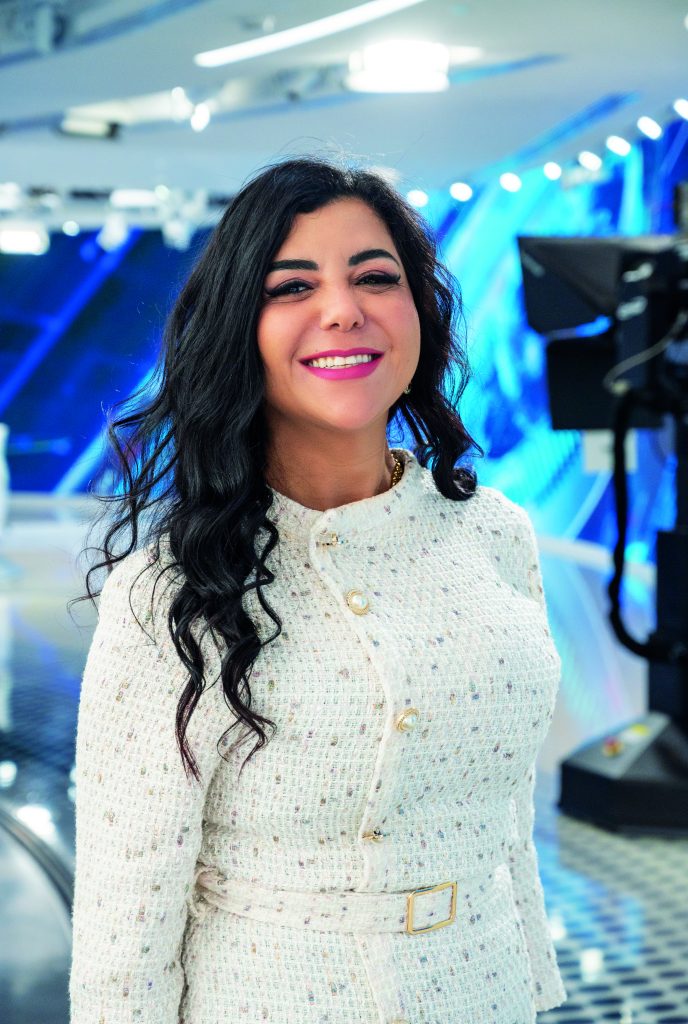 At university, she did a project on Al Arabiya's coverage of the 2003 Iraq War, which allowed her to understand the channel's modus operandi and reporting style. This later proved to be instrumental in being offered full-time employment there in 2005.
Nimer's day starts fairly early, at 6.15am. After completing the morning school run for her two children, she heads to work, energised to tackle the day ahead. "I prefer to go to work early. I'm a morning person, and I think it's the best for a focused time before all the meetings start." She draws up a to-do list, ticking off items as she works through them from 8am on. From midday onwards, she conducts local and international meetings via Zoom.
"Gathering real tacit knowledge" is the most critical part of her job. To accomplish this, she regularly does the rounds of the Al Arabiya office, "playing the bee and running around and talking to people".
Interestingly, at Al Arabiya she started as a researcher in editorial rather than in technical operations – "I love editorial work. I love being on the field, talking to people and being able to tell the stories." After a couple of years, in 2009 she shifted towards operations, prompted by changing family circumstances. To industry outsiders, moving to an operations role at this time may seem counterintuitive, but it actually helped Nimer maintain a better work life balance. The shift to operations meant she wouldn't be involved in overnight or overseas reporting and graveyard shifts. Unburdened, she was able to prioritise her workload and better plan her days.
"My managers at work were very understanding as my family grew, and were aware of my responsibilities at home. They also knew I had an aptitude for technical operations, so they asked me to explore it."
It's even more noteworthy that Al Arabiya encouraged Nimer to study further while employed, to acquire the skillset and knowledge to fulfil her increasing responsibilities at work. As a result, she signed up for the University of Manchester's MBA (engineering pathway), completing the full-time programme over three years. In addition to a highly supportive workplace, she is blessed with an equally supportive family
The ability to straddle editorial and operations gives Nimer a leading edge at the company. "After editorial, I started working in media management, which included working on operational projects related to media workflows, working with the engineering, editorial, the newsroom and the journalist simultaneously. It's good to know both areas. The technical departments are very straightforward about what they want; the editorial team is equally passionate about presenting a story and how they want audiences to see it."
Since she has worked at both ends of the spectrum, Nimer can balance the requirements of both teams adeptly. "I live in-between. I am an editorial journalist at heart. But technical in tasks and occupation." Shortly after her move to operations, she was asked to manage the operational side of Al Arabiya's international offices.
"When I choose someone to hire, I don't think if the candidate is female or male. I look at their experience, competence and suitability for the job" – Dina Nimer, Head of Media Operations, Al Arabiya
Nimer also handled the channel's production asset management (PAM) and media asset management (MAM) implementations in her previous role as Project Manager. "From the RFPs to the POCs to sitting with the teams to delivering the training myself, I've done it all from scratch. Media lifecycle is my expertise."
Considering these factors, Nimer's recent promotion to Head of Media Operations isn't surprising. She manages Al Arabiya's news library team (responsible for archiving and double-listing the channel's bulletins from its content across all its offices), the media management team (responsible for managing all the systems' storage capacity for the incoming and the outgoing workflows), and finally negotiating and maintaining contractual relationships with Al Arabiya's suppliers, especially the feed wires and agencies. "My team analyses the workflows between the different departments and then looks for systems that can be implemented between them and technical till they reach editorial on-air."
Nimer has also started managing the library department, working with Al Arabiya's engineering room to digitise the channel's news library from 1991 onwards. This equates to over 180,000 hours of recordings, with 65% of the task completed.
Keeping abreast of constantly evolving technology is another critical job function. "There are technology evolutions the industry goes through, and then there are technological changes for us as Al Arabiya. So we see all these changes, and it's always a tough job to know which one is right to apply. While there is some space for trial and error, we try to be thorough in our approach. For example, if we want a certain product, we contact many companies and ask for proof of concept (PoC) on-site."
Owing to her start in editorial, Nimer always keeps in mind the importance of keeping editorial involved while choosing the right tech. "It's not just about buying technology. People have to use it. I believe technology is a partner. If people are not happy with it, they won't be able to apply it."
Nimer's most challenging project to date was the introduction of the PAM system at Al Arabiya in 2009. It wasn't the tech that was the roadblock; it was dealing with fixed mindsets. Convincing people to accept digital transformation was the most difficult part. "They just couldn't believe they had to get rid of the tapes." She recounts how people would hide the tapes when her team went to collect them!
The Arab Spring in 2011 was another tricky time, with Nimer involved in establishing the social media department for the channel. At the time, Al Arabiya had just one Facebook account and was inundated with requests for videos for social media feeds. As videos and news flooded in, Nimer and her team had the Herculean task of segregating real news from lies and ensuring the channel's credibility was always maintained. Moreover, with social media rapidly evolving across the region, she had to devise a strategy that would enable swift social media expansion for the channel as well. "It was very challenging due to the pressure we had at the time."
Nimer is currently seeking solutions to integrate the hundreds of applications Al Arabiya uses to conduct operations. The channel uses Avid as the main supplier for its newsroom production system, and although Avid has recently opened its APIs to allow greater product integration, more work is needed.
"I believe technology is a partner. If people are not happy with it, they won't be able to apply it" -Dina Nimer, Head of Media Operations, Al Arabiya
"News production uses one kind of tech, but post-production may use a different type of technology, as does social media. So it's challenging to find one product that fits all." To solve this problem, Nimer and her team are trying to find ways to "make different programs talk to each other to simplify the media workflows and to raise the efficiencies of the people".
Nimer also believes that human effort is the answer to the burning debate on how newsrooms can benefit from generative AI without threatening their ethics, credibility, quality and human resources. "It's always human intelligence. Human beings just have to keep improving their skills. There's always something that we can do that technology can't; that's always going to be the case."
Nimer's outlook and consistent progress on the corporate ladder are a glowing testament to her capabilities and the positively changing landscape for women in broadcast technology. In addition to evolving attitudes across the industry, Nimer also commends the company work culture. "Al Arabiya provides many opportunities for women, but there is always room for improvement. Most of the female representation has been on the editorial side to date," she points out, stating a need for more women in the technical side.
As a leading figure in the sector, she does make a conscious effort to have more women on her team.
"There is a bias against women that being wives or mothers takes away from their time. But that's completely untrue. I have four new female hires joining us soon. When I choose someone to hire, I don't think if the candidate is female or male. I look at their experience, competence and suitability for the job.
"Having said this, women have some qualities they bring to the workplace that men don't. A woman brings every single thing a man can, but on top of it women also bring resilience and empathy. Unfortunately, people underestimate the power of empathy and are biased against it. They think if you're empathetic, you're not a good leader, but that's not true. You can be empathetic, and you can be a strong and outstanding leader."