IBC2015 had a large footfall, with more than 55,000 visitors. The conference included key topics impacting the broadcast industry, ranging from ultra HD and the adoption of IP to the popularity of online and social media. A report IBC2015 welcomed 55,128 visitors as more than 1,800 vendors showcased their latest offerings, from cameras to codecs, workflows to wearables […]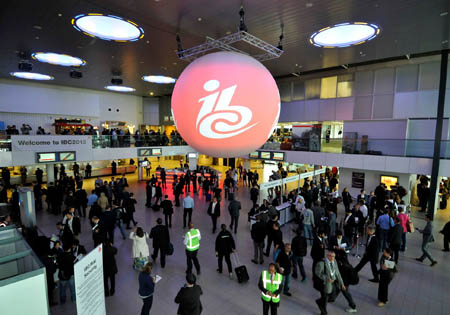 IBC2015 had a large footfall, with more than 55,000 visitors. The conference included key topics impacting the broadcast industry, ranging from ultra HD and the adoption of IP to the popularity of online and social media. A report
IBC2015 welcomed 55,128 visitors as more than 1,800 vendors showcased their latest offerings, from cameras to codecs, workflows to wearables and virtualisation to virtual reality. The conferences were well attended too, with more than 250 speakers handpicked from around the world to discuss the future of electronic media. The IBC hackfest and drone zone buzzed with activity as innovation took centre stage at this year's show.
The future of media in an age of disruption was in the spotlight at the panel discussions.
The opening IBC Forum session revealed how four top broadcasters are solving the challenges they face: competing in the intense international news business, taking specialist lifestyle channels around Europe and fighting off rivals in the highly competitive Middle East pay television market.
Speaking in the opening conference session, David Butorac of Dubai-based pay-TV network OSN asserted: "We have to adapt, we have to recognise that the consumer is now in charge, but the future is bright for broadcasters."
Fran Unsworth, Director of BBC World Service, added: "The future is digital and we need to expand it – but not at the expense of television and radio."
This confidence that top-quality content aimed at a broadcast audience can exist alongside YouTube and TV Everywhere was also reflected on the show floor.
"The media industry today is radically different from where we were five years ago," said Michael Crimp, CEO of IBC.
"We have gone from an industry that was defined by technology to one where we demand new functionality from our vendors; from an industry where broadcasters told us what we were going to watch to one where consumers call for content wherever and whenever they want. All that inevitably brings seismic shifts on every level.
"IBC provides the independent forum for the conversation. We have worked hard to bring everyone together the telcos, the social media and the innovators, and everyone from the CEOs who attend our Leaders' Summit to the engineers and creative artists who walk the show floor and learn in the conference. This is where the real debates take place."
Publisher and broadcaster Andrew Neil asked industry leaders how well are broadcasters, platforms and content owners embracing the big issues of content rights as the EU looks towards a Digital Single Market.
Creator of the Neflix show, House of Cards, Lord Michael Dobbs, spoke about how breaking down the old rules of broadcasting has forced up the quality of programmes and broken down barriers around the globe. He explained why when he was approached by the little known service, he took the risk rather than seeking out a traditional broadcaster to make it. He also shared his experiences of working with the Netflix team.
Sling TV's CEO Roger Lynch gave a keynote on Over the Top Comes of Age to discuss how Sling TV (part of DISH) is pioneering the next-generation TV service.
The digital cinema conference sessions at IBC were dominated by discussions on High Dynamic Range (HDR), a means of augmenting the picture quality of content shown theatrically and in the home.
"The HDR revolution has shaken a lot of folk in the industry to be aware of the fidelity of their image," said Dominic Glynn, Senior Scientist, Pixar.
"It's a wake up call for those skating a fine line of efficiencies and short cuts to better protect their imagery throughout the pipeline if they want to leverage HDR into distribution."
While it has long been possible to record the full dynamic range from light onto film stock, and more recently on digital image sensors, what has not been possible is a way of preserving that information through to final display.
The IBC Big Screen Experience hosted demonstrations, conference sessions and two movie screenings. The Big Screen was also host to the IBC2015 Awards Ceremony. This year's International Honour for Excellence went to embedded processor pioneer ARM, with the Judges' Prize going to the International Olympic Committee for its work on preserving its archive, going back more than 100 years.
The IBC Innovation Awards celebrate the partnership between a broadcaster or production company and technology suppliers that push for and deliver the quality, creativity and accessibility of content to the audience. BroadcastPro ME Editor Vijaya Cherian gave away the IBC Innovation Award for Content Management to ESPN Digital Center 2, and certificates of appreciation to the other shortlisted candidates in the same category.
Taking place for the fifth year, the IBC Leaders' Summit was a behind-closed-doors day for senior executives from media companies around the world to talk strategically about the real issues facing them. This year close to 150 invited delegates debated the theme "Leading through a Changing Media Ecosystem".
At the other end of the career path, IBC hosted Rising Stars, another well-established programme which brings together over 200 young professionals entering the industry, in a programme of specially tailored conference sessions, networking opportunities with senior figures and a legendary party. On the show floor, the added value of debates and demonstrations in dedicated theatres was expanded, with a new Technology in Action Theatre alongside the IBC Content Everywhere Hub.
The Future Zone saw a very popular virtual reality area where visitors could try the latest in headsets. Also featured was the latest in display technology.
We asked exhibitors on the show floor some pertinent questions about TV and radio. Here's what they had to say:
Is IP the way forward for broadcasters?
Simen Frostad, Chairman and Co-founder, Bridge Technologies
More people are now looking for virtual headends, where they can deploy what they need. These are more flexible than having hardware endcoders and decoders. By 2017, I expect a dramatic shift in the way we process our content. I see IP becoming more mainstream as more systems go virtual and everybody replaces stuff.
All 4K distribution of HEVC and H.265 content will be via IP and not terrestrial. With better compression, we have smarter ways for using bandwidth and IP will be a reality in the next 18 months. Broadcasting and media have had so many transitions, but the move to IP is quite revolutionary. Right from production to distribution, and everything in between, will be packet-based very soon.
Peter Alexander, Senior Vice President and Chief Marketing Officer, Harmonic
Video over IP is more real now. Within the production environment, it has traditionally been all SDI, but now that transition to IP is in play. The main challenge to transitioning to IP is the fact that at the start of the chain, the output of the cameras is still baseband SDI, as is most of the switching and routing in the production environment.
Virtualised playouts are increasingly being deployed now, but whether they are going to be hosted on a public cloud is a question. Broadcasters are virtualising their systems on their premises, but the leap to the cloud has not happened just yet.
There is a gradual transition to virtualised systems for ingest, playout, graphics, branding, decoding and so on, but that's all in a private cloud for now. For public clouds, the user interface and menus tend to be very cloud-oriented, very simple and intuitive, as opposed to expert interfaces in private clouds. The broadcast industry is moving in that direction.
Content from a studio production facility and into the cloud and back, may eat up a lot of bandwidth. You cannot use the cloud where the bandwidth costs are high but for other non-time critical functions such as offline processes, to ease off peak load and for backup, broadcasters may want to offload in the public cloud.
Olivier Suard, Marketing Director, Nevion
All the things you hear about broadcast today used to be the topics of discussion in telecom 15 years ago. Broadcast will eventually adopt IP, but when, is the question.
We have been involved in IP for a long time in terms of contribution; however, with regards to IP in the studios, there are still lots of questions around that. Broadcasters are often concerned if it is fast enough, can I switch rapidly, is it resilient? Broadcasters are also uncomfortable with the idea of a cloud.
The cloud tends to work well for storage and processing capabilities. Something that you need a service store there and bring it back, that works well in the offline type of production and is not time-critical.
Upload the footage to a cloun d, editor edits it and uploads it back – but that doesn't work for live shows. However, the future is headed towards that.
This year, we have had a lot of proof-of-concept for IP solutions. A number of vendors came together to create an IP studio. It's not a big money spinner yet, but mature enough to try for broadcasters. I believe the switch to IP will be incremental, unlike what we have been doing in the past.
The move to a new technology comes with scrapping of everything old, but that won't be the case for IP adoption. Broadcasters will still keep their baseband cameras and expensive baseband equipment and gradually make the move over a period of time. Networks can be a good starting point, with the core of the network being the standard IP routers, which are compatible with baseband as well. The IP network will run parallel with your baseband network. A mix of baseband and IP is the way forward.
Radio trends
Timothy B Anderson,
CPBE, Manager, Radio Market and Product Development, GatesAir
What we are seeing is how different technologies are working together. More and more smaller broadcasters are interested in digital radio, and the radio world in general is now focused on digital radio. Customers are interested in the solutions that are available in the market. Digital radio has a number of solutions, and all of them have a place. We support all the broadcast standards such as DRM, DAB and others from across the globe. Each has its own niche; some are mutually exclusive, but most of them can work together. HD radio and DRM can cover large areas.
Some countries have announced analogue switch-off; however, FM is not going anywhere for many more years. Whether you are a public broadcaster or a private entity, your decisions will be based on the switch.
Barbara Petersen, Sales Marketing and PR, 2wcom Systems
With bandwidth getting cheaper, a lot of broadcasters have decided to contribute audio from studio to studio or studio to transmitters via IP.
For bandwidth and quality of signal, not all broadcasters have a dedicated line. We are sending two similar audio streams; when there is a packet of information missing in one stream, the receiver takes it from the other one, which works as a back-up. The result is good-quality audio.
In Europe, there is a mandate to shut down FM transmission. In Norway, together with Norking, we created and implemented DIB+ via satellite. They will shut down FM next year, and will rely on DAB+ via satellite.
In the future, radio will move to IP completely. You cannot reach the whole country via IP, so satellite will continue to play a key role.
Ken Frommert, General Manager, Enco Systems
Visual Radio integration is a growing trend, as radio stations do not want to change their workflow. Visual radio is starting to become more popular now. Web TV is another interesting avenue for channels to monetise. Radio stations are adding video for more streaming content alongside their audio programming, giving the audience the ability to watch music videos and commercial content.
Audio over IP has been around for years now, and it is quite successful.
Radio in the next couple of years will have more virtualised workflows and virtualised environments. Stations are already starting to get rid of the hardware and cables. Modular equipment is gaining traction, as is the move to the cloud. It's already in the works. We have stations deploying virtualised workflows, and in the cloud, as bandwidth improves and connectivity gets better, the trend is only going to catch on further.
There are radio stations today that have been fully deployed on IP.
Live videos in news
Richard Aylmer-Hall, Business Development and Product Manager, Livewire Digital
There is more focus on live content these days, and with content going on various platforms, keeping it fresh and relevant is the key. Content creators are producing more and more live products. Broadcast and online content distributors want to have live content all the time. The transfer of content, therefore, has to be quick. That's where we come in as we help our customers to create and transfer content quickly.
Today, newsgathering is a very competitive market, and in order to differentiate ourselves, we focus on the networking part of the workflow. We have our own H.264 codec for compression and live broadcasting – you connect your laptop to the camera and do the encoding and the transmission through any internet connection, satellite, 3G or 4G.
We offer laptop-based software running on windows and MAC. Reuters has several hundred laptops with our software on them.
We use content into the studio using IP. There are still concerns about data synchronisation and potential packet loss around networks. Some of our customers are transitioning from SDI to IP for greater flexibility. A new set of challenges now is how you plan your throughput, which is also being addressed with suitable solutions.
Arco Groenenberg, SVP, Global Sales, Dejero
Remote acquisition is gaining a lot of traction these days. Take the video remotely and then transmit it back to the broadcast centre. iPhone apps for newsgathering are quite widely used. Our apps for mobile journalists and professional video contributors are suitable for breaking news, impromptu interviews and live events. These enable journalists to broadcast live from virtually anywhere, record video for later broadcast or import and export edited video files to designated servers, in the absence of traditional broadcast equipment.
Our bonded cellular technology enables one to go live to their website from anywhere where there's a cellular connection. The technology bonds wireless connections to deliver optimal picture quality. Adaptive bitrate encoding is built in, so the stream automatically adjusts according to the total available bandwidth. The transmission devices and live feeds are managed centrally in the cloud.
Cloud management is the middle point with multipoint distribution that allows one signal to multiple locations. We build virtual servers in a public cloud for big events. We can capture and transmit HD footage, as all of our systems are now ready for H.265.
Personalisation of TV
Miguel Silva, EVP Sales and Marketing, Vimond
Viewers these days look for unique experiences. They look at what is a news service directly to consumers. News is old-fashioned. Personalisation in the OTT space is the new trend. Social is starting to be important in the online world. Broadcasters are now worried about the cord-nevers, not the cord-cutters. Using OTT is a very personalised experience and we are creating social products that match the habits of the viewers.
There is a lot of potential in curation and metadata handling. In fact, I feel curation of content is more important than recommendations. The biggest trend is curating – not using technology, but by humans. Customers are creating curated playlists to appeal to their viewers.
Social media is very big in the Middle East, with Saudi Arabia among the top three countries in Twitter and YouTube usage. We made a solution with Facebook with new video APIs for broadcasters that allow them to take live feeds, make clips and publish them immediately on social media.