The iSat terminals will enable the commercialisation of the Ka-band payloads on Es'hail 1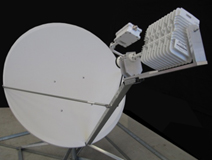 Es'hailSat and Integrated Satellite Applications Technologies Ltd (iSat) have announced the delivery and installation of two pilot VSAT terminals at Es'hailSat's headquarters in Doha, Qatar, to enable the commercialisation of the Ka-band payloads on Es'hail 1.
Es'hailSat was established in 2010 to provide advanced satellite services to strategic stakeholders and customers who value communications independence, quality of service and wide geographical coverage.  Es'hail 1, the company's first satellite was launched in Q3 2013.
The installation of this new, specialised satellite communications equipment allows Es'hailSat to offer superior coverage and secure connectivity for business and government services across the whole MENA region.  Dedicated telecommunications services including broadband Internet access, corporate networks and similar services will be possible on Es'hail 1 using small fixed or mobile antennas.
iSat, which designs, manufactures and installs bespoke satellite earth stations and VSATs worldwide to optimize the use of bandwidth for satellite operators and their customers, delivered a 1.2m transmit and receive VSAT terminal designed to work with Es'hailSat's "Mission 4" Ka-band transponders, and a 1.2m uplink designed to work with Es'hailSat's "Mission 3" Ka-band transponders.
The development of the VSAT equipment involved designing, integrating and testing feeds specific to the Mission 3 and Mission 4 Ka-band frequencies with existing reflectors to ensure performance compliant to international standards for antenna side lobe and cross-polar patterns. The integration also involved sourcing the other components of a conventional VSAT for these frequencies – BUCs, LNBs, OMTs, and TRFs.
Hamad Al-Mannai, Es'hailsat's Chief Commercial Officer said, "We are pleased to be working with iSat on this project as they have proven expertise in providing bespoke systems for Ka-band satellite services.  As a new satellite operator it is important for us to be able to provide our customers with both superior coverage and to fully support their network connectivity".
David Harper, CEO of iSat said, "The reason that iSat wins these open tenders is due to our experience designing and manufacturing VSATs for satellite operators with challenging transponder frequencies.  Whereas the HDFSS Ka-band market has a variety of highly competitive VSAT suppliers, the frequency area below 29.5GHz is where our customers appreciate iSat's skills and experience as a terminal manufacturer. Our purpose is to work with Es'hailSat to develop further terminals in the range to help them optimize the use of their bandwidth and increase the commercialisation of their satellite fleet".