Al Jazeera Media Network has been broadcasting from several underreported locations around the world using Quicklink technology. Some of the most recent news stories that made the headlines include the mudslide incident in Afghanistan, the schoolgirl kidnapping by Boko Haram in northern Nigeria and the avalanche tragedy in the Himalayas, where 13 Sherpas died on […]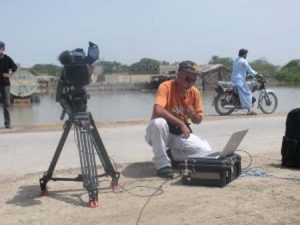 Al Jazeera Media Network has been broadcasting from several underreported locations around the world using Quicklink technology. Some of the most recent news stories that made the headlines include the mudslide incident in Afghanistan, the schoolgirl kidnapping by Boko Haram in northern Nigeria and the avalanche tragedy in the Himalayas, where 13 Sherpas died on Mt Everest. Al Jazeera Network was one of the first to feature these stories on
Quicklink has become the main method of field and bureau content delivery for Aljazeera English since its launch in 2006.its platforms.
Quicklink file compression, coupled with its live software enables the correspondents to report from remote regions previously outside the news cycle. The technology was used with Windows Live and Windows Store & Forward version of the Quicklink software, which was later adapted to the Mac OSX version to cater to the broadcaster's demands.
The technology will get a further boost from Inmarsat's recent HDR launch and future Global Xpress (GX) service, which is expected to speed the network's newsgathering.
Josh Mainka, Acting Head of Field Operations for Al Jazeera English Channel said: "We were looking to couple advances in laptop newsgathering technology with content delivery over IP networks when we chose to go with Quicklink. It has opened up the unreported world for Aljazeera's viewers, ensuring that we fulfill our mandate of being the voice of the voiceless; no matter the location.
Al Jazeera English was the first broadcaster to use BGAN X-Stream 384Kbps connections in the field for live transmissions with Quicklink in 2009.
The broadcaster's field acquisition consists of a combination of MacBook Pro-based laptop newsgathering (solutions) coupled with traditional satellite newsgathering. Its camera crews are equipped with Hughes HNS 9201 BGAN units which they used for live and store and forward transmissions from the field with the help of Quicklink software.