With the ongoing production of season nine of "The Million's Poet" and the recently concluded season eight of "Prince of Poets", Abu Dhabi production house Clue Media is looking to set new standards for reality TV shows. In an exclusive interview with Shifa Naseer, General Manager Karl Moussawba and Executive Producer Marianne Salameh speak about how reality TV shows have evolved in the GCC under their watch.
A live competition show, The Million's Poet is an initiative to revive Nabati poetry, one of the oldest genres of Arabic verse. The stage is set with the coveted red chair, symbolising the designated place for a poet. The 48 contestants, chosen from various Arab countries, perform while seated on the red chair and are judged by three experts. This is the hook of the TV show which has gained a considerable fan base across the Arab world. Prince of Poets, which has completed eight seasons so far, follows a similar pattern with a focus on traditional Arabic poetry.
For the past two seasons, the shows have been under the umbrella of Clue Media. With headquarters in Abu Dhabi and another office in Dubai Media City, Clue Media is a privately-owned production company under the React Group, which specialises in marketing, communications, event management and production.
As the production rights for The Million's Poet and Prince of Poets were made available by the Committee for Cultural Programs and Heritage Festival, the Abu Dhabi firm pitched for the two shows and won, after strong competition from three other production companies. Marianne Salameh, Executive Producer, Clue Media, tells BroadcastPro what happened next.
Salameh, who worked with two TV channels in Lebanon and other international shows such as Dancing with the Stars and Celebrity Duets before joining Clue Media in 2017, says research is one of the key factors driving their willingness to pitch for a show.
"When we pitch for any show, we look at two major aspects: the content and how it will be presented to the audience. Our content and production teams perform extensive research in both fields to bring the best technologies that are being used on similar international TV shows. For this purpose, we also attend technology exhibitions in Holland. We followed the same process for The Million's Poet and Prince of Poets."
Typically, Clue Media tends to produce reality shows with a specific focus on cultural content, especially within the GCC. "Market research shows there is a demand for it," says Salameh, who is responsible for overseeing the productions from beginning to end.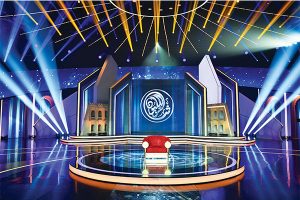 "A good investment is a package that includes the idea, the set design as well as the interest of each market. For example, we don't pick poetry shows for the Lebanese market because we know it is not their point of interest – unlike the Gulf region, where poetry plays an important role and has a huge fan base," she says.
To that end, last year Clue Media produced the first season of its own original Shalla Arabic poetry singing competition, Al Mankous, alongside Prince of Poets.
"Al Mankous is a TV format that was purely developed in-house, from content and production all the way to the construction of the sets and the execution of the project. The TV show came into being after the idea was pitched by our client, Committee for Cultural Programmes and Heritage Festival – Abu Dhabi," says Karl Moussawba, GM of Clue Media.
"We produce all kinds of content but prefer unscripted formats. Like any other production, there is always a fun side and a challenging side for this genre. The unscripted formats are very exciting to work on because they challenge you continuously in a live on-air scenario and each situation keeps us on our toes. However, there is zero tolerance for errors in a live environment and the team must always be 100% prepared to intervene within seconds to resolve any issues that crop up. But that pressure is exciting for those who are passionate about these kinds of productions."
Given that Clue Media's goal is to set itself apart from other players in the market, leading-edge technology plays a huge part in these productions. "We strive to bring something new to every production that comes under our wings," says Moussawba. "We are constantly on the lookout for great formats that we can buy, either to produce or to distribute within the region."
Both claim the production standards of The Million's Poet and Prince of Poets improved when Clue Media took over.
"When we landed the two projects, they were already successful and popular in the region, with a loyal audience. Prince of Poets had already reached season six and The Million's Poet was at season seven. So, it was a challenge to take these projects and come up with new ideas to entice our viewers. We focussed on introducing a new image, a new approach to filming, directing, creating special reports about the contestants, interactions between contestants in the audition episodes, and new technologies," says Salameh.
Moussawba adds: "Since we are in the show business, we need to satisfy both audiences – those in the auditorium and those watching the show on TV. We have succeeded in doing that by using new techniques that have set us apart from the competition."
Clue Media introduced augmented reality in real time while shooting Prince of Poets and a holographic screen for season eight of The Million's Poet. "We were the first production company in the region to use augmented reality live on air in a weekly show," says Moussawba.
The holographic screen at the back gives a 3D look to the stage. "The transparent screen absorbs 78% of the light, giving a sharp and vivid effect of any 3D elements projected," says Salameh, adding that the result is wonderful on-set cinematography for both the live audience and people watching on screens.
The production house also uses patented technologies such as Cable Cam, Robot Cam and Trackie Cam, which offer refreshing new angles on shoots.
"Using technologies during live shows is always risky because at the end of the day, you are dealing with machines and at any point, it can crash. That is why we do rehearsals before the live shows and make sure to test everything before we go live," reveals Salameh. "That way we're able to test everything. The presenters can master the script; the director and I can see the flow of the episode."
Clue Media constructs its own elaborately designed sets with at least 14 cameras, curved LED screens, extravagant props, 2km of LED strips for lighting, and Madrix LED strips which can also be used as a display screen.
"We introduced Madrix to the set design for the season nine of The Million's Poet," says Moussawba. "We have more than 2,000sqm of warehousing space since we are among very few production houses that operate with our own equipment, from LED screens to light and sound equipment, to set fabrication and technology."
Clue Media constructs its sets in conjunction with Redpill company, part of the React group. "We are different from other market players. In their TV shows, the set for an audition tour is always minimalistic, but we make sure that even the audition set is designed with equal importance as the prime set," explains Salameh.
The Million's Poet involves a GCC tour to look for contenders for the poetry competition. The timeline for production depends on the size of a project; shows like The Million's Poet and Prince of Poets take six to eight months of preparation, notes Moussawba.
For Clue Media, it is imperative that the production sets and the content reflect Abu Dhabi's rich culture. For instance, the stage for The Million's Poet is inspired by Qasr Al Hosn in Abu Dhabi, which is the oldest stone building in the city and over the centuries has been home to the ruling family.
However, despite the elaborate planning, both Moussawba and Salameh agree that it was logistically challenging to produce Prince of Poets and Al Mankous around the same time last year, with a one-day interval between them.
"Designing a set that could be switched overnight and a team that was working around the clock to cater for both shows from A to Z was not easy," notes Moussawba.
"It was a challenge – and we thank God that we were able to achieve it with no mistakes on air," adds Salameh.
None of this would have been possible without a strong and reliable team, the duo agrees. "One of our greatest assets is our team. The members have been carefully chosen with ample experience to speak for them," says Moussawba.
Salameh adds that they hire people who are completely invested in the productions. "For me, it is not only important to be good at your job, but be accountable for it by showing commitment, dedication and responsibility. We look for people who make us feel that they are part of the team even if they are freelancers."
High-end shows managed by excellent teams, however, require high-end budgets, which are critical to production quality. "It is obvious that in any production there is a fixed cost that we all know and we budget for. However, the challenge is how smartly to budget for contingencies and navigate around the potential minefields to make every production a profitable one," reveals Moussawba.
"We make sure to stick to our standards even if we have to dip into the company's pockets sometimes. Our CEO never refuses when it comes to paying for an idea that uplifts the show," remarks Salameh.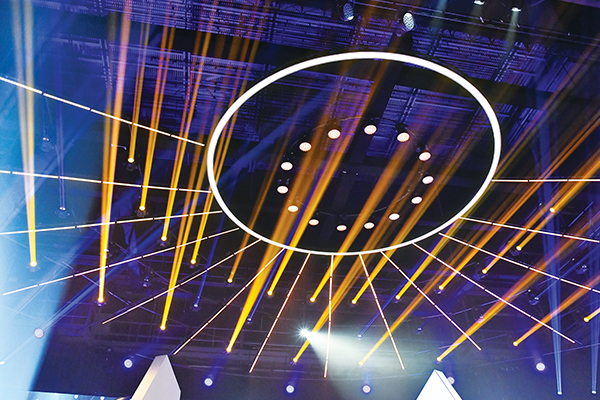 The most expensive show that Clue Media has produced to date is The Million's Poet. "It remains one of the most expensive shows done in the region. However, our aim remains beyond financial returns; we are happy when we wrap a successful season that was highly appreciated by the client," says Moussawba.
He adds that with so much money going into production, the pressure to avoid mistakes increases tremendously, which is why Clue Media usually has 60-65 crew members on set to produce a live TV show.
Apart from its shows and TV advertisements, Clue Media also has other TV formats, including The Four, Cooking Box, Dream Job, Switch and Men's Saloon.
With season nine of The Million's Poet currently airing and the total prize value going as high as US $4m, Clue Media has been diligently working towards raising the bar for the show, employing innovative and creative approaches, from colourful lights and quality content to advanced technologies and creative designs. Based on the show's fan base, their efforts seem to be bearing fruit.