From a small office in Bur Dubai to three facilities in the UAE, a service centre in Egypt and a full-fledged showroom and service operation in Saudi Arabia, Advanced Media has made its mark as a distributor and systems integrator in the MENA market. In an exclusive conversation with BroadcastPro ME, Advanced Media owner Kaveh Farnam and MD Alaa Al Rantisi share their strategy and vision for the company at its 20th anniversary celebrations.
Advanced Media marked its 20th anniversary with Cine2022, a three-day event that was a mix of training workshops, networking opportunities and mini showcases of the brands it represents, as well as an opportunity to welcome more industry professionals to its recently opened showroom on Sheikh Zayed Road.
The distributor, which started off as a "one-man, one-room office" in founder Kaveh Farnam's words, has gradually expanded with 100 employees in the UAE spread across its offices and service centres on Sheikh Zayed Road and Al Quoz, with an additional large warehouse in Jebel Ali for inventory.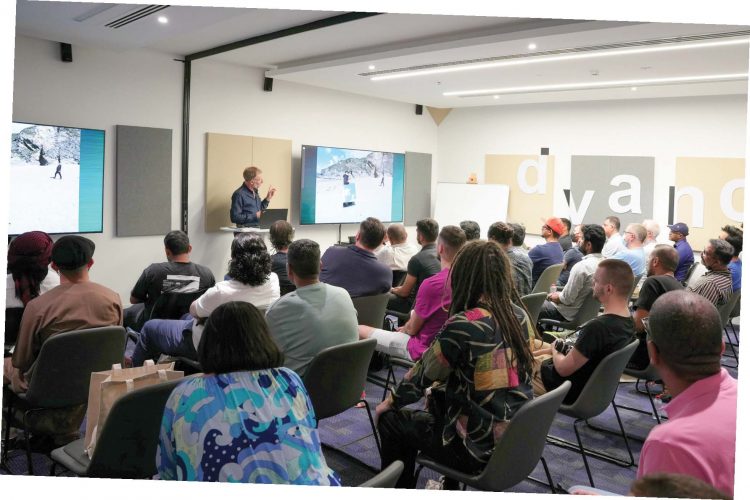 With founder Farnam pursuing his interest in filmmaking for the last few years, Managing Director Alaa Al Rantisi says Advanced Media has been gradually focusing on enhancing its distribution capabilities, expanding to new markets in MENA and growing the digital cinema part of its business, be it through products and infrastructure or through supporting the local community with scholarships, free workshops and funding of independent cinema initiatives.
"We are still doing all the things we used to do, but we will be focusing our attention on distribution and digital cinema-related initiatives in the coming months," Al Rantisi says. "And we are doing everything structurally within the organisation to grow these segments. This has required us to have a physical presence in certain markets like Saudi Arabia and Egypt, to ensure we have direct access to the customer. We opened the first Sony service centre in Cairo six months ago."
Farnam seconds this. "Our growth all along this journey has been organic. Our business strategy now requires us to move from being a family-run business to assuming a more corporate role and ensuring we are able to function more efficiently. We now look at ourselves as a medium-sized company with over 100 employees in the Dubai office, ten in Saudi Arabia and three at our Egypt operations. We have trained a new generation of leaders who have been working with the company for several years, and they are now ready to lead the company with their new ideas."
Advanced Media is now looking to grow various elements within digital cinema as part of its efforts to ensure this ecosystem thrives.
"We recently supported the eighth edition of Reel Palestine at Cinema Akil," says Farnam. "We have just signed an agreement with the SAE Institute in Dubai, where we will offer scholarships to three students from Palestine and Iran who want to pursue a bachelor's degree in film annually at the Dubai branch. We are constantly involved in developing training workshops and intend to do more on the filmmaking side to ensure that people are well trained on all aspects of filmmaking, such as scriptwriting and how to bring an idea to reality, to acting, directing, casting, lighting and editing. Our workshops at Cine2022 have been vendor-agnostic and have had a greater focus on subject matter rather than brands, to ensure we can carry on through this strategy."
This has been especially useful for a growing pool of independent filmmakers, social media enthusiasts and influencers, adds Al Rantisi: "A significant part of what we sell today goes towards social media-related activities; so far, the company's success has rested in identifying customer segments that will benefit the most from using their equipment."
"While everybody would go for the big tenders, we found a large volume of the market that lived under the shadow of this big media sector. We went after them. That's what we still do," explains Farnam.
The distributor was also proud to offer the first hands-on experience for the Sony Venice 2 in the Middle East. "This hands-on experience on the Sony Venice 2 has not even happened in Europe yet. It's a great treat for those who wanted to try it," says Al Rantisi. "Essentially, our aim is to ensure that through our various initiatives, we are able to remain closer to the cinema society and the film market."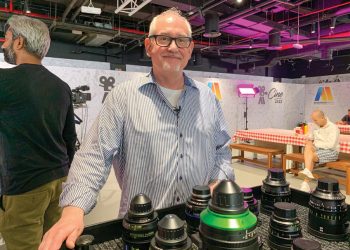 Gary Adcock, tech consultant
I conducted three workshops that were designed to help bring the knowledge of large-format lending. I spoke about optics, how lenses work and what kind of things you need to look for. The kinds of things cinematographers need to know as they grow into larger formats.
The second day, I did a workshop on high dynamic range imagery, which I believe is the future. If you watch Netflix or HBO Max or even sports, most productions are being done in HDR. And the complexity of a HDR workflow is quite difficult if you're not familiar with it. For people that want to get into it, there're some really easy, simple ways.
So I kept it really down to earth so everybody could understand the things that they needed to do at the front end. Not all cameras can capture an HDR image, not even DSLRs. And sometimes, if you choose a real high-end camera and don't record in the right format, it doesn't give you the right kind of data. So it was important to highlight those elements to the attendees.
And the last thing I spoke about was colour grading. I discussed the science of colour and how to think about it, and the things where colour can fail you, but also some tips and tricks.
The power of filmmaking is so much in how each individual can handle their workflows.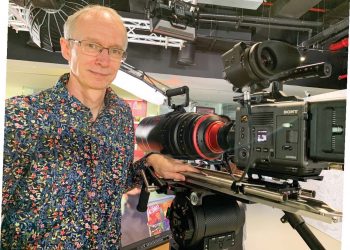 Alister Chapman, filmmaker
The Sony Venice 2 digital cinema camera represents the pinnacle of where we are with current camera technology. It's an 8.6K sensor in full frame, which means you have the ability to shoot anamorphic at 8K resolution. If you want to use legacy cinema lenses, which are typically the 35mm film, you can still shoot at 5.6K even with legacy lenses. So it gives you the ability to use practically any lens that you want to.
And no matter what lens you are using, you're over 4K and that becomes important because of oversampling. When we talk about K, we're often talking about pixels. So when we have 8K pixels, we don't get an 8K resolution image. What we get is an image that is about 6K resolution.
When we're shooting in the super 35mm mode on Venice 2, we still have nearly 6K of pixels. So we actually record a 4K resolution file; and with cinema and everything else moving to 4K, what that means is the audiences and viewers will get a true 4K image, no matter what mode you use the camera in.
This also has a dual ISO sensor. So we have our normal sensitivity mode that you would use for your everyday filming in normal light levels, and that is pretty much the same as every other camera, which is 800 ISO. But when you need to shoot in low light and in the dark, or you need to do night filming, you can switch up to a second base ISO, which is 3,200 ISO and there's no loss of quality. It's the same resolution. There's a tiny difference in the noise. It's not a noticeable difference really.
And that means you don't have to bring in extra generators and lights, etc. It makes it easier and quicker to shoot in low light, to be able to shoot in places where you couldn't shoot previously and still get a very high-quality image. The ability to shoot faster, shoot smarter, less energy, less power.
It's also green; it's a high-end camera. But in the grand scheme of things, it's no more expensive than any other camera in its league.
Kevin McGeagh, Head of Virtual Production, The Other End, Toronto
Virtual production (VP) is a rapidly developing area of filmmaking covering the intersection of physical and digital production elements. While the term has become synonymous with real-time LED volumes and in-camera VFX, popularised by several recent high-profile productions, in actuality it is a larger umbrella inclusive of innovations enabling the entire production pipeline. The key to the future of VP is in looking for new and novel approaches while working with existing filmmaking techniques, tools and crew, drawing upon their knowledge and needs to build complementary, empowering creative industry components, not replacements.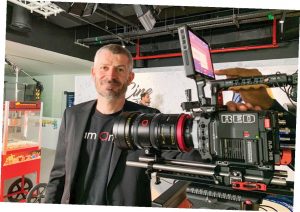 Benoît Brismontier, Sales & Marketing, Angenieux
I'm in charge of sales for Angenieux in the Middle East. I'm pleased to be here with Advanced Media to showcase our latest lenses. We have some brand-new lenses here. We are very well-known for our zoom lenses but are also again entering the prime market. Most of the rental houses here like to buy our zoom lenses. This is the first showing of some of our lenses, and we have had some good feedback.