Emily Pooley, Artem's Senior Technician and Director of Marketing and Sales, went to Bali where the show was filmed with her colleague, Adam Sawatzki. Below she describes their experience.
Artem, the UK-based physical SFX company, recently designed and created a custom-built realistic male gorilla suit for notorious Egyptian prankster Ramez Galal's latest hit TV show, Ramez in the Waterfall, in which he scares celebrity guests. Emily Pooley, Artem's Senior Technician and Director of Marketing and Sales, went to Bali where the show was filmed with her colleague, Adam Sawatzki. Below she describes their experience.
The Brief
When Artem, a major British physical SFX company, was approached to create realistic male gorilla suits for Ramez Galal's latest hit celebrity prank show Ramez in the Waterfall for MBC Egypt, I was thrilled.
This is the third series of Ramez's show that Artem has worked on for Egyptian production company Masscom98 and Eproducers. Filming took place over 30 days in the Indonesian jungle on Bali. It was exciting.
In film and TV, technicians usually have ample time to ensure the actor is properly dressed and everything is fitted correctly.
However, for this prank, Ramez had to be dressed in under three minutes. Each day, he would be rafting down the river in disguise with a different celebrity. He would then need to the run-up to the jungle location to be dressed and ready to perform the prank, all before the celebrity made it up to the steps to us. My colleague Adam Sawatzki and I had to get Ramez into the suit extremely quickly. On top of this, Ramez needed to be able to remove the complex mechanical head by himself while still in costume.
The Build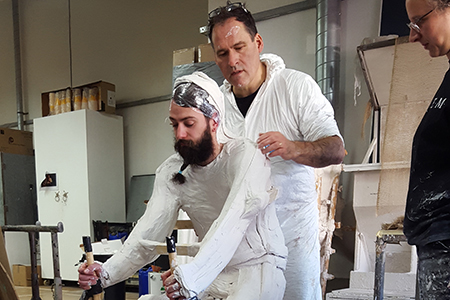 Ramez's busy schedule meant that he couldn't visit our London headquarters for a lifecast, this is usually the first step when creating a custom-built suit.
To get around this, Artem technician Richard North travelled to Egypt to meet Ramez, take vital measurements, and to do a 3D digital head scan.
This enabled us to craft the suits to fit him as closely as possible without the need for Ramez to be London.
A life cast was then taken from an Artem technician who was the same size as Ramez and Artem's head sculptor, Stan Mitchell, sculpted the form of the male gorilla body in clay over the cast.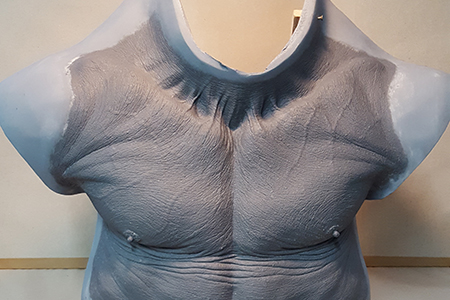 A team of costume fabricators and I used the full-size clay figure to produce patterns in order to create the powerful muscle shapes that give gorillas their unique appearance out of flexible foam. The gorilla heads were hand sculpted in wax over the scan of Ramez's head that had been machined on Artem's multi-axis robotic arm.
The gorilla's head was moulded, and a flexible skin was made in foam latex.
A core was created in fibreglass and then handed over to the Artem's animatronic team who cut it into sections. Using a combination of springs, hinges and cables, the team produced a lightweight head that Ramez could operate with his own jaw with ease.
He was able to open the gorilla's mouth, snarl the lips and lower the brow to create a menacing look without the need for a complex electronic head and control system.
The chest and hands were also sculpted, moulded and cast in a similar way to the head and two sets of hands were produced to fulfil different functions.
A set of gloves meant that Ramez had enough dexterity to grab and pick things up and extension arms were produced in the correct proportions to allow him to walk on all fours.
An undersuit was tailored to the life cast and the flexible foam muscles adhered in the correct anatomical position.
This was then covered in four-way-stretch synthetic fur fabric. The chest and face were detailed with airbrushed skin tones and individual hairs were added to create a realistic fur transition.
Ramez then attended a fitting at Artem's West London workshop with Adam and me as we would be travelling to the Indonesian location, enabling us to have a 'dry' run with the costume.
This ensured that any last-minute adjustments could be identified and rectified before relocating to the Indonesian jungle for the demanding 30-day shoot.
The Shoot
Filming on the remote Balinese Telaga Waja river meant we had an interesting commute which involved a one-hour drive followed by a 45-minute raft journey down the river. The prank was split into two parts: with the celebrities receiving a drenching from an elephant before being dropped into the river by a collapsing platform. Once they were safely back on dry land, they were scared by Ramez dressed as a 'menacing gorilla'. An impressive team of over 40 camera operators and technical staff were involved in the filming.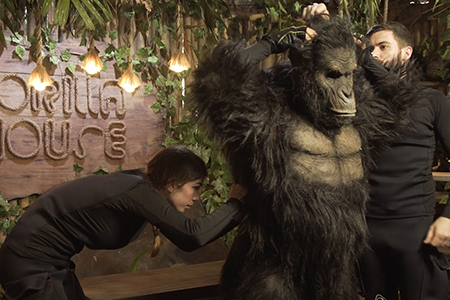 Adam and I were based in the 'Gorilla House' where Ramez was dressed and the technical nerve centre was established. Once we unpacked and prepared the suits – there were two for cleaning and hygiene purposes – everyone waited for the terrified celebrity to arrive.
Ramez would be soaking wet when he arrived a 'Gorilla House' to be dressed in the suit and only had minutes before appearing in costume in front of the celebrity. A routine was quickly established as we worked closely with Ramez to refine the dressing procedure.
Ramez emerged in front of his celebrity guest as a fully-grown gorilla charging from the jungle. Celebrity guests often reacted angrily once Ramez revealed the prank, by pushing, punching or wrestling Ramez to the ground. This put large demands on the suit meaning it had to be particularly durable.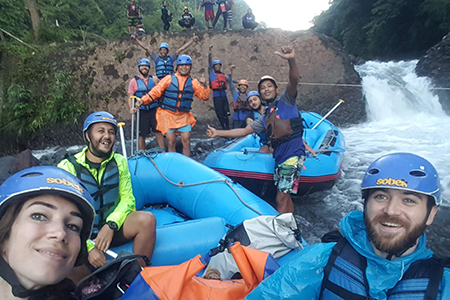 After interviewing his guest Ramez needed to remove the costume as quickly as he was dressed in order to accompany the now relieved celebrity out of the jungle.
With two pranks a day planned the suit needed to be carefully cleaned and prepped, a task that took on average two hours. Once the day's filming was complete the suits were bagged up and after another raft ride, and long drive the suits were unpacked again cleaned, dried and any repairs carried out to be ready for the next day's filming.
Ramez in the Waterfall is now available on MBC's digital platform shahid.net.
Emily Pooley is the Senior Technician of Artem and has recently been appointed as a company Director in 2018. She oversees marketing and sales, particularly social media and Artem's website.