Africa's evolving content landscape has inspired many global companies to set up shop in the region but few have gone the extra mile like Canon Central and North Africa (CCNA). The imaging technology brand recently hosted several key African players at IBC, where it showcased new launches, offered training programmes and shared valuable market insights. In an exclusive interview with BroadcastPro ME, Amine Djouahra, CCNA Sales and Marketing Director, and Sebastien Devaud, Canon ambassador and filmmaker, discuss the latest trends in the African content market and the company's new multi-camera set-up supporting remote and live production.
Canon, unlike most global technology brands, has not shied away from business activity in Central and North Africa but has embraced the region's markets, keen to harness the talent of its media industry. With its host of cinematic cameras and an expansive range of accessories that lend themselves to wholesome high-quality film and TV production, the camera manufacturer has made giant strides in the continent through various initiatives and engagement with industry professionals and aspiring filmmakers.
Following the hiatus imposed by the pandemic, Canon, which claims to be among the only main camera companies with directly operated offices in Central and North Africa, has ramped up its efforts in the region. The vendor brought more than 20 African partners to IBC to showcase its new launches, host training sessions for various systems and introduce a full multi-camera set-up.
"We are a brand that is dedicated to helping people reimagine and push the boundaries of what is possible through imaging, by having a physical presence in the region. Canon Central and North Africa (CCNA) employs more than 130 people across six offices in Kenya, Algeria, Morocco, Egypt, Nigeria and Ivory Coast, and we work with more than 40 partners," points out Djouahra. "We believe there is a common opportunity for our partners to benefit from their visit and a Canon experience. And we can add value to their business."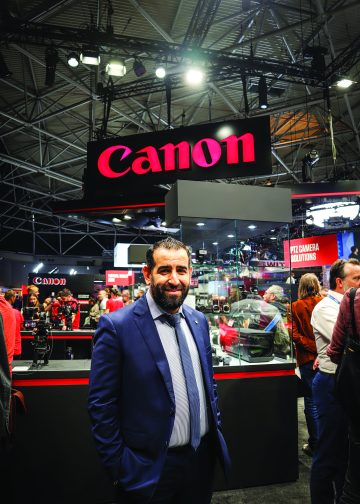 The Covid-19 pandemic unearthed a bountiful supply of African films, broadcast productions, music documentaries and social media content. With the lockdown, there was greater demand for content, which in turn led to more scripts, more production and more content on platforms. The continent saw several new production houses, from small set-ups to professional studios, attempt to satiate viewers' hunger for new content. Both the private sector and freelancers saw their business grow during this period. There has also been a significant rise in African participation at international film festivals and exhibitions in recent years.
But African content can't all be classified as the same, with the diversity of African markets and the differences in their dynamics. "Image is one of the best tools to export what a country has to offer, whether it be culture, tradition or landscape. Egypt is historically famous for media and cinema, Kenya is the land of documentary films, Nigeria is famous for movies and music videos, and Morocco is a mix of both movies and documentaries. It's a vibrant place for filmmaking. That's why we would like to support local communities to ensure that we contribute to growing filmmaking in Africa," says Djouahra, adding that with Africa's media landscape ripe for the picking, Canon is setting its sights on "creating direct contact with the end users".
Hence, media agencies, government institutions and production houses whose traditional partners are TV stations were all invited to attend Canon's stand at IBC, where the manufacturer offered training from product experts on the proper management of its professional cameras.
The manufacturer claims to keep an active ear out for user feedback. "We have our product development team listening. What's next? What should we look at for future developments?"
With Africa's growing broadcast scene in mind, Canon has introduced new models within its PTZ range and new accessories compatible with other cameras. The launches also address African education, government and security entities' growing interests in PTZ solutions.
"Given the shift that has happened over the past two years, we are into a more automated set-up – a virtual content production and remote-based solution. Canon's presence at IBC today is a real testimony of this shift. You can still have the right quality in the right ecosystem because the lens is Canon, and the camera is Canon. It is compatible with other third-party solutions," Djouahra explains.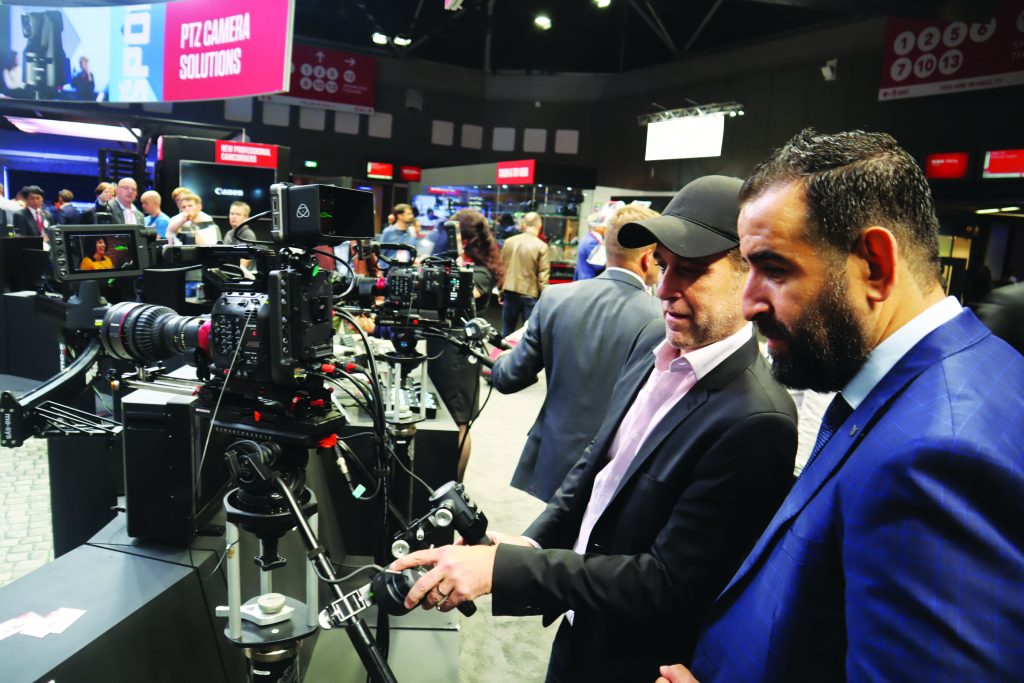 At its booth, the company demonstrated how filmmakers can adapt the C500 and C300 for broadcast productions, rather than invest in brand-new broadcast cameras. Through its collaboration with Mo-Sys, Canon's lenses and accessories allow complete communication and transfer of information.
Canon cameras have traditionally been used as support cameras, but the rise in content creation has propelled them to the forefront as Camera A. Djouahra asserts that this recent development proves Canon is a game-changer in the international filmmaking scene: "With the evolution of technology and the quality of product we have seen over the past few years, nominees and winners of Oscars are all using Canon."
Proposing a multi-camera set-up of a fully automated PTZ camera, an XF605 and an adapted C300, he explains: "You can have a proper IP protocol to combine information from three completely different products."
French filmmaker and Canon ambassador Sebastien Devaud, at IBC to demonstrate the multi-camera set-up, remarks that this professional workflow solution does not simply reflect innovative technology, but an improvement in creativity. "As a TV director, I have a full range of Canon cameras – Cinema EOS, Digital EOS, R5 C, C700, C300 Mark III, C500 Mark II, XF605, the new PTZ … and I can control it all with just one controller!"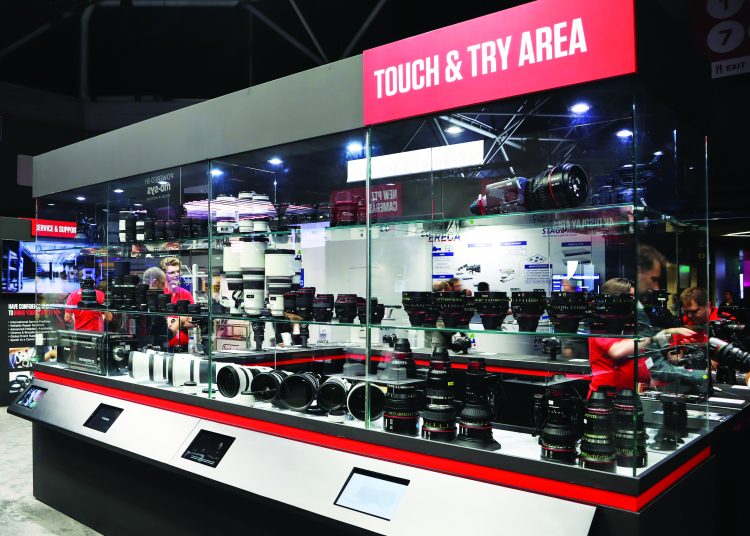 Reflecting on the African market's growing interest in PTZ and broadcast solutions, Djouahra says: "Somehow, these are the two segments where Canon was not present. But we have shown the intention that we want to play a major role in these segments from now on."
Canon held training sessions at IBC to deliver a "full immersive experience" to interested visitors. The first was a detailed introduction of available products and the latest technology with which they are compatible. The second outlined best practices for Canon products, using solutions previously implemented in African countries as examples.
"When you're used to a set-up and working with one manufacturer, just going in and changing things is not easy. People are decision-makers and need to be convinced, so we had to show them a solution that they could easily relate to," Djouahra says.
Visitors also met with product experts and Canon ambassadors to better understand the solutions. Partners were encouraged to voice their concerns in one-on-one discussions with product experts and speak about their challenges, requirements and how the manufacturer could potentially support them.
These open channels of communication proved useful. The Algerian senate requested a specific demonstration from Canon, for instance, while a Kenyan partner shared feedback on the service of an implemented solution. Canon representatives feed this back to HQ and changes come in the form of new and improved products.
Another concern in African markets is the delayed availability of new products. "African customers always have the feeling that if something is launched in the West, it will come to Africa the following year," Djouahra confides. In the past, with limited resources and an unfavourable structure, Canon was unable to bring new technology to Africa sooner than six months or a year following its launch elsewhere.
However, Canon is quickly closing this waiting period. For instance, Egypt welcomed Canon's EOS R7 and R10 just a week after their launch in Europe in June. Today, the company aims to launch its products almost simultaneously in all markets.
African markets also worry about tutorials for new products. Traditionally, customers resort to online information sets. "It's up to the individuals to go find it," says Djouahra. To ease user concerns, Canon added an educational element to its corporate philosophy two years ago. Through the Young People Programme and Miraisha Programme, interested filmmakers have access to the ins and outs of Canon products. The company also educates users on the business elements of the media industry through the Canon Video Academy and Canon Tech Talk series.
Djouahra elaborates: "Canon wants to position itself not just as a brand that supplies the latest technology, but as a partner that supports the market to grow. As a hub, we would like to develop people's skills and allow them to maximise the potential of Canon solutions."
Next month, CCNA is set to launch a first-of-its-kind Canon Academy Video. The product of a virtual call during the pandemic, the project seeks to answer the question: how can Canon continue to educate in filmmaking without doing any physical workshops?
The programme, a virtual and immersive environment, unites filmmakers with industry experts, giving the former the opportunity to learn about pre-production, production and post-production. Djouahra likens the initiative to a gaming platform within the metaverse – users can enter as avatars, watch expert-made videos, download content and complete various assessments.
"It's a very exciting platform. We have currently rolled out Phase 1, which is the pre-production phase, but our goal is to cover all phases and expand into the broadcast part. We are investing heavily to ensure that all existing and potential future customers have access to our education programmes and knowledge, because Africa is a huge pool of young talent looking for guidance and support to ensure that they can release all that creativity."