When WonderWeb was roped in to film this year's Dubai Comedy Festival, which took place at different venues across the emirate, there were some prerequisites. Despite that, it is reported to have produced good footage for the organiser's social media channels.
Since its launch in 2015, the Dubai Comedy Festival has become an annual highlight of the city's social calendar. This year's 10-day programme started in May and took in venues ranging from the 17,000-capacity Coca-Cola Arena to the 2,000-capacity Dubai Opera to intimate shows in hotel bars. It featured global names like Jimmy Carr and Jim Jefferies, the best of local and regional talent performing in Arabic and Hindi, and even amateurs trying out open-mic slots.
It's perhaps unsurprising that when event organiser Live Nation sought content for its social media channels, both as an archive of this year's event and as clips to tease for 2024, it demanded a producer that could ensure the results were just as memorable as the festival itself.
The project came with plenty of challenges, from vastly differing venues to multiple shows and shoots taking place on the same day. To make things trickier, the organisers were typically only granted permission to publish one or two jokes from each comic's set, and despite the larger venues lending themselves to a standard broadcast set-up, the sheer volume of shows to shoot, as well as the organiser's desire for a more cinematic look, essentially ruled this out.
For the second year running, the task of solving this conundrum fell to Dubai streaming, production and broadcast specialist WonderWeb. Tarek Saneh, Technical Director on the project, takes up the story
"It wasn't practical to bring an OB van and crew in to shoot each show for maybe two minutes of footage. So on average, in each venue we worked with three Ursa Broadcast G2 cameras on tripods and a gimbal-rigged Blackmagic Pocket Cinema Camera 6K Pro for roaming shots," he explains. "The reason was Ursa's versatility. Some of the venues were huge, and you can't set up in front of the audience so the cameras are 25m or more away. You need close-ups, you need big lenses. Ursa can take a big broadcast lens, but also has the look and feel of a large sensor."
As the WonderWeb team was shooting someone else's show, it also had little control over matters such as lighting and onstage décor and tech, which in other situations might be designed with the shoot in mind.
"I'd maybe like 'more light at the front, more from the back, don't put the spotlight there'," Saneh laughs. "But we were shooting in RAW and the camera is so versatile we can colour, tone and fix it all in post-production, so it's not a big deal for us."
The decision to use entirely Blackmagic cameras for acquisition also paid dividends in post. "We were shooting on CFast cards, as we were already using the camera ports for zoom and focus. 2TB on each camera," Saneh recalls. "At the end of each day, the cards were logged – venue, camera one, camera two and so on – and fed into our QNAP server, which is recommended by Blackmagic. Synching was simple, it's all Blackmagic RAW and timecoded, so the next day it would be ready for our three editors, who would edit on a shared 10GB network in DaVinci Resolve Studio."
The show's colours were based on the DaVinci Wide Gamut workflow. Rec.709 is a colour recommendation primarily aimed at HDTV, but Saneh's brief required something more cinematic.
"Within the Rec 709 output colour space, we polished the look of the footage to achieve bright, colourful images that could convey the cheerful aesthetic of the comedy. After we've finished correcting and checking the shadows, we can start to stylise – make shadows a little bluish, give some orangey highlights, albeit subtle. We still want the 709 look of broadcast, but with a touch of the cinematic to add value to the product."
The final stage was to denoise, which Saneh says is often overlooked. "When you shoot RAW, there's no in-camera processing. There's such a big dynamic range with plenty of latitude that you absolutely have to denoise, even if it's just a little bit. I personally use the Chroma feature to add different amounts of noise reduction to each colour component."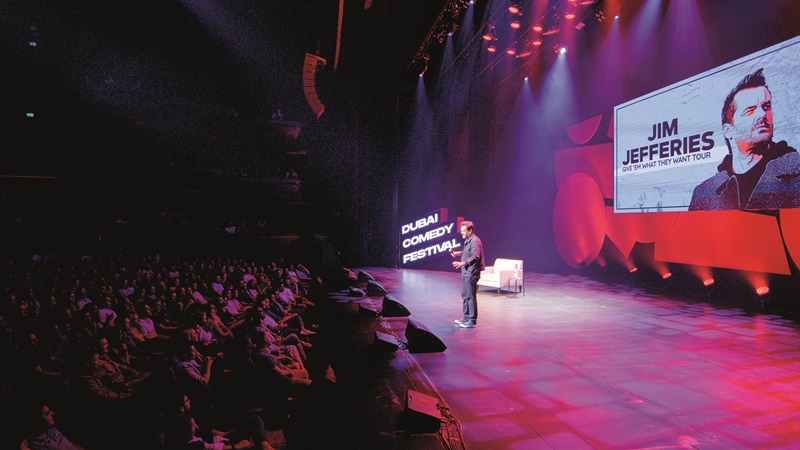 Saneh has lost count of the number of hours he and the team shot throughout the festival, though he reports that around 80TB of footage made it back to WonderWeb's server, giving some indication of volume. With the post almost complete, Live Nation is already using the material on its social channels to start engaging audiences for next year's event. Dubai is renowned for doing things bigger and better, and it seems certain that the next edition will be eagerly awaited.