At the premiere of his newest short film 'Amber' in Dubai last month, BroadcastPro ME caught up with Faisal Hashmi to explore his journey as a filmmaker, his proclivity for horror and what inspires him on a challenging journey often bereft of funding and support.
You've been making short films for so long now. What have you learned, and how have you evolved as a filmmaker since your first short?
Since I never went to film school, every short film I've made has been a learning experience. The most important lesson has been to trust your gut instinct and make the film that you would want to watch if someone else had made it, and never make a certain type of film just to win awards or get into festivals. If you are original and true to your voice, an audience will follow.
I've also learned that it's better not to try and do everything yourself. Instead, surround yourself with talented crew members so you can delegate jobs to them and focus on just directing actors because that's what the job is in essence. Every short film has made me more confident as a filmmaker and pushed me to experiment more in the next one.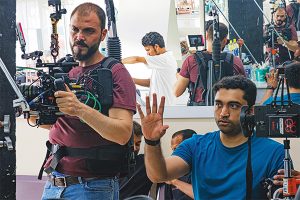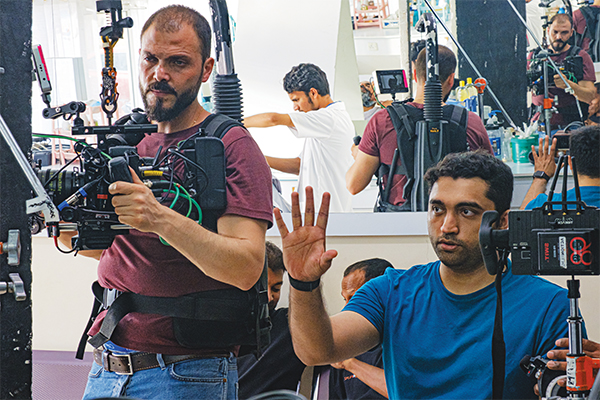 How many shorts have you made in the last decade? And what is your usual role on set?
Looking at what I count as my official short films, I have done around ten. I don't count some of my narrative experimental things, brand-sponsored documentaries and others as part of that ten. In all ten of those, I have been the writer, director and editor. These are three roles I'm extremely comfortable with playing and give me creative authority over my films that I would heavily credit to why many of them have been successful. Many times – especially my first few films – I was the cinematographer, sound recordist and sometimes even an actor if needed. But now I have a great crew I can trust with those jobs, although I still do them from time to time should the need arise.
Where do you draw your inspiration from? Specifically on your most recent film, Amber.
A lot of my ideas come from 'what if' scenarios of taking an ordinary person and putting them in extraordinary circumstances and seeing what transpires from there. A man accidentally cuts himself late at night and realises he's being haunted by something called the blood fairy; a cocky radio host gets a mysterious caller who challenges his world view; a guy stuck at the office at night realises time is skipping forward every time he sneezes; a young woman gets sent a picture attachment from a loved one and realises there's a supernatural entity now hunting her. It's all about finding a unique setting and a unique situation to put a character into, and the rest just builds from there.
Amber takes a similar approach and follows a barber who opens his remote highway salon early in the morning and finds himself in a terrifying situation when he realises his first customer of the day isn't who he seems. It's a ten-minute thriller without a single line of dialogue and inspired by the films of Alfred Hitchcock in how I can crank up suspense in such a setting. It's my biggest film in scope yet but retains the signature style I've built for myself.
Give us a behind-the-scenes look at the filming of Amber – the budget, the people, the gear …
Amber is my most ambitious short film to date and one that I had a larger budget to work with to fully realise an idea I've had since 2016. The larger budget is all thanks to my friends and collaborators on this film who pitched in their money with me to make the film a reality – Ivor Gracias (who was also production manager on the film), Kurt Barretto (also assistant director), Kane Rodrigues (who did sound recording and design) and Jullz Bek. We shot the film over two days at a real salon on the outskirts of Sharjah. This was a challenge because of the small space we had to work with.
It was shot on an Alexa Mini by Dubai-based cinematographer Elias Trad. It was my first time collaborating with him and working with that camera, and the film looks incredible because of it. We had a great cast and crew of over 15 professionals on set, including our two main actors Joaquim Gonsalves and Rik Aby. This is probably the most preparation I have done for a film before the shoot. We had two days of rehearsals for some of the more physically demanding scenes in the film, and I even shot those rehearsals like I would shoot the movie just to take notes and tweak things accordingly.
We did multiple days of scouting at the location to figure out the logistics of shooting next to a highway since the shots also involved exteriors.
Speaking of exteriors, lighting was definitely the biggest challenge this time around, as we required a huge HMI light that would serve as our artificial sunlight for the whole shoot, as well as other rigged lights. All these powerful lights required a beefy generator truck parked outside too.
I'd like to give a shout-out to Action Filmz, which is a production company that was generous enough to offer us all those tools and great lighting and camera crew for a good discount. The shoot was definitely a challenge, but I had a great team to take me through it and I'm very proud of the final product. We also captured a lot of behind-the-scenes footage on set to release after Amber is released online later this year.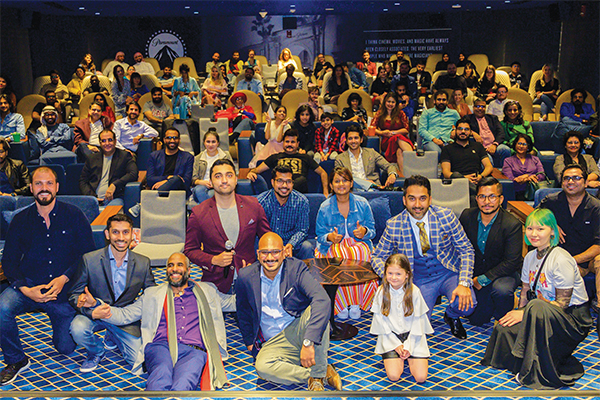 A big crowd attended your premiere screenings last month. What was the response to your film, and are there plans to make any of your shorts into features?
I'm always nervous before a large audience is about to view my film for the first time because I have no idea what the response will be to it. But we held two screenings for almost 180 people including industry professionals like Emirati director Ali Mostafa, actors and our extended network that we wanted to share this film with. The response was wild, as most people really tensed up during the film and stuck around asking questions about it later on, which is exactly the response you would hope for from a thriller. Paramount Hotel Dubai was gracious enough to host us and offer a beautiful screening room for the film, and it was all around a wonderful day for our entire crew.
I generally try to make short films that are self-contained rather than having obvious sequel endings, but my last horror short film, Wicken, was something I developed with a larger feature film in mind because that plot lends itself easily towards a horror movie similar to The Ring. So that's something I'm actively exploring, and the film just crossed more than 100,000 views on YouTube in under three months, so there's definitely interest in exploring that. With Amber, we'll see, because a lot of people feel like there's more to this story, but it's too early to tell.
Amber won Best Film at the Al Ain Film Festival. Where else have you entered it?
Winning at Al Ain Film Festival was a delight. It was actually the first film festival we submitted to and I was fortunate enough to attend for the three days it was on. What was fascinating was that I was the only non-Arab director in the entire festival line-up, so I really wasn't expecting an award. But when I won Best Film, it was truly gratifying, and the award ceremony was such a prestigious affair too.
There are a couple of other local film festivals the film will be either competing in or have a special screening at, including the Emirates Short Film Festival in March and the White Oryx International Film Festival in April. We are also looking to begin our international festival run soon, so it's a long road ahead.
What led you to make Amber?
Amber was about taking up the challenge of making a wordless thriller in ten minutes set in one location, and completely changing the context of that location because of what's now at stake. Not to spoil the film, but a barbershop might seem like an innocent place at the beginning but it's also a room full of weapons. The film deals with that, and I wanted to make a realistic thriller that really puts you at the edge of your seat but also surprises you with how it unfolds.
You seem to focus on making horror films. What's the fascination with horror?
Horror is the most resilient genre in film. It transcends cultures and language barriers because fear is universal.
You may watch a Japanese horror film and be equally scared as a Japanese viewer, but you may not find a Japanese comedy as funny as a Japanese viewer. Horror has been around since the beginning of cinema, and good horror films don't just entertain audiences but also include biting social commentary within the lens of a fun film that everyone can enjoy. I like the idea of scaring people at key moments but also making them think about evils not just outside but within them. Some of our greatest directors, like James Cameron, Guillermo del Toro, Sam Raimi and Peter Jackson, began their film journeys with horror films.
Which of your films is your favourite?
It's hard to remain objective about your own films. Every time I see them, I always know things that we weren't able to do on set or little mistakes that only I can spot. But having said that, one of my personal favourite films is a horror-thriller short film called Sleight. It's set entirely in a radio station with one character on screen, and I'm really happy with its pacing and dialogue. It was also the first short film where I had an actual crew to work with, so it looks nice.
Making short films has never been a route to making money, we've been told. Have you ever thought of selling your shorts to platforms that specifically screen short films?
Short films are not an ideal way to make a living, and all the short films I've made so far except Amber (where my friends pitched in) have been entirely self-funded. The only times I've ever made any money is through some cash prizes at competitions or festivals, but even then that doesn't really cover all the money I put into them. But for me, they're a training ground to become a better filmmaker and create a portfolio of work that lets people know what I'm capable of doing – so when it comes time to look for financing for a feature film or a larger project, I have a body of work to show.
I've had offers to sell shorts to various platforms for short films before, but usually the money offered isn't worth the loss of viewership by not putting it on YouTube or Vimeo. I've had much more success by putting my films on those platforms, where they've crossed more than one million combined views. Unless the platform itself has a massive reach like Netflix or a big network, I prefer an audience over monetary return.
You still have to make money.
I'm a freelance filmmaker and shoot corporate videos, digital commercials and other video content either directly for businesses or brands or through advertising agencies that hire me. This is how I make a living, and being a freelancer allows me to have more time to work on my films and write scripts, as well as to be able to invest in filmmaking gear for my own films, knowing that they can pay themselves back by the work I do on corporate and commercial videos. It's not always an easy road, as being a freelancer in this region has a host of challenges of its own, but I'm happy to take the downsides for the freedom of being able to make films.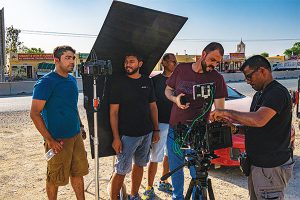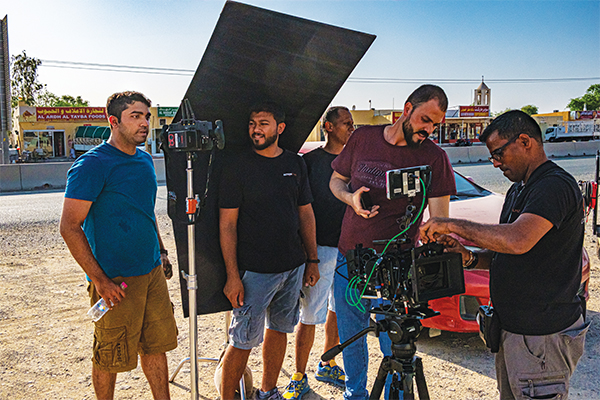 What are some of the challenges you've faced in your career as a filmmaker?
When I started out in 2009, there was no film industry to speak of and neither was there access to actors and crew members to reach out to for films. So that's always been a challenge in this region, but things have changed and there's a host of talented actors here and crew members too. Finding funding for films has always been a challenge, as well as seeing the shuttering of the Gulf Film Festival, the Abu Dhabi Film Festival and the Dubai International Film Festival towards the latter half of these ten years. This has been incredibly discouraging because you cannot have a film industry without a film festival to showcase films.
But I'm an optimist at heart and my entire career has been taking these limitations and embracing them by finding a way forward anyway, which is the only reason I've been able to consistently make films for the last ten years while so many other filmmakers have dropped out or moved on to other things.
What's the status of your first feature film?
I'm currently working on two feature film ideas at the same time. One is a horror anthology with five interconnected horror stories that take place over one night in Dubai. This one would be relatively easier and cheaper to shoot because I can shoot them as five individual short films and connect them in the edit with an overarching theme, so I'm inclined towards this one. The other is a sci-fi thriller called Fractal set in one location with three characters. This is a wild, high-concept idea I'm very excited about, but it's also a film I will need some money to be able to do the way I imagine it.
Both of them have their scripts written and are currently in revisions, so you will hopefully hear about progress on one of them very soon, based on how the financing goes!