When Saudi Sports Company (SSC) wanted an innovative production and broadcast solution to take some of its less exposed events to air, it turned to a cloud-based set-up. In cooperation with Audio Video Consulting LLC Dubai (AVC), helmed by CEO Peter Van Dam, it created a full cloud-based production workflow based on Grass Valley's Agile Media Processing Platform (GV AMPP).
SSC is a young but powerful entity founded in 2021 as part of the Kingdom's 2030 vision, and is the exclusive owner of the TV rights for events including the Saudi Professional League, King's Cup and Saudi Super Cup. Its main aim is to create multiple sports channels across all available entertainment platforms in KSA. Besides the most popular Saudi football leagues, SSC also focuses on other sport in the Kingdom and international leagues such as the AFC, F1, Formula E, the NFL and Extreme E.
With SSC keen on creating tier-2 and tier-3 sports productions, COO Christian Peer was scouting for cost-effective, easy-to-deploy broadcast solutions that also ensured high-quality productions. Van Dam, who has been running his own consultancy and service company since 2018, was called in to offer recommendations.
A broadcast veteran – most recently CTO at Al Alamiya, a major Saudi production house primarily in live events – Van Dam was previously in the UAE, where he tested cloud playout in Abu Dhabi Media a few years ago and a cloud-based archive solution last year, in addition to some other cloud projects. He had already navigated some of the typical challenges of working in a cloud environment and was ready for a new challenge.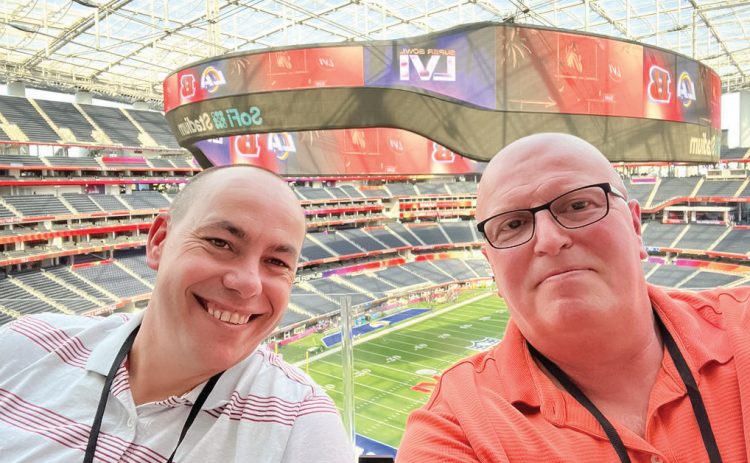 For what SSC mandated, Van Dam recommended a cloud-based solution because these "[offer] remarkable flexibility, enable fast deployment and allow for cost savings". He also knew a typical 30-camera set-up with several outside broadcast (OB) vehicles was not commercially viable for producing low-exposure sports such as basketball, volleyball and handball.
The solution was to use a combination of AI, robotic and shoulder-mounted cameras to create cost-effective but dynamic coverage. He turned to Grass Valley's AMPP cloud solution to control and produce these productions, and within the same platform distribution and playout were also made possible.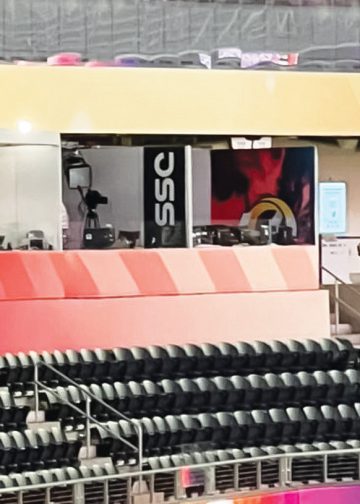 "In the market, there are several all-in-one solutions. This works for some productions, where for instance a person is making a YouTube channel," Van Dam says. "But it does not work if there are other complexities. Communication, latency and responsiveness are crucial when starting to work with multiple persons in one production."
"So when you are creating multiple channels that involve graphics, audio, playout, commentary and so on, you want a platform that provides you with maximum flexibility in cloud productions, and that's what the Grass Valley AMPP did. It gives a new dimension to cloud productions with all options available, including video and audio mixer, graphics, clip player and replay, remote commentary, ingest, MAM and playout, as well as distribution."
The typical production set-up for basketball, volleyball and handball on-site is pretty limited. A team uses an iQ producer camera from Mobile Viewpoint that gives four feeds out – one AI and three fixed feeds positioned in advance by the director.
"We use two robotic cameras and two shoulder-mounted cameras. For a production like this, they typically have two tech people and two cameramen on-site. Each of these individual elements are connected to the cloud."
To bring signals into the production environment, GV AMPP Edge, SRT and NDI standards are used. All processing and signal flows are handled in the cloud. GV AMPP via HTML 5 also ensures the remote control of all production elements such as the video and audio mixer, clip and slomo player, graphics engine, router panels and virtual intercom panels. A combination of touchscreens, video and audio remote panels makes it possible for the production team to easily adapt to the new type of production services.
Within GV AMPP, a remote commentary function is available, in addition to standard programme and commentary panel functions. The team also now has a secondary monitor for any available signals from incoming feeds to studio cameras or graphics. All of this takes place using the same HTML 5 connection. The team maximises the potential of the cloud-based solution, which enables distribution to various streaming sites through Wildmoka, including YouTube and other platforms such as MBC, adds Van Dam.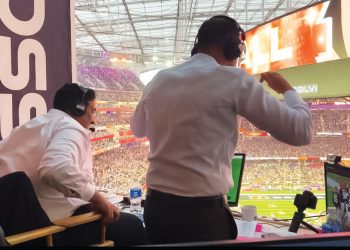 SSC also secured the rights to Super Bowl 56. The AVC team was in Los Angeles on behalf of SSC to complete the Arabic production of the games. Essentially, AVC Media cloud and GV AMPP served as the core of the full cloud set-up, along with LiveU. GV AMPP Edge and LiveU were used to deliver on-site signals to AMPP. To broadcast the games, SRT streams from Eurovision were taken and transferred to GV AMPP. This included all pre-shows, standups, edits and distribution on-site in Los Angeles.
"We produced for SSC a daily, multi-camera live segment for the programme on SSC 1, and on the day of the Super Bowl we produced three programmes of 25 minutes and the fourhour game included on-site commentary from reporters. The live broadcast was produced from the commentary booth inside the LA Sofi Stadium. Two on-site SSC commentators with live interventions from fan zone using LiveU were added," explains Van Dam.
"We had a world feed, two dedicated ISO feeds and a commentary camera on-site through the GV AMPP Edge. Back-up world and ISO feeds were provided by Eurovision over SRT. The full live feed, video and audio mixing, clip and promo inserts, music and graphics were provided through AVC Media Cloud and the GV AMPP cloud platform. The final programme was distributed to MBC, SSC archives and Wildmoka via SRT. As NFL Super Bowl is the biggest sports event in the US, we were so proud to be the only Middle East company on-site, working on behalf of SSC."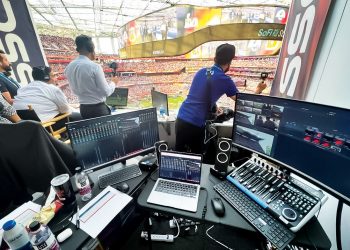 He points out that the main differences between the GV AMPP and alternative solutions are "responsiveness, low latency, high flexibility and scalability, as well as cost efficiency".
"This is the only cloud-based platform in my opinion that currently offers the capability to create broadcast production workflows similar to what is used on-prem."
Although the set-up is currently supported by AWS Ireland, Van Dam is confident that in the near future the platform will be hosted in both the UAE and Saudi Arabia. "With GV AMPP, SSC can now create high-quality content and provide the required exposure to several sports and events in the Kingdom that thus far have had limited coverage due to budget restrictions or the lack of technical resources."
An added advantage has been the presence of a local media fibre network. "In Saudi Arabia, we have a 3GB internet capacity within the SSC MPLS media network."
Van Dam and SSC worked with Yousef H. Mugharbil of Dawiyat Telecommunication Company during the Covid-19 lockdown to create the Media Network, "a redundant 10G MPLS network that gives connectivity to the SSC's main broadcast and distribution hubs and high-bandwidth internet". This is the foundation for contribution, remote production, cloud services, production and distribution, successfully supporting SSC's broadcasts to multiple platforms simultaneously.
"Today, up to 29 of the main sports venues have been connected via this 10G MPLS network. It is the backbone of this expansion strategy and serves the end viewer with a wide range of local and international content while we can control all productions and operations remotely," Van Dam explains.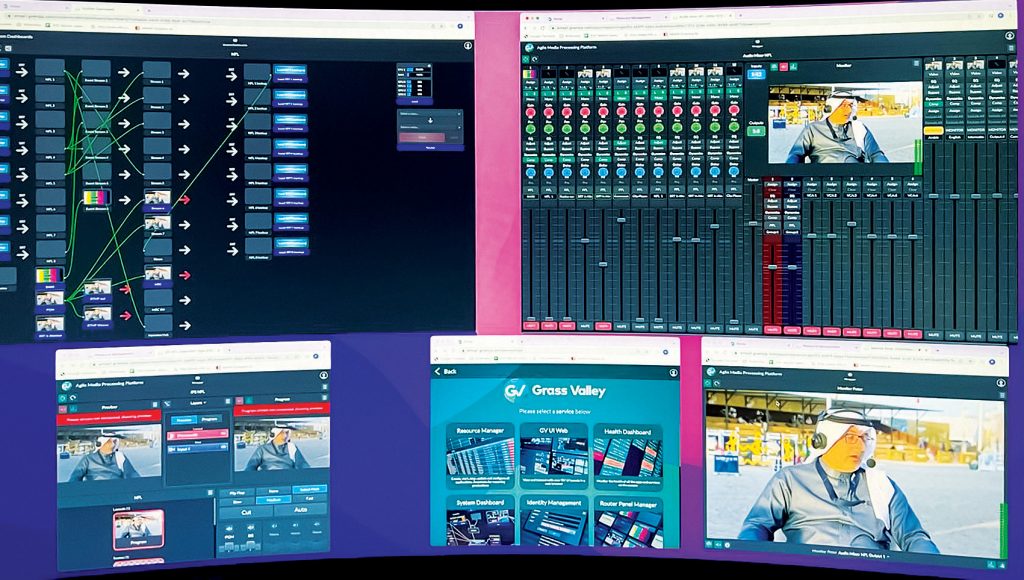 Saudi Arabia has been working quickly to secure the rights of national and international sports events, with the 2030 vision and future events centred around sports and culture.
"Stakeholders are exploring alternative ways of content production, and cloud-based solutions seem ideal to scale up or scale down services on the fly. In this case, the Grass Valley AMPP cloud-based playout platform supports this objective most favourably and is ideal for creating scalable services."
In time, Van Dam hopes to create three feeds for some games – a national feed and one for each team – each with its own commentary, ads and YouTube channel.
"The next phase would be to give the clubs the possibility to do the playout for each of their channels, so each have their own YouTube channels with reruns and live matches if the team plays home or away."
With GV AMPP, AVC not only serves SSC but also provides remote commentary services for the Olympic channel and the International Jumping Federation, among others. "There are several events taking place worldwide with real-time remote multi-language translations. A multi-camera set-up with remote control operations minimises the on-site space required for a technical set-up. Typically, such services that provide a cloud archive, media management services and distribution were limited to major broadcast houses. But cloud is a great leveller, bringing media archive and management within reach of companies that have media content and want to secure this, and make it available for distribution and commercial use," concludes Van Dam.