Afraa Batous' film Skin has been selected to receive a post-production grant as part of DIFF's Enjaaz programme. The Syrian filmmaker speaks to Vibhuti Arora about the inspiration behind her film Syrian filmmaker Afraa Batous was relieved when she heard her film Skin had been selected by Dubai International Film Festival (DIFF) for post-production support this year. In […]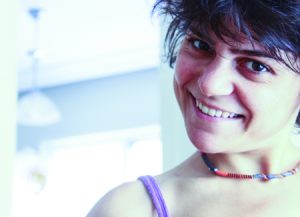 Afraa Batous' film Skin has been selected to receive a post-production grant as part of DIFF's Enjaaz programme. The Syrian filmmaker speaks to Vibhuti Arora about the inspiration behind her film
Syrian filmmaker Afraa Batous was relieved when she heard her film Skin had been selected by Dubai International Film Festival (DIFF) for post-production support this year. In the making since 2012, the additional funding meant her project would finally see the light of day, as well as the joy of recognition.
Skin follows Batous' personal journey through vivid memories of two of her closest friends, Hussein and Soubhi, young men living in politically and socially trying times. Batous documents their gradual collapse which, as she realises later, reflects her own inner collapse. Through her film, Batous takes the viewer on an intimate journey with three actors, with a mix of emotions – hopes, dreams, loss and survival.
"This film follows the trials and tribulations of three Syrian young people, two of my close friends and me, struggling to find our path, dreams, love, present, past and future in war-torn Syria. It's a metaphor for the current situation in our homeland," says the filmmaker.
Originally from Aleppo in Syria, Batous now lives in Beirut, Lebanon, where the post-production work on her film will be carried out. With the shooting complete, the film now needs editing, sound design, sound mixing, colour correction, translation and subtitling, as well as printing of DVDs and DCP.
"I'm now in the process of collecting post-production teamwork and funding, and will start work on it at the beginning of June," she says.
DIFF will be funding the post-production of Batous' film through its Enjaaz programme. The film was chosen for post-production aid in collaboration with Beirut DC, a Lebanon-based organisation that provides help and support to Arab filmmakers. Skin was selected during the inaugural edition of the Beirut Cinema Platform (BCP), organised by Beirut DC.
"Skin's journey to DIFF took place via the Beirut DC platform. It was selected to be presented during the Beirut DC platform, which took place in Beirut in March 13 to 15, this year. It was the time when I was planning to apply for the Enjaaz fund," Batous explains.
The Syrian filmmaker has already finalised the editor and sound designer for her film, and the preliminary discussions of the mood of the film have already begun. She has yet to find the right people to work on the colour correction, sound mixing, translation and DCP (digital cinema packaging).
"We have decided to use Adobe Premier and Avid for post production. For transitions we will be using After Effects, and for sound, we will be using Cuebase 7. The final duration of the film is 90 minutes, and this won't change, based on the script and visual material," she explains.
Batous worked in theatre for six years before getting into filmmaking, and as a vocalist, has used some of her own musical renditions in Skin.
"Communicating with human beings was always my main area of interest, be it through music, theatre or cinema. Since one of the first and stronger ways of humans' acquaintance of this world is visual, I began looking at the world through my cinematic camera in 2010, after six years of experience in theatre and music.
"I thought films would be the next level, and that got me interested in making films. At that time, there was no film school in Syria so I started self-educating. This was in 2010, and when I moved to Lebanon in 2012, I started working in the audiovisual arts foundation, which opened new doors for me. I directed a short documentary film, Haj Abed the Fawwal, in 2013 and then started working on my first feature documentary, Skin," she recounts.
Batous began working on the idea of Skin in mid-2012, inspired by Hamletmachine by German playwright Heiner Muller.
"I was working on Hamletmachine in 2010 in Syria, exactly a year before the Syrian revolution began. The play was very similar to what happened in Syria after 2011. I decided to go back to the people who were working with me on the play and watch how they were dealing with the script. We were living the life that we had depicted in the play. I wanted to know what my co-actors felt and how they dealt with it. This film was self-funded during the development stage, then was funded by individuals from different nationalities."
The film was shot in three different countries – Aleppo in Syria, Gaziantep and Istanbul in Turkey and Beirut in Lebanon – which is why it took more than two years to complete.
"We began shooting in October 2012 and finished in December 2014. The main camera used on this film is a Canon 650D. Since I am one of the three actors in the film, I tried to create an atmosphere of intimacy and friendship in the film. I was trying to make the audience live with us as friends and go through our journey.
"I chose the Canon 650D, for sensitivity of its image capture and its flexibility of use. Because I was present behind and in front of the camera, I wanted something easy to use. The scenes had to make the characters comfortable to make the audience go into the very intimate moments of these three friends, who are gradually losing their dream and faith in times of trouble.
"We had to portray our innermost feelings on film, the feelings of people who are losing their homes, their hopes, their beliefs and their relationships. It's a sad film, and while working on it, I struggled to maintain a cheerful atmosphere on location, as each of us would slip into despondency," explains the filmmaker.
The film is shot throughout in warm red light and natural light, and the sounds used are mainly Shotgun and Zoom. This also helped make the actors comfortable in their space and keep the director's movement smooth.
"I have shot the entire film from my point of view, both when I am in front of the camera and behind it," she adds.
Batous wants to take her film to an international audience.
"It is very important for me that this film reaches both international and local audiences, so once the film is completed, we will start the festival tours from November 2015."
Inspired by the likes of Andrei Tarkovsky, Lars von Trier, Emir Kusturica, Omar Amiralay, Pedro Almodóvar and Pirjo Honkasalo, Batous prefers to make documentaries because they are like a diary, a way to present her point of view to her audience. Her previous films have been short documentaries; this is her first feature.
"I mainly like to make documentary films, especially the ones that deal with human emotions and stories. I enjoy any story that deals with social issues. I do believe that this stage is producing new styles in the Arab films and it needs time to mature. I think believing in the new generation will help our cinema to mature creatively."
She believes each film carries a part of the director's personality and personal journey: "I like my audience to understand me through my films and empathise with the situations that I present in my films. The situations and geographical boundaries may be different but at a human level, individuals relate to the basic human emotions.
"I see Syrian characteristics in my films, but believe that cinema, music and art are ways of communicating with other humans, and wherever I find a human interest story that touches me, I will not hesitate to work on it," she concludes.