A brand-new music recording studio in Dubai has become the go-to destination for many musicians and podcast hosts. With an ambience designed to inspire creativity, state-of-the-art infrastructure and a range of services, MNK Studios hopes to provide a different audio space for artists. Vijaya Cherian and N Nomani go on a tour.
The drab and dusty facades of the warehouses at Al Quoz in Dubai belie the sophisticated studio spaces within. MNK Studios, a brand new sound recording studio that recently launched in Al Quoz, fits that description. Since it opened, the studio has welcomed a steady stream of clients with varying recording needs.
"This is the only recording and rehearsal space of its kind in the UAE," claims Miltiadis 'Milton' Kyvernitis, owner and managing director of MNK Studios. "This is one of the only places in the region where artists or musicians can regularly hone their talents in a professionally treated environment as well as receive a whole raft of services."
His confidence stems not only from the tech equipment available at the studio, but also his own first-hand experiences of the recording industry's pain points. Starting his career as a freelance audio engineer in 2003 and joining Dubai Media Incorporated in 2007, he stepped away from the station last year to open MNK, though he has been working on its blueprint for the last five years. The Cypriot entrepreneur also did a short stint at AV distributor NMK Electronics, founded by his father Nicolas Kyvernitis.
"The idea for this facility came when I realised there weren't any rehearsal rooms in the country up to standard in terms of service and value," says Kyvernitis.
Everything about MNK is part of a meticulous thought process, starting from its location at Al Quoz. The 3,500sqft studio shares the same compound as musical instrument store Melody House and backline company MEI, which belong to his mother and sister respectively. With the opening of MNK, the compound has become a music hub and a one-stop-shop for musicians. Many of MNK's clients spill over from the more established MEI or Melody House.
The Space
With three spacious rehearsal rooms and two fully equipped recording studios, MNK is designed to cater to any conceivable audio needs, with some video resources too. Two rehearsal rooms are 320sqft each, and the largest is almost 700sqft. All three are acoustically isolated by 50cm walls and based on a box-in-box system to achieve 55dB in average sound attenuation. They are acoustically treated, designed and built by 21dB Acoustic Design and Consultancy. The large room is also a live room, connected to the facility's two control rooms via a Dante network.
The smaller Studio 2 is designed mainly for audio post work such as adverts and radio spots, with the larger Studio 1 designed for sound design, mixing, mastering and composition. Both have their own vocal booths.
Apart from the acoustic treatment, MNK's rooms come with guitar and bass amps and drums. The two smaller rooms come with a PA system as well as wedge monitors for drums, and the large room runs on multiple wedge monitors. Although these are primarily audio facilities, mood lighting has been fitted to help create the right ambience for artists.
"They can change the colours to whatever theme they like based on their mood and perform. This is really important to creatives," says Kyvernitis.
Another hook is MNK's crew of engineers, always at hand to assist. This attention to detail perhaps stems from Kyvernitis' own extensive work experience at Dubai Media Incorporated. "We ensure our best in providing quality service alongside a quality product that is the facility," he says, adding that the recording rooms have also been fitted with some of the newest kit.
Compared to traditional recording set-ups with engineers in the control room and artists in live rooms connected via DAWs like Pro Tools, MNK's rehearsal studios enable live recordings to be easily executed. The acoustic design and panelling minimise the sound bleed into different microphones from different instruments, making the facility ideal for bands or professional musicians who want to record a live performance.
"You can have a row of vocalists strategically positioned ahead of the guitar cabs with the drummer performing on those drums there, yet because the room is so well designed, you have very minimal bleed into the microphones and can easily record and mix a live performance in both stereo and multitrack format," explains Kyvernitis.
There is a variety of aesthetically pleasing acoustic panels in the studios, including Primacoustic for the broadband absorbers and bass traps, Vicoustic for the diffusers and hybrid absorbers, and Spigoacustic for the wooden wall panelling and closed-cell polyethene absorbers for ceiling surfaces. "This combination of panels was carefully selected to achieve a great sound propagation balance inside the spaces during a performance," Kyvernitis explains.
Allen & Heath Qu-16 mixers are deployed in the two smaller rehearsal rooms, Studios S and M, preconfigured to record rehearsal sessions in stereo (multitrack recording is also an option) and paired with a Mackie Thump12A and Thump18S PA sound reinforcement system. All instruments are pre-miked to eliminate messy and unsafe cabling and fed into a stage box that connects with the Qu-16 via Ethernet. Shure SM58 and SM57 mics are available for instruments, and the drum kit is catered to via Shure DMK57-52 drum kit mics or an optional Sennheiser E-600 series set-up. Both rooms have Blackstar and Orange amplifiers for guitars, Ampeg amplifiers for bass and Pearl Decade Fusion kits.
Simply put, all musicians need to do is bring their hard drive and they're ready to record.
Studio B, the largest of the three rehearsal rooms, has a higher-end set-up, with a 64-channel Allen & Heath Avantis audio console and Mackie wedge monitors for in-room playback. "This room was built with international acts in mind, so all the gear in there is high-end," explains Kyvernitis.
The microphone spread in Studio B is also more extensive, with a menu of Shure SM58, SM57, Beta 52, Beta 98AD, KSM137s and Sennheiser E600-Series models to choose from. A 16-channel Allen & Heath ME-500 personal mixing system is also at hand, while Mackie HM8 headphone amplifiers and MDB1P, MDB1A, MDB2P and MDB-USB DI boxes complete the set-up. For backline, Blackstar, Orange and Ampeg head & cab amps cover guitars and bass, while the drum kit is a Pearl Masters Maple Complete kit.
Flexibility is the overriding factor, afforded by an extensive Dante network. "Both Studios 1 and 2 can be paired with Studio B, and the recordings and projects can move around freely. We have very minimal analogue cable running underground. The large rehearsal room also functions as a live room and can be connected directly to either Studio 1 or Studio 2. If one of the control rooms is busy, we can still record in the other. Audio is distributed via Dante protocol, which makes the facility extremely flexible as well," says Kyvernitis.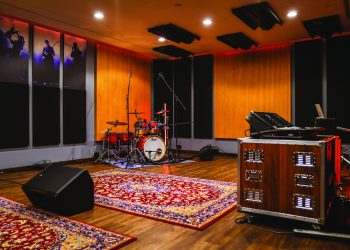 Studio 1 is the master control room, set up with an AVID S1 mixing console. Pro Tools is the DAW of choice here. Monitoring requirements are covered by a pair of high-end Mackie HR824 MK2 monitors. Inside the vocal booth, one Mackie HM-4 headphone preamp provides the headphone feed while the industry-standard DAD-MOM monitor operating module, used as a monitor control, is directly connected to work seamlessly with the MTRX.
Studio 2 is a slightly scaled-down space equipped to cater to all requirements for audio postproduction, such as voiceovers, sound design, editing and mixing, music composition and sonic branding. This room also uses an AVID S1 desk, with monitoring control provided via a DAD-MOM unit through a pair of Mackie HR6 MK2 monitors.
With -50DB of attenuation in the smaller studios and -64DB in the larger one, multiple bands can rehearse and record simultaneously. "While we had a 10-piece band performing in Studio B, we had another client upstairs in the Lightroom shooting a music video. He brought in large PA, had lighting everywhere as well as actors, and made it look like a nightclub. Playback through the PA was loud. And fortunately for both clients, they couldn't hear each other."
MNK Studios also has a dedicated space for photography and videography sessions. "The Lightroom was a last-minute decision based on the fact I had usable space left over that I previously considered only as storage space. We ended up converting this into a usable space that has natural light coming from the skylight panel and is great for photography and videography, as well as other uses. So far, we've shot two music videos, held a few podcasts and had a catering service set up for a client there."
Value-added services
MNK says its USP is value for money – rental starts at $68 an hour.
Kyvernitis says: "All of MNK's rehearsal rooms are record-enabled, offering on-the-go stereo recording free of charge with booked sessions enabled by the fact that every instrument is set up with microphones. With a premix already set up for the foundation of the average rehearsal, this means recording is quick, and we provide this as a value-added service to musicians and clients, so they are further encouraged to hone their talents.
"Providing this allows them to assess their performance as live musicians, which is different when recording a song track by track for an album. It also allows them to share their material with friends or peers. Moreover, because the rooms are well designed, any tight professional band that chooses to rehearse and do a stereo recording could also release an EP with a good performance. To add to that, all our rooms can also record in multitrack format."
The Centre for Musical Arts recently rented the facility for a project for an Expo project.
"They had their musicians, their children, their ensemble, and they recorded in one of the small studios in multitrack format. In the large rehearsal room, bands can either record in stereo into the console drive, multitrack format into a laptop they've set up via Ethernet, or if they want an engineer or do an actual instrument-by-instrument recording, we can record into Pro Tools directly via the patch bay.
"Each room has been designed to be used by anybody and everybody in the arts. That said, even engineers can book sessions to record bands themselves. To my knowledge, there is no professional studio here that actually enables this amount of flexibility."
Kyvernitis also points out that musicians who record at MNK don't suffer from ear fatigue. "Some of these bands get really loud, but it doesn't tire the ears because of the rooms' acoustics. The way this room is treated, even at high levels of sound, it doesn't hurt the ear. It sounds good."
Another thoughtful feature at MNK is the chillout area complete with PlayStations, Netflix, chess boards and food and drink.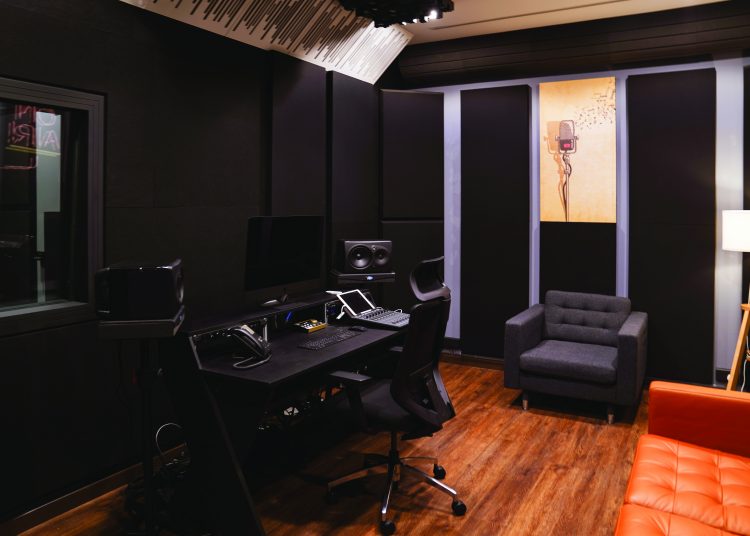 Expanding client portfolio
"We have quite a variety of clients that come through our door," says Kyvernitis, "ranging from local musicians to international superstars, local and regional podcasters, music video producers, corporate clients, production companies, jazz musicians, soul funk, metal rock – you name it. Everyone from working professionals that require a temporary dedicated space, to smallscale podcasters – a rapidly expanding sector – who simply require clean and clear audio capture, with aesthetics to back it up if they're shooting video podcasts, has a place at MNK Studios."
Podcasters form a surprisingly sizable chunk of the client base. And aside from audio, the rooms are popular for videography as well, he says.
"Podcasters like the aesthetics, but most of all they like the sound. It's impeccable and so clear. All of them come back saying that their listeners and viewers are so much happier with the new output. Podcasts are produced in either of the rehearsal studios or the Lightroom, and we provide clients with a custom-built podcast table. We have televisions in both Studio B and Studio S. Furnished with laidback couches, it is designed for casual podcasts. The studio's acoustic panelling eliminates the need for the SM7B microphone, a popular podcast mic which clients always demand to use regardless. The room sounds so good that they can use any mic to do their podcasting as well."
MNK also does automated dialogue replacement (ADR) for films. "If a client comes down with a Disney film and wants it translated to Hindi, we can do the dubbing work here." Although the facility is quite comprehensive, Kyvernitis isn't ready to stop yet. With the growing demand for alternative DAWs and given that these rooms may be used by engineers who need a space to work, MNK plans to add Dolby Atmos mixing capabilities.