In an exclusive interview with BroadcastPro ME, Executive Producer Mike Gunton and Camera Operator Rob Drewett speak about some of the cutting-edge technologies they used in filming the BBC's Planet Earth II.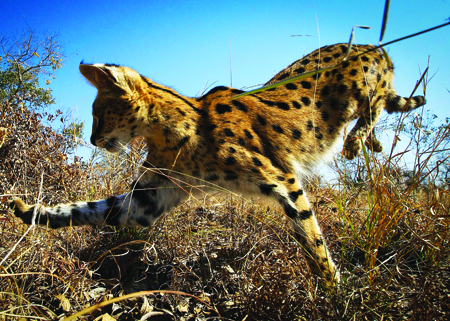 In an exclusive interview with BroadcastPro ME, Executive Producer Mike Gunton and Camera Operator Rob Drewett speak about some of the cutting-edge technologies they used in filming the BBC's Planet Earth II 
Dynamic tracking shots using gimbals and drones, ultra-high resolution and never-before-seen night-time photography make Planet Earth II the BBC's most cinematic wildlife film series to date. In May 2017, BBC Worldwide announced several broadcasting deals across the Middle East to allow its natural history catalogue to be shown, including an agreement with MBC Group's digital service Shahid, through which Planet Earth II exclusively premiered.
Critically acclaimed, hugely popular with audiences and rewarded with 10 Emmy nominations in the US, including outstanding documentary series, sound editing, editing and cinematography, the nature show returns a decade after the BBC's Planet Earth hit the world's screens in 2006.
Co-produced by BBC America, ZDF and France Télévisions, the operational hub was the BBC's Natural History unit in Bristol (UK), which has been producing wildlife films for 60 years, often with Sir David Attenborough, the most recognisable voice of the genre.
Through the decades, they've continually raised the bar for the look and feel of nature films – an evolution which in large part is also a story of technology. With Planet Earth II, the team wanted to push the proximity by getting in close to the animals and experiencing the world's landscape through their eyes.
Executive Producer Mike Gunton has explained that they wanted the camera to move with the action so that the audience feels more immersed, the same way that a cinematographer moves a camera for cinema. A lot of new filmmaking technology went into making Planet Earth II, but no single innovation made it possible. Instead, the series reflects a decade of steady improvements that have led to smaller, lighter, better cameras, particularly those that excel in poor light.
Camera operator Rob Drewett shot the series' first sequence of a swarm of locusts in Madagascar.
"The main challenge was to find the swarm, because it moves incredibly fast over country. As we got to the place where it was sighted, the swarm had invariably moved on."
It took a month to finally get in among the swarm and record astonishing images of the insects in flight.
"It was the first time the BBC had shot wildlife using a handheld gimbal," explains Drewett.
"This shoot set the standard for the look of the series. It had that immersive feeling of flying along with the insects. The freedom of movement to glide – which the gimbal with a RED camera enabled – wouldn't have been possible 10 years ago."
The RED EPIC DRAGON was the series' go-to camera, explains Drewett, because of the flexibility to shoot high frame rates of 60fps, 120fps and 240fps at 2K – essential during the locust shoot.
"Dynamic latitude was another good reason for choosing RED, as was its small form factor and modularity, which means you can build it into any size and weight you need."
Filming animals in their natural habitat, as Planet Earth II does, usually proves challenging where light is concerned. However, the RED EPIC DRAGON made it easy to adapt the lighting aperture, reaching 18 stops of dynamic range with HDRx.
The series began production in 2013 and the decision to master in 4K UHD and in HDR was taken much later in the post process, in 2015. By shooting most of the material at 4.5K, well within the range of the EPIC's 6K sensor, the BBC post team and Bristol's Films at 59 facility had latitude to play with.
While the original Planet Earth used a camera mounted on a helicopter to capture aerial footage, the new series captured dangerous and elusive animals with more advanced techniques. Gyro-stabilised drones provided more intimate aerials and handheld shots showed what it really feels like to move through habitats as diverse as the Antarctic, deserts and savannah.
Steadicams were used for a few sequences, such as capturing a serval hunting in South Africa, but in most cases they were too cumbersome, inflexible or expensive for close-up nature photography. The team relied heavily on smaller handheld stabilisers such as the DJI Ronin and Freefly Movi Pro, with gyproscopes that measure orientation along three axes and motors that counteract those movements. These rigs are small and versatile enough to often replace several other tools like sliders and cranes. A shoot on an island populated by penguins was entirely done with a cameraman holding a gimbal.
The production was epic in every sense. Shot over a three-year period, it required 117 filming trips to 40 different countries and a total of 2,089 shooting days. Drewett explains that media was downloaded on location using Shotput Pro software onto a pair of mirrored drive systems.
"There was no LUT, no grade. A producer might look through the rushes and make notes about particular good shots, but so long as it was mirrored and backed up, everyone was happy."
The delivery requirements included both different colour spaces and resolutions. An HD standard dynamic range (SDR) version was required for BBC transmission and for BBC Worldwide. A UHD version with HDR, using the Hybrid Log Gamma curve, was also required for BBC Worldwide distribution.
The series also showcased a new way to capture intimate wildlife behaviour at night. In particular, it captured a showdown between a long-eared bat and a scorpion, using infrared photography combined with high resolution and slow motion.
Ed Charles, producer of the episode in the deserts, has explained that they used a RED camera with a DRAGON Monochrome sensor to capture "incredibly crisp images" even with zoom lenses and at higher frame rates. None of this was possible a decade ago, which has the team wondering what might be possible a decade from now. And they're already thinking about Planet Earth III.