With a camera on top, drones have extended the horizon for filmmakers and cinematographers. Dubai-based drone experts Rashad Al Safar of SkyVision, Epic Drone's Shafi Saidu and Egyptian filmmaker Amr Ghandour speak to Shifa Naseer about the rising influence of drones on the region's film scene.
Breaking through the clouds and zooming in to landscapes, gliding over a lake, chasing fast cars, narrowing down focus to one subject … a straight-down view of the Earth below like never before, with nothing but a flying device and a camera perched on top. That's what drones offer to the world of filmmaking.
Scenes of a film or TV show are shot from the characters' point of view (POV), which leaves the rest to a viewer's imagination. What if that limit can be removed by expanding the viewer's line of sight? This is precisely the lure of drone filmmaking.
But let me take you back a bit. If you were impressed with the opening motorbike chase in the James Bond film Skyfall or the pool party on Long Island in Martin Scorsese's The Wolf of Wall Street, that's because they were both shot using a drone.
In the last decade, drones have inspired cinematographers to create a whole new world perspective at potentially a fraction of the cost – one that could not have been possible with aerial filming. Drones have been used in most big-budget films in recent years, including Captain America, Transformers: Age of Extinction and instalments of the Harry Potter and Mission: Impossible franchises.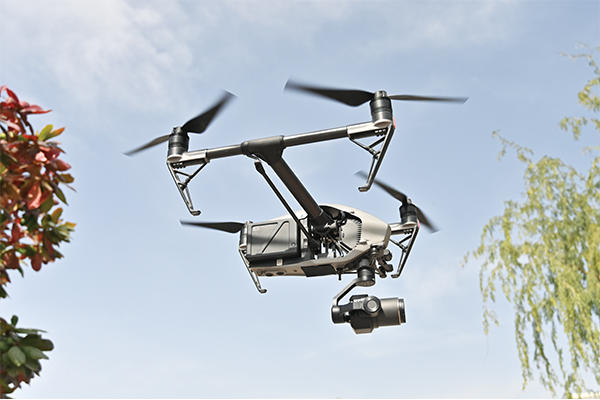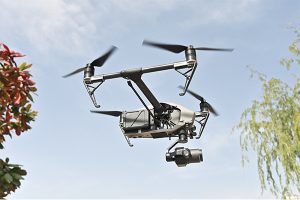 Mounted with a camera and properly piloted, drones offer degrees of freedom (including a first-person view) that no other camera device can – camera cranes, Steadicams and camera tracks all have specific physical constraints.
"Drones and filmmaking go hand in hand nowadays," says Rashad Al Safar, a drone enthusiast and CEO of Dubai-based SkyVision. "Every establishing shot is filmed using a drone, where you see the location before you get a close-up so that the audience feels that they are part of the narrative. It sucks them into the story. Drones are useful in creating that effect."
Today, filmmakers rely more and more on such devices to compose shots that would otherwise be impossible or prohibitive to produce. SkyVision is known for producing aerial videography and photography content in this market. Al Safar says his passion for filmmaking led him to found SkyVision around five years ago.
"In 2014, drones were not so common as the technology was just starting. My brother and I worked on a film together back then and had to build our own drone to shoot certain scenes," he says, adding that his love for drones stems from their ability to create unique perspectives.
"I prefer creative cinematics, especially car shoots. I love tracking cars at close range with a drone flying over them. Earlier, helicopters were required to shoot such angles, but now drones have rendered them obsolete because they are so cost-effective." The Los Angeles Times reports that it costs as little as $5,000 a day to operate a filming drone, as opposed to $25,000 for a helicopter.
"Drones have almost eliminated the need for helicopter shoots for filmmaking, owing to their flexibility and affordability. You cannot fly a helicopter through two buildings, but you can do that with a drone. There are so many instances when you require an aerial shot. In such cases, when we want a single uncut shot, somebody grabs the drone as it's coming down, carries it through into the house, for instance, or follows the subject. That's when drones get creative," says Al Safar.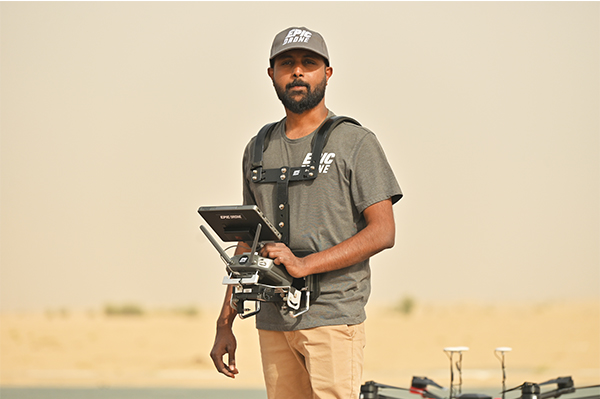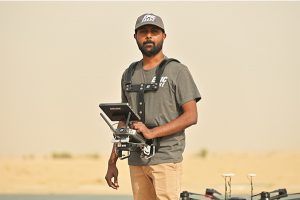 Aerial perspective – the bird's eye view – is always a "wow factor" when it comes to a visual experience, according to Shafi Saidu, Head of Drone Operations at Epic Drone. "While aerial shots ensure audience appreciation, helicopters are huge, expensive and cannot offer the angles that drones can."
Based in Dubai, Epic Drone's clients include Dubai Tourism, Abu Dhabi Tourism, DEWA and Emaar. The company also has drone operations in India and Georgia, mostly for feature films. "Initially, we started using small drones which can carry the GoPro with a modified lens system. There were no heavy lifter drones readily available back then, so we ended up building drones with engineers to fly professional cameras for unique shots. But now easy-to-operate drones are readily available, which has contributed to their popularity among filmmakers," reveals Saidu.
Drone sales are expected to top $12bn in 2021, according to BI Intelligence. A big chunk of that figure is predicted to come from the sale of drones used for filmmaking, recording, photography and gaming by everyday tech-savvy enthusiasts.
In the UAE alone, around 300 to 500 consumer drones are sold monthly for aerial imaging including photography and videography, according to Pejman Ghorbani, Senior Product Manager at Dubai-based distributor Advanced Media. "For high-end filmmaking, I can say the number stands between 10 to 20 per month."
What can be done with drones is limited only by one's imagination. The technology is relatively new, but even in the initial stage, drones provided better shots than ground cameras.
One remarkable technology incorporated within drones is the gimbal. This pivoted supporting device allows the mounted camera to tilt while in flight, creating unique perspectives. It compensates for unwanted movements such as vibration, wind and other factors that could potentially make a camera unstable.
"This technology has come around the same time as drones, which is lucky for us. Now, it's all about the gimbal. You can get smooth shots as if someone is holding the camera. You can do shots that previously required big truck tracks. That is kind of a breakthrough," says Al Safar, adding that "the camera and drone technologies have improved so dramatically" that the team "can now prop ARRI Alexis, RED Epics or other huge cameras with huge lenses on these drones as well".
Amr Ghandour, an Egyptian filmmaker based in Dubai, concurs on the potential of the gimbal: "It is because of the gimbal and the endless possibilities that drones offer in cinematography that the technology is emerging as an absolute favourite with filmmakers."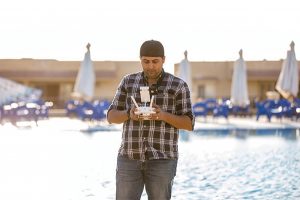 Ghandour has worked on several films for corporate companies, using the innovative aspects of drones to bring new perspectives to his most recent films. One of the films on which he worked, Crime For Love, is scheduled to be released in the UAE soon.
"I have been using drones since 2016," he explains. "The idea to use drones for filmmaking came to me when I was planning to update my equipment and wanted to try something new for my work. Drones are not new in cinema – over time, their technology has evolved. Now drones allow for different shots of the actors and the scenes up close, from various perspectives."
Filmmakers use drones for a variety of shots, including close-ups that track out to film the entire scene without a cut. "It has led to an improved cinematic experience where a shot spans out like a full narrative. The fact that we can achieve that now has increased the scope for young filmmakers to experiment with their work," Ghandour adds.
With the endless possibilities that drones afford, Saidu notes that "DoPs and film directors increasingly began considering an aerial perspective for their films … Drones are now replacing the high-jib crane. It's not a trend anymore; it's essential."
Depending on the nature of the production, a filmmaker can easily find a drone that suits their budget and needs. "We usually provide drone services for regional film production companies. Once the production house approaches us with specific requirements, we then chart out a plan and select our drone category based on the filming requirement and the budget," says Saidu.
There is no shortage of drones on the market: some are small and cheap, while others are advanced but expensive.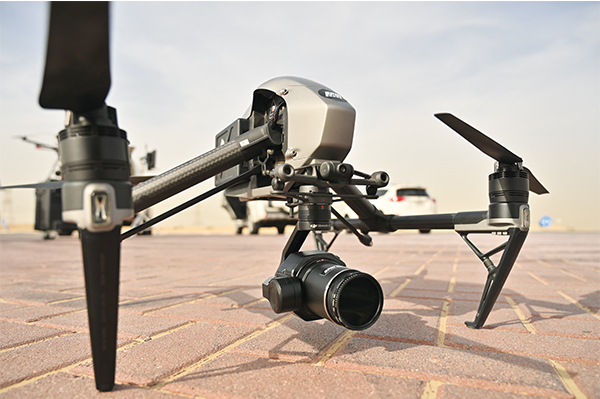 According to Advanced Media's Ghorbani, the DJI Inspire 2 with DJI X7 camera (35mm, 6K, exchangeable lens) is the most popular drone among resident filmmakers. "For projects that require a heavy lifter drone to support a RED Digital camera or the ARRI Alexa Mini, the DJI Matrice 600 Pro or the Freefly ALTA along with a DJI Ronin MX or the Freefly MoVI Pro Gimbal are used," explains Ghorbani.
Epic Drone uses DJI Inspire 2, M600Pro and custom-built heavy lifter drones, and Saidu agrees with Ghorbani that the Inspire 2 drone is probably the hot favourite of most filmmakers.
SkyVision mainly uses DJI drones, but smaller drones like the Phantom and the Inspire 2 with X7 camera are an essential part of the kit. "Sometimes we do indoor shoots with the DJI Inspire 2 drone. We've done shoots indoors for the Ferrari World theme park. Such shoots require smaller drones, so we use something like a Phantom or a Mavic," remarks Al Safar.
However, mastering these devices to create the desired sequences in potentially changing environments requires a significant amount of time and practice. One cannot just buy a drone and start filming, especially in the UAE, given the strict safety regulations set by the Dubai Civil Aviation Authority (DCAA).
"You need a licensed company to do aerial cinematography. Unless you have a licence, you cannot charge for your services," says Al Safar, who secured his licence from the SANAD Academy in the UAE. The academy tests trainees on high-wind manoeuvrability, drone stabilising, landing on points and making loops.
"Once you go through rigorous training and are certified by SANAD, you can go in three directions: You could either be a hobbyist, a professional or use the skill set commercially, which means you're licensed to provide full commercial operations with the drone," Al Safar explains.
This is not as easy as it looks. There are a number of permissions to acquire before starting filming in the UAE. Al Safar takes us through the process.
"You need liability insurance. There is an elaborate application process as well. First, we apply to the Dubai TV and Film Commission for every shoot. From there, the application will go over to the Ministry of Defence. Once the ministry approves it, it is then passed on to the DCAA. Here, they approve the height that you're flying, what drone you're using; you will be fitted with a tracker to monitor the height and location."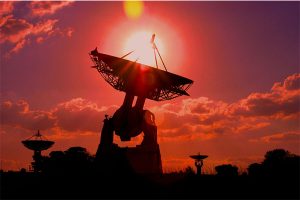 All these steps are in place for safety as, at the end of the day, people need to be responsible, notes Ghandour. "Flying a drone is easy. But one must have quick control skills and safety measures in place before manoeuvring a drone. If one is not careful, a drone can be dangerous, both to the people nearby as well as to property."
Safety cannot be stressed enough, seconds Al Safar.
"Because of course, if a drone flies into an aeroplane, it's serious. So, if we're filming near the Metro station or the Metro line, or any public transport or within proximity to busy roads, we need permission from the RTA as well. There is a lot involved in terms of the procedure to fly drones commercially, but the UAE is supportive of those going through the legal process," he says.
Epic Drone goes the extra mile to plug all loopholes and ensure the safety of its equipment and pilots. "All our pilots at Epic Drone are commercially certified by DCAA as well as the GCAA. All drones are insured for liability and accident. We have technicians on board to provide support on film sets. We have been maintaining the international standards of safety and conducting preflight checks. We also perform calibration and test flights periodically," says Saidu.
While these measures address safety concerns, drone shooting also gives rise to privacy issues in generic outdoor filming. "In the UAE, if you're focussing on a site or a building, you need a NOC from the building owner. It goes down to the basic level. Generally, you can get permission to shoot in public areas, but you cannot start filming anywhere," says Al Safar. "For example, we have a big shoot coming up that includes all the landmarks in Dubai like Burj Khalifa, Burj Al Arab, the Emirates Towers, so we need NOCs from Emaar, Meraas, etc."
Asked how long it takes to get the paperwork done, Al Safar says: "It depends. We can get an application approved within 10 days. But if it's a larger production with lots of locations involved, then we need more NOCs, which takes around three to four weeks."
Filmmakers are happy to oblige and put the necessary precautions in place as long as the business is profitable. "I am an entrepreneur, I have five to seven companies to my name, and SkyVision is one of my top four profitable companies," reveals Al Safar.
For Ghandour, drones are an added bonus for a talented filmmaker. "Filmmaking will make you money if you're good, and drones help in improving the cinematic experience. The only factor to weigh in is how good you are at using them to the best of your ability."
Despite their contribution to quality and commercial filmmaking, drones have their limits. "Usually, within a film, a drone is just another tool in a production. There'd be ground cameras, tripods, dollies and jigs. And they'd bring in a drone just for some shots, which can be anything from a half-day shoot to 10-day shoots. It's getting tougher as there are many companies and freelancers in the market now. It's expensive to do it correctly and commercially," says Al Safar.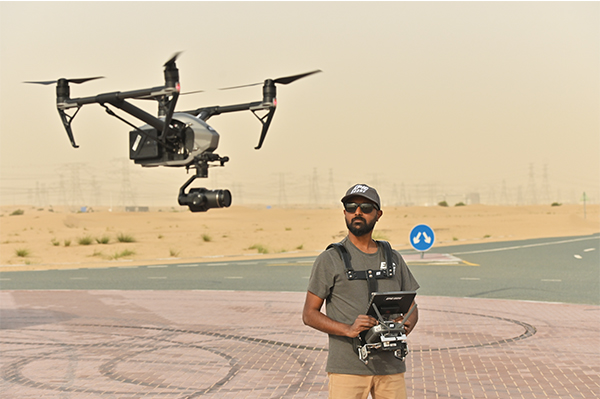 Another limiting factor is the battery life, one of the things drone makers could focus on, notes Saidu. "We once had to live broadcast an endurance race where horses run for 100km a day in the desert. It had to go live on TV. It was a nearly 10-hour shoot every day with drones. It would have been convenient to have a battery that could live up to the challenge."
Weather also limits drone usability. Filmmakers agree that drones could do with improved heavy wind capacity. None of them likes using drones in the rain, as it obstructs the quality of the video being shot and endangers the drones.
Crashing a drone worth hundreds of dollars is a sore spot, says Al Safar. "We've crashed drones while filming. Sometimes, we were not insured and crashed expensive drones. It's a financial setback for the company."
Despite the elaborate approval procedures and other challenges, the film industry has embraced drones as offering a fresh and cost-effective alternative in the realm of aerial filming. Drones are here to stay; they're not just a fad.
And with improvements to technology, we are certain that it won't be long before manufacturers dream up new ways for drones to bring fresh perspectives to the world of entertainment.