In an attempt to feed the growing demand for 4K content, a Dubai-based media house has decided to convert its sci-fi feature Mantera to 4K Ultra HD. BroadcastPro ME brings you an exclusive report Dubai-based media content provider, Global New Age Media (GNAM), which is better known as the parent company of Spacetoon channels in […]
In an attempt to feed the growing demand for 4K content, a Dubai-based media house has decided to convert its sci-fi feature Mantera to 4K Ultra HD. BroadcastPro ME brings you an exclusive report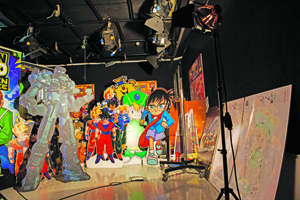 Dubai-based media content provider, Global New Age Media (GNAM), which is better known as the parent company of Spacetoon channels in the region, is undertaking a major 4K project that will see one of its multi-lingual feature film titled Mantera converted to 4K ultra HD for distribution on Netflix in 2014. GNAM is one of the first companies in the region to attempt a large-scale project in 4K.
The project has been contracted to US-based 4K Studios, a subsidiary of NanoTech Entertainment, with facilities in San Francisco and Hollywood, California, which will not just convert the film but also distribute it with UltraFlix, its streaming 4K Ultra HD service.
Mantera, which was produced with a budget of USD 9 m, is a sci-fi thriller that tells the story of a brave young man who saves Mantera (Man Transformable Exo-Robotic Armour) from falling into the wrong hands. The Arabic, Russian and Malaysian co-production, which was originally shot in HD and combines CGI (computer-generated imagery), HD and live action, was shot in Dubai, Moscow and Kuala Lumpur.
Fayez Sabbagh, Chairman of GNAM, says the media firm considers it important to convert its content to 4K "because we want to provide a new, more exciting entertainment experience".
"When we saw a preview of the film that was converted to 4K, the results were amazing. There's just no comparison between CGI HD and CGI Ultra HD. We would have shot the film in 4K if there was a 4K camera available at that time. 4K conversion is the key for all of our HD content at this point in time. In the future, all GNAM productions will be produced in 4K."
Although producing content in 4K is the right way forward, NanoTech's Senior Vice President of Product Development, Alex "LX" Rudis says "the growing demand for 4K content will not be met if we rely solely on the development of new ultra HD entertainment."
"Fortunately, with recent technology advancements, we are no longer limited to just creating new 4K content to meet this growing demand. Content owners such as broadcasters and movie studios have vast libraries of content that can be economically converted to pristine 4K and offered to consumers while providing added ROI on their investments. The freemium versions (with embedded ads) can also be quickly turned into very high-quality 4K VOD content that can be used to generate incremental income."
4K Studios, for instance, has invested more than $750K in 4K film scanning and post-processing equipment.
"The equipment enables us to efficiently and effectively scan 16mm and 35mm film using proprietary multi-scans per frame at a variety of colour and light-levels to capture a highly optimised Wide Dynamic Range (WDR) 4K digital scan of each frame," explains Rudis.
"We also apply a dynamic and optimised de-noise filter and colour correction process to efficiently produce a pristine 4K raw master file. As a final step, we scan through each frame of the film and manually remove scratches and any remaining artifacts. The end result is a near-perfect 4K scan which is a raw mezzanine master file awaiting final encoding for streaming OTT delivery."
A two-hour film requires cleaning, scanning, optimising and encoding, which should ideally take three to four days. A damaged print with many defects would take many more man hours, according to NanoTech.
Rudis goes on to explain that the conversion process NanoTech undertakes doesn't just involve up-scaling.
"Upscaled content is muddy and full of artifacts. It's just not acceptable if you are expecting the true 4K resolution experience. Upscaled is just that … stretching pixels. This process has gotten smarter with advanced interpolation algorithms, which we are successfully implementing. Optimised scaling will have a home in the 4K ecosystem as 99+% of all digital content today is less than 4K and presenting that content in its best light on 4K TVs is important. We understand this. That's why we chose the NVidia Tegra-4 for our Android-powered OTT set-top box. The Tegra-4 has an amazing built-in scaler — one of the best we've ever seen. The 2K (1080p) content being delivered from Amazon, M-GO, Vudu, Netflix and YouTube will absolutely look better on a 4K TV when decoded, scaled and output to a 4K TV rather than allowing the TV to do the up-scaling.
"With that said, NanoTech is also a major proponent of true/native 4K. In addition to more native pixels, we also have the inherent benefit of 10-bit colour vs. 8-bit, which is used in HD. 8-bit means that for red(R), green(G), and blue(B), the values 0 to 255 can be represented. For 10-bit, the RGB values can be from 0 to 1023. This means that per component, 10-bit is four times as detailed as 8-bit. And, if you had a raw image with 10-bit depth, it would have a colour palette 64 times as large (4x4x4=64) to represent the image on your screen. In addition to a more accurate representation of color, it also means that deep colours and blacks are presented in much more detail, lending drama and sometimes a ‹nearly 3D depth to the imagery. We will be providing both an optimised HD to 4K scaling solution as well as all the benefits native 4K has to offer," he explains.
This is what GNAM hopes to do with Mantera to make it more attractive to an online audience.
GNAM has a lot to be proud of as one of the first companies in the region to have not just produced a feature but now, to take the next step to make it available in 4K.
"The film has done well at the box office," says Sabbagh.
"We shot some of the scenes at Spacetoon's office in Dubai Media City and across other locations in the emirate. All of the robots and the CGI was completed at Spacetoon's studio in Malaysia and then, mixed and dubbed in Los Angeles (LA). But now, it is time to take it to more markets and converting it to 4K provides a new opportunity on a new platform," he explains.
Already, 4K seems to be the next buzzword in the industry, especially with the launch of several 4K cameras at a more cost-effective price.
"The 4K trends we're seeing are a clear significant push for 4K from the TV manufacturers; we need content for them and everyone else involved in the 4K industry," explains Rudis.
"Natively shot 4K movies and videos will find their way onto these 4K sets first, soon to be followed by the scanned and re-mastered videos from 4K Studios and other similar service providers. Also, more and more consumers will be producing their own 4K content with the advent of low-cost 4K cameras like Blackmagic, Sony and JVC; and then there will be the massively adopted 4K cameras from GoPro and forthcoming smartphones from Sony, HTC, LG and Samsung with their embedded 4K cameras," he adds.
Of course, the challenges are many as this will call for more robust and efficient 4K editing, sharing and distribution.
"More powerful PCs and GPUs along with enhanced encoding processes and "show-me-the-beef" bandwidth increases will help alleviate these challenges," he adds.
In the meantime, GNAM has undertaken another major production with a Canadian company and a French firm.
"It's an animation called MIA. We will be producing 39 episodes of half hour each and this will again make the Arab world proud of what we do," says Sabbagh.