News channels in the MENA region follow a set formula in terms of delivering news. In an exclusive interview with Vijaya Cherian, Asharq News GM Dr Nabeel Al Khatib and CTO Omran Abdallah share how they hope to move away from the traditional set-up with a younger workforce, a state-of-the-art all-IP facility and a content strategy that aims to reach beyond the usual adult male audience to a younger, more female crowd
It has been two years in the making but Asharq News, owned by Saudi Research and Marketing Group (SRMG), finally went on air in November 2020, boasting one of the finest IP facilities not just across MENA but globally. With a special emphasis on business and an exclusive content agreement with Bloomberg, as well as the aim to reach out to a younger audience, Asharq seems poised to cater to the information needs of a generation of digital natives.
Under the leadership of General Manager Dr Nabeel Al Khatib, a seasoned journalist and ex-Al Arabiya executive, the news organisation launched its digital platform from its Dubai International Financial Centre facility in the thick of the global lockdown in April 2020. Five months later, Asharq News was ready for broadcast.
A greenfield project, suppliers from all over the world participated to bring this channel to fruition. New York-based designer ClickSpring Design was roped in to conceptualise and design the look and feel of the entire facility, which takes up the fourth to seventh floors of the building. German systems integrator Qvest Media took charge of the entire broadcast and IP infrastructure, collaborating with 25 other solution providers, while Canadian company Astucemedia helped with the graphics and design elements of the linear and digital channels.
"It took us almost a year to conceptualise this entire facility, our content and technical strategy, and see how we wanted to differentiate ourselves from the 18 other news channels that currently operate in this region," Dr Al Khatib tells BroadcastPro ME. "Omran, our CTO, said we need to take the IP path, and although I was worried that it was a big risk, I believe it was worth it."
He proudly scans the floor, with several LED ribbons lining the walls of the facility.
"We started scouting around for a place in Dubai in April 2018, and seven months later we occupied this building at DIFC. Our suppliers complained that this would typically have taken them two years to complete. But we were under pressure to launch soon. Unfortunately, once we occupied the building and did a dry run, it was the beginning of 2020 and with Covid-19, it became increasingly difficult to bring talents from around the world.
"While we had the option to wait until conditions improved, we went ahead and launched our digital platform in April. By August/September, the new station was ready and here we are today."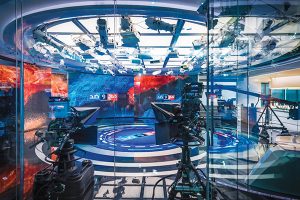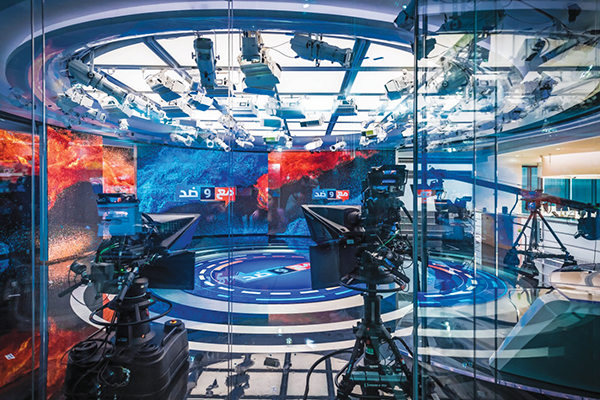 A journalist who started his career on the streets of Palestine, scouring the market for breaking news, before moving to Al Arabiya and moving up the ranks, Al Khatib has an impressive understanding of the workings of a news organisation in its entirety. From content generation to management and delivery across multiple platforms, he is well versed with different areas of the business, including the brands and suppliers that have integrated the technology at Asharq.
"Running a news organisation is totally different from being a journalist, but starting my career on the streets has helped me to make better decisions. My experience at Al Arabiya in terms of the editorial workflow, training staff, establishing a news organisation and so on was like building a ship on the beach. Before you set sail, you have to fully understand the requirements that will take you on the rough seas – because once you are out there, the opportunity to make changes and improvise is limited."
Thus began the quest for the right technology to drive the entire news organisation. Helming this part of the project was Chief Technology Officer Omran Abdallah.
"When Dr Nabeel asked me to lead this project, I recommended we go with pure IP and the SMPTE 2110 standard because it is now being adopted more widely in Europe and the US. Of course, we knew this would not be as easy as the suppliers make it sound when they are sitting in a panel discussion. It's not just about the knowledge or the skills; it's also double the price of a baseband installation, although maybe in the long run it may be cheaper and several technologies are not fully there yet. But we wanted to be a front runner and the suppliers collaborated with us on this," says Abdallah.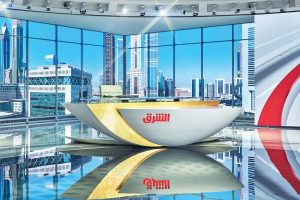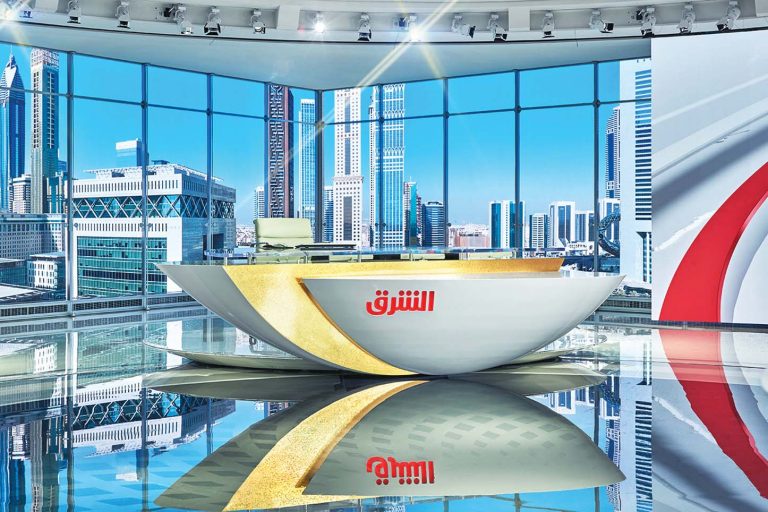 Tendering began in February 2018, even before the building in DIFC was identified. "We occupy the fourth to the seventh floors in this building and it's around 5,300sqm of space."
The mandate was to create a futuristic and open environment that allowed greater interaction between the various teams in the news organisation.
"We wanted the news people to mix with the operations and graphics teams so everyone had a better understanding of what the other did," explains Abdallah, adding that Clickspring helped create the design in accordance with that objective.
Al Khatib echoes this approach in the selection of talent, target audience, choice of content and so on.
"There are 18 news channels here and all of them target 40+ males. Don't females and younger people watch news? So why have they been left out by the news channels? We aim to reach out to not just males but young adults and female audiences as well through our news. This is why we have invested heavily in young talent, with the average age of our staff being around 36 years, and we have a big social media team. The new generation influences the decisions in many of the countries in the region today, and it is important to speak and engage with them," he says.
As a result, a large space on the seventh floor is dedicated to social media, with a special set for this purpose. The floor incorporates a newsroom on the north and the south of the building, in addition to a radio room specifically designed for social media. The social media set-up includes a dedicated studio and a set with two cameras for customised interviews.
"We use social media extensively to reach out to more people," says Abdallah.
But the part that fascinates everyone in terms of technology is the full-IP build at Asharq and the fabulous design of the entire facility. A walk to the fifth floor leads us to two beautifully designed studios, one 350sqm and one 250sqm.
"Clickspring did this entire facility in phases, including our two studios as well as the virtual studio on the sixth floor," says Abdallah, giving us a tour of the building.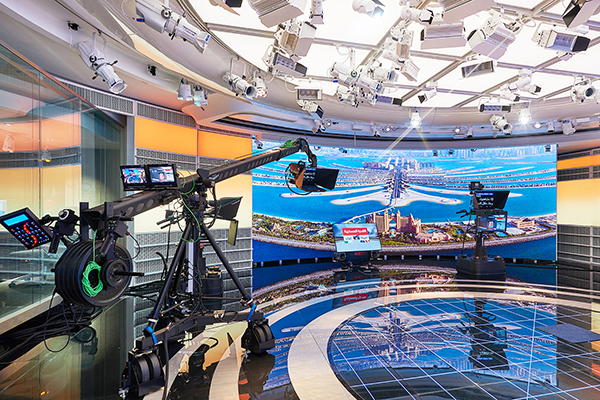 One studio is primarily designed for Asharq News, and the other serves the business component of the channel. Both studios have corresponding control rooms and galleries, though they can be interchanged according to the needs of the station.
Both studios boast several fixed and moveable Barco video walls, movable LED screens and LED floors. The 350sqm studio has an impressive moveable video wall of 8K resolution. Vast arrays of fine pixel-pitch LED tile span the full length of two sides of this news studio, for a mutable cityscape vista regardless of weather. The main anchor desk also tracks in 270 degrees, supported by a sub-floor Igus cable management system. Complemented by eight additional fully automated, radially tracking ceiling mounted displays, the studio facilitates an unprecedented level of flexibility for programme directors. A cylindrical LED column wrap also frames shots into or from the open newsroom adjacent to the studio.
"You can move the eight LED panels all together to make a massive video wall, and we can also separate them if need be and this is a regional first," explains Abdallah.
A similar approach was taken by Clickspring with the studio dedicated to business news. Unique to this studio is a recessed, circular, floor-mounted LED display which can support AR graphics that blend the boundary between physical and virtual.
The studio's lighting system is also noteworthy, as the first use of the ETC DataTrack Backbone outside the US. This product allowed Clickspring to integrate lighting positions seamlessly into areas which would otherwise require a traditional – and less visually appealing – pipe grid, cabling and sporadically placed junction boxes.
Through the alignment of ceiling conditions in both the studio and newsroom environments, producers are given more on-air production opportunities throughout the entirety of the facility. Additionally, the 775 individual, variable colour temperature LED theatrical lighting fixtures work in conjunction with an integrated, programmable window shade system, for maximum daylight control of the newsroom backgrounds on-air.
Each of these studios is wired for seven Sony 4K IP cameras, a vision mixer, a 4K vision mixer and an SSL audio mixer, based on the Dante protocol. Although the news station does not use 4K yet, the technology at the facility allows it to go live with 4K for a limited number of channels should the need arise. The control rooms can control one or both studios at the same time, and the two galleries can be swapped as necessary to support all three studios.
The bigger studio is equipped for augmented reality (AR), with a standard Stype tracking system and a Redspy camera on a Jimmy Jib. The fourth floor also houses a 120sqm virtual studio that supports AR and includes a shared control room.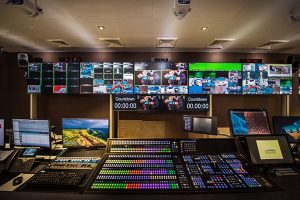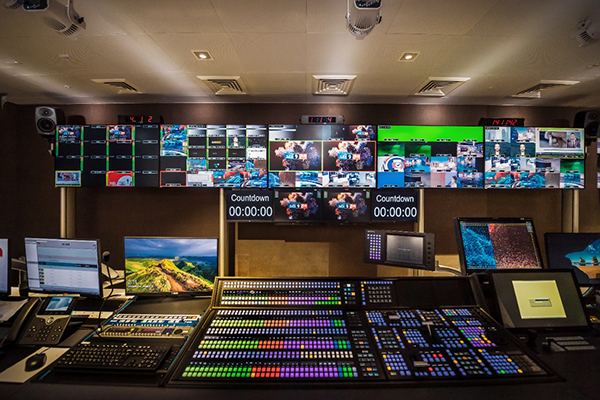 A big part of this project was the IP implementation, and Abdallah credits German systems integrator Qvest Media with designing and implementing a 100GBit/s-capable, all-IP media infrastructure that supports the SMPTE ST 2110, NMOS IS-04 and IS-05 standards and offers sufficient bandwidth for a future UHD/4K upgrade of the production infrastructure. The audio-over-IP implementation supports IEEE, IETF and AES67. Since the network consists of customary IT components, it forms the basis for both the redundant broadcast video network design and the seamlessly integrated office IT.
"They did a great job, and we worked with them for a long time for the high-level design and to ensure we finally achieved this result," says Abdallah.
A few systems run the show at Asharq, with Lawo's VSM (Virtual Studio Manager) system serving as the overall IP production layer, controlling the video backbone (Evertz) and managing the audio IP streams (Dante Audionate). The VSM controls and monitors (partly via SNMP) most of the production devices, like the Sony vision mixer and cameras.
The entire system was built with redundancy in mind. A VSM Boxing feature has also been implemented to ensure disaster recovery and to realise a studio switchover via a single button push of a hardware/software panel.
"It's the core control system for the whole facility," explains Abdallah.
For the design and construction of the media infrastructure, Qvest Media coordinated with more than 25 manufacturers as part of its vendor management, to form a seamless live news workflow. A central component to accelerate this news workflow is multi-cloud management platform qibb, which integrates feeds from all external news agencies – Reuters, AFP, AP, Bloomberg and so on – into the news production workflow so that they can be routed easily to the journalists.
As a cloud application layer, qibb is used to orchestrate and monitor the cloud applications relevant for news production: newsroom system Avid iNEWS, production platform Avid MediaCentral | Cloud UX, social media aggregation and research from x.news and Burli NewsHub, and social media publishing from Wildmoka. This allows incoming news feeds to be curated and routed to the responsible journalists easily, and the smart networking of best-of-breed components creates a unique and revolutionary live news workflow.
An important element of the implementation was the look and feel of the channel. Here, Montreal-based Astucemedia, a real-time broadcast graphics and data integration specialist, helped build the news channel's robust graphics infrastructure and create a sophisticated brand identity for Asharq News, including sonic branding.
The Canadian company's designers and engineers worked closely with Asharq's creative and technical teams to deliver advanced graphics for AR, touchscreen and videowall (including floor), as well as the sprawling atrium inside the DIFC facility across the four floors, with 26 layers comprising 1,527 LED tiles.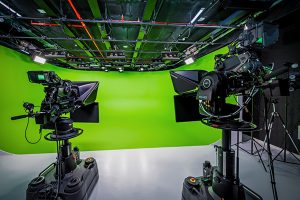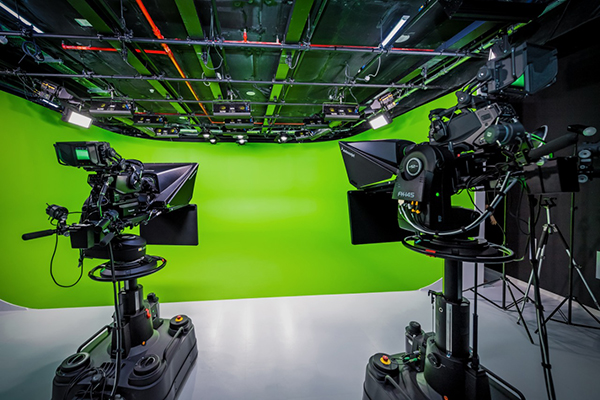 Alongside financial graphics, Astucemedia's solutions for Asharq News cover finance, weather, sports, social media and other news streams, as well as standard graphics elements such as channel ident, menu boards and tickers. In addition, the broadcast technology provider delivered a world conflict scenario application, where the presenter can use the touchscreen and illustrate the scenario in the studio via AR.
Astucemedia, which already has a long-standing relationship with Bloomberg, provided Asharq News with a robust data platform to support more than 40 stock markets around the world with 10,000-plus security subscriptions for real-time updates. The data platform displays live quotes, intraday tick-by-tick and minute data for charting, including candlesticks and heatmaps.
The team worked closely with Steven Cheak, Director of Brand, Creative & Digital at Asharq News, to incorporate the brand into the shows and the digital platform, and Astucemedia's multi-year agreement with Asharq News will ensure it provides round-the-clock support for the news channel's data infrastructure.
"Astucemedia has equipped Asharq News with state-of-the-art digital infrastructure that is unique in the region, especially in terms of the latest graphics, augmented reality and virtual reality systems, as well as a motion-tracking system that allows high fluidity while displaying visual content. They were the ideal choice to execute our pioneering vision for leveraging artificial intelligence to offer unmatched user experience in the Arab world," explains Al Khatib.
Other key elements of the implementation include Vizrt for the AR- and VR-capable graphics solution and studio automation; Telestream for transcoding; Interra Baton for automatic quality assurance; x.news for efficient cross-platform news research in social media channels and via agency tickers; video all-in-one solution Wildmoka; Pebble Peach Dolphin for ingest and TX-playout; and Oracle DIVA for archiving. Avid contributes several software components and forms the backbone of the news workflow with the MediaCentral platform. The network has also invested in Grass Valley LDK 86 cameras (upgradeable via licence to 4K), Kahuna vision mixers (Kahuna 9600) and multiviewers, each connected directly via SMPTE 2110.
Pebble Beach Systems, which had already worked with Bloomberg UK to deliver a similar system, was mandated to build a modern 2110 NMOS-compliant set-up capable of providing the dynamic and complex switching required for a business news channel. Its real benefit is that it is future-proof and flexible, using the latest technology advances to build a complex pipeline (transmission chain) encapsulated in a redundant server pair with no compromise on reliability.
A key advantage is that this allows extra features (adding subtitles, ad replacement workflows, additional keyers or I/O) to be simply added from a single user interface. Using older technology, this would have been costly, requiring additional hardware and taking months to design and implement.
"We have engaged the best players in the industry to work with us, and Asharq News is the first to implement complete IP technology – the future of the broadcasting industry – on an ST2110 TV broadcast system scale," explains Al Khatib.
Abdallah has a lot to be proud of, having taken much of this journey with just a few team members and Al Khatib. "Until August 2020, it was just three of us on the engineering team. And today we have around 50 engineers on the team, most of who are very young."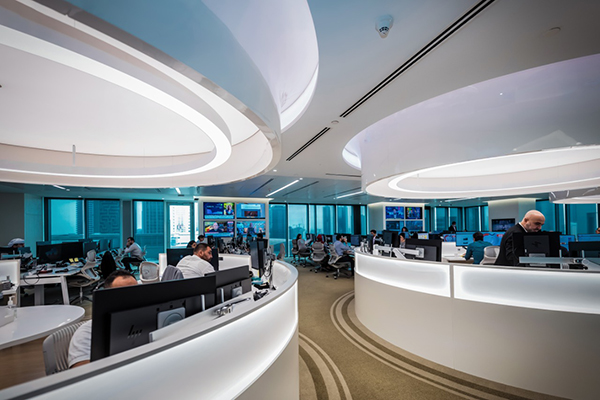 Al Khatib seconds this, proudly adding that this was the channel's objective. "65% of our workforce are below the age of 35. It is important for us to train the younger generation, and we have a very senior staff on the top to direct them. We also have a much more balanced workforce with 45% women and 55% men."
Asharq was also the first to go live from its studio in Media City in the diplomatic quarter in Riyadh, where Al Arabiya also has a studio.
"We have a studio there as well, with four cameras, and it is currently being controlled from our gallery in Dubai. We have a two-gig link between Dubai and Saudi Arabia and have plans to build more studios there," confirms Abdallah.
With established veterans at the helm, a strategy of attracting millennials and the new generation of digital natives, robust investment from its parent company and an exclusive content agreement with global media houses such as Bloomberg, Asharq News seems to have the right formula to run a successful operation.