Al Jazeera Media Network has undertaken a massive cloud deployment project to connect its worldwide hubs to its Doha HQ. BroadcastPro ME takes a closer look at the progress of the Al Jazeera Global Media Cloud implementation.rn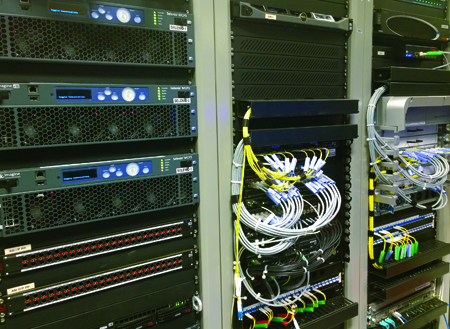 Al Jazeera Media Network has undertaken a massive cloud deployment project to connect its worldwide hubs to its Doha HQ. BroadcastPro ME takes a closer look at the progress of the Al Jazeera Global Media Cloud implementation
Snapshot
• Objective: To connect the broadcaster's HQ with its broadcast centres and bureaus around the globe with a sophisticated media cloud solution
• End user: Al Jazeera Media Network, Qatar
• Key solutions provider: Net Insight
• Other major providers: Ooredoo, Tata Communications, Cisco, Riverbed and Dataminer
Last year, in an interview with BroadcastPro ME, Al Jazeera's CTO/CIO Mohamed Abuagla spoke extensively about Al Jazeera Global Media Cloud or AGMC. The broadcaster has embarked on a massive cloud-building project with the help of Qatari telco Ooredoo to connect first, its broadcast centres and secondly, its 87 bureaus around the world. The idea is to establish fast and reliable connectivity to all of Al Jazeera Media Network's offices for media and data transport.
This project is meant to be a huge enabler for the success of AJWT (Al Jazeera Workplace Transformation), which is nearing completion. Al Jazeera will extend itself to the locations, instead of the locations having to come to Al Jazeera to have access to that content, he commented in the interview.
"We invested in this project with Ooredoo to allow our bureaus to have committed fibre and complementary dedicated internet services that basically allow us to transact information and to exchange media and other data in a consistent, assured fashion. We also have to make sure that we have a secure platform for exchanging information that allows everyone to basically access all the different resources available to them within Al Jazeera Cloud globally," he explained.
Today, the CTO's vision of connecting all the global hubs to create a very large virtual newsroom, is gradually coming to fruition. Phase 1, which connects the triangles between Doha-London-DC-Doha and Doha-Sarajevo-London is nearing completion. So far, Doha-London and Doha-Sarajevo-London are in operation. DC is expected to be completed by the end of 2016 and with this, Phase 1 will be concluded. Phase 2, which will see all the bureaus connected, will be initiatied in mid 2017.
The important element that is nearing completion is the network implementation itself. Being at the heart of the production workflow process, the network requires both high reliability and operational flexibility and connects the major core locations of Doha, London, Washington, DC, and Sarajevo. With the help of technology providers Ooredoo and TATA Communications, a detailed fibre routing plan was charted to connect these locations.
Following studies undertaken by the Al Jazeera Technology team, it was concluded that a network combining the best of both SDH and multiprotocol label switching (MPLS) in the transport network would meet these requirements, and a decision was made to build Al Jazeera Global Media Cloud.
AGMC is designed to transport video/IP traffic between broadcast centres and bureaus with maximum quality and availability. This is accomplished through a core network of dual/diverse STM-16 links between Doha, London and DC as well as an outer core network consisting of dual/diverse STM-1 links between Doha, Sarajevo and London.
The core of this network is based on SDH technology built on the media switch router provided by Net Insight.
"The Net Insight Media Switch Router is the main building block of AGMC," explains Robert Sveb, Director of Global Technology Services at Al Jazeera Media Network.
"Specifically, the Nimbra 688 series high throughput modular media switch provides state-of-the-art technology that eases video/IP transportation with future scalability taken into consideration."
Al Jazeera's cloud solution has been built using existing capacity on international fibre optic cables, and blends synchronous digital hierarchy (SDH) and multiprotocol label switching (MPLS) technologies.
Sveb explains that the AJMN bureaus are connected to the core via Cisco MPLS, offering flexibility and assured quality for video, data and voice services. The bureaus, which are located in areas with very poor terrestrial telecommunication infrastructure, are connected via VSAT.
The SDH network provides high-capacity synchronised circuits for critical video services, while the MPLS network provides additional circuits for medium-priority services.
Traditionally, the SDH network provided a perfect environment for broadcast services in terms of quality, but offers low flexibility to cope with the changing demands of a media production environment. The IP networks, on the other hand, provide the flexibility that a news network requires to scale up/down the usage on demand, but don't offer enough assurances to run critical video services.
Al Jazeera thus employed a balanced mix of these technologies to optimise both the quality and flexibility of the networks. The network was built to enhance the quality, flexibility and reliability of stand-alone IP/MPLS or SDH networks, in order to cope with the future of broadcast networks which will increasingly be IP-based. The old IP/MPLS data networks needed enhancements to provide better control of jitter and wander phase variations, apply the right QoS and employ strict congestion controls; stringent performance monitoring and SLA was also needed to satisfy the broadcast expectations.
Fredrik Tumegård, CEO of Net Insight, says the traditional baseband transfer workflow needed to improve, and this was done using IP.
"Initially, traditional baseband transfer methods were employed to play out a video file, streaming it over the network, ingesting it on the other location, and editing it for production and transmission. IP circuits were placed over fibre that offered the option to scale up or down based on the file size. WAN accelerators were also employed to get the best performance out of the available bandwidth," he says.
It took time for the telco operators to adjust to the broadcast requirements. Studio feeds, DTLs (Down the Line video circuits) and image frame quality had to be adjusted to meet SDH performances and capabilities. The inter-site file-based transfer workflow was eventually widely adopted and overtook the traditional baseband and satellite video services. This resulted in massive resource efficiency and cost savings.
This core network now connects over an optical SDH network employing Net Insight's Nimbra MSRs (media switch routers) to provide the necessary flexibility and reliability for a fully distributed workflow needed for the attainment of both 100% QoS for video and IP data services. The network provides both point-to-point and point-to-multi-point video circuits with 100% quality of service (QoS).
The new network will, in the future, also act as a core aggregation conduit for connectivity out to the bureaus, enabling a true end-to-end solution for a fully distributed workflow with improved overall reliability and quality of service. In addition, the IP networks support all native audio and video services, such as ASI, HD/SD-SDI and AES.
This solution also provides performance monitoring statistics per service deployed, as well as management reporting on the underlying links to equip Al Jazeera with better control and visibility of the health of the entire network and services. As a result, staff can now access an efficient global newsgathering network that enables reporters and content contributors in all corners of the world to work as if they are actually sitting in the Doha newsroom production environment.
4K, production in the cloud, interactive TV, fragmented distribution platforms and devices are all new trends that will continue challenging the video networks. The new Al Jazeera network is built to be able to cope with these new trends and enable a smooth transition to a future TV experience for its viewers.
"Using Nimbra's hitless streams, we are able to duplicate frames across the core network and reconstruct them seamlessly in the event of an outage. The Nimbra Vision Network Management System provides end-to-end service orchestration, and therefore network operators have a complete picture of the network and the health/performance of the underlying services," explains Sveb.
AGMC also consists of the latest Cisco ASR routers for IP traffic integration and transportation. The Riverbed steelhead appliances provide hardware-based WAN acceleration for the global IP traffic, allowing AJMN to transfer a 10Gb file from Doha to London in approximately six minutes.
"Thanks to such low latency and high speed between London and Doha AJE newsrooms, these two locations are working as one since recently," says Sveb.
"Our Documentary Channel HD is now being played out from London while the entire work is done in Doha, including ingest, scheduling and Tx control. This also utilises high network performance."
"We at Al Jazeera strongly believe that AGMC, once fully deployed, will transform our business significantly for better and quicker news from every corn er of the globe, and we are grateful to have Ooredoo and other vendors as reliable partners on this project."
Apart from Net Insight, Cisco, Riverbed and Dataminer are some of the other key vendors that were part
of this deployment.