It is 2003. Saddam has fallen and an American-led coalition has taken over Iraq. For millennials resident in the Arab world during the noughties, 'Baghdad Central' recreates an old scenario with incredible familiarity. In an exclusive interview with Vijaya Cherian, Executive Producer Kate Harwood talks about how the team brought this crime drama to life.
When homegrown streaming service StarzPlay announced its first original series, Baghdad Central, we expected the traditional route of investment in a locally scripted and filmed production, as has been the wont of most regional and international platforms. But StarzPlay has adopted an alternative strategy, buying into a commissioned drama – though, with others inked with regional entities like Image Nation, it will have more involvement in the storyline.
Baghdad Central is a new series that has premiered on the platform as part of its recent partnership with Freemantle. A crime drama set in American-occupied Baghdad in 2003, it has all the ingredients to appeal to both an Arab and a global audience. What elevates it further is that it is produced by a stellar crew of Hollywood calibre and features a remarkably good Arab and international cast.
StarzPlay doesn't disappoint either. By making the six-part mini-series available as a box set for binge viewing, it is keeping viewers up all night – but it is worth the pain.
Based on Elliott Colla's novel, Baghdad Central is a big-budget drama set in chaos-gripped Iraq. With Saddam captured and Western forces in control of the country, Iraqis can't distinguish between friend and foe. Palestinian-American actor Waleed Zuaiter plays the protagonist Muhsin Al Khafaji, an Iraqi ex-policeman who must collaborate with American forces to receive medical aid for his daughter Mrooj. He must also search for his missing older daughter Sawsan. This leads him to discover a parallel world and to rediscover himself.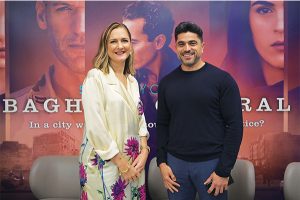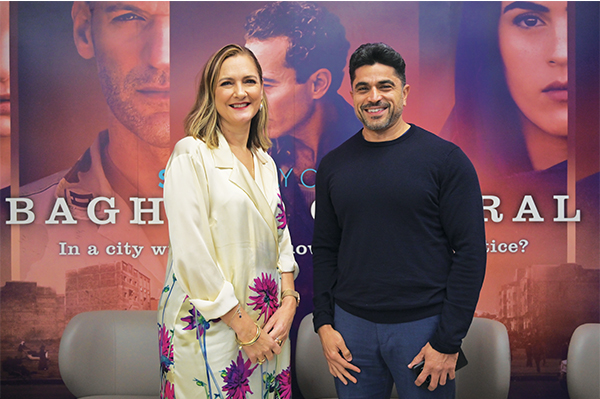 Executive Producer Kate Harwood was in Dubai for the premiere of the series at Roxy Cinemas, City Walk, along with some of the main cast. She discusses the tasks she oversaw, from identifying the right screenwriter to locations, budgeting, scheduling, casting and crewing, although she quips that in Morocco, "The team usually just wanted me to take them all out to lunch or dinner when I was there."
When Harwood read Colla's book, she was convinced this story was meant for her. She met the publisher and instantly knew who her screenwriter would be.
"We bought the rights very quickly and I took it to Stephen Butchard because he had already done a lot of research on Iraq and Saddam. I ran the department that made House of Saddam, which looks at the rise and fall of Saddam in the style of the Borgia. It was a darkly comic and brutal piece, and Stephen had done an extraordinary job on that. So when I told him I have this novel, he said you have me at Green Zone.
"Stephen is also a remarkable writer and can take really complex worlds and make it really accessible. He doesn't get bogged down, because he sees everything through character. It is amazing how much information you absorb about Iraq in 2003 in Baghdad Central, for instance, without ever feeling that someone is pushing it down your throat."
The story was initially sold to Channel 4 "who commissioned it almost immediately … We then took a very long time to do the script because it was quite difficult to get it right," she recalls.
Harwood has always been inspired by crime stories and Baghdad Central fit right in, she says.
"Baghdad Central is a fantastic arena for a crime drama. It is not as much about war, because we deal with the war only over the credit sequences. It's all the other elements – jeopardy, for instance. You can't step out the front door without the jeopardy. Present jeopardy is especially a big thing. You can do it in a novel, but in a drama, you have a crime and you have the detective trying to solve it, and you have to keep the jeopardy coming – and that wasn't so difficult within the Iraqi context.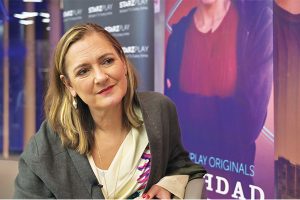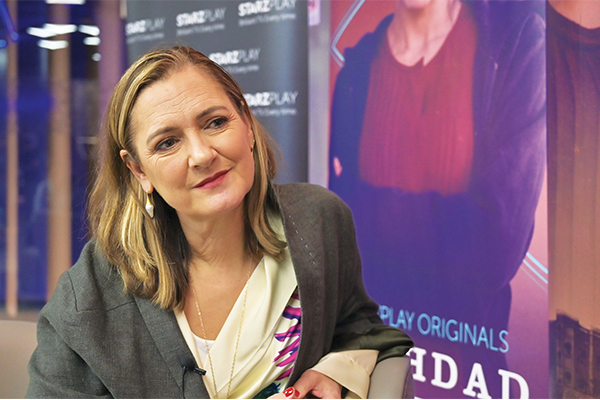 "And then there are the other elements that make crime so interesting – the secrets, the long hand of history, the dark path. I'd do it again in a heartbeat because there is so much you can explore in this series."
With Butchard hired to write, Harwood was certain that there would be a greater in-depth exploration of characters. The plot rests heavily on Al Khafaji.
"He lives in a world where all alliances have been broken and nobody quite knows who the enemy really is. Here is a man who also has to dig into his past as he tries to find his missing daughter and look after his younger daughter, and if it means he will have to work with the Americans to solve their crime, then that's what he will do," says Harwood, lauding Butchard's extraordinary ability to bring out character through the script.
Crime drama lends itself to a lot of different fun elements, she says.
"The great thing about crime is that you can go anywhere with it. It gives you permission to kick in the door on people's lives and find the stories within them. You can do big ideas in crime, and you can do very strong characters. Many of the best crime dramas have strong character writing at the heart of them. You can be uplifting. You can be hard-hitting. You can be political and thrilling. There is so much you can do because it is such an elastic genre."
Another important aspect is the location. While the obvious choices for Iraq are Jordan, South Africa and Spain, the team opted for Morocco.
"We needed the city of Baghdad in this instance – not so much desert or war. So delivering a city was the primary thing, and from what I know, none of the Jordanian cities looks like Baghdad. And although Johannesburg has been used as Baghdad before, it didn't work for me. I preferred Morocco, which also has a really experienced film industry.
"We chucked a lot of rubble around. We changed the buildings in Morocco from pink to the Baghdad brown. We took out the trees and the Atlas Mountains and put in a river. There was a lot of work in post."
Perhaps the biggest challenge was the Republican Palace, "partly because it is so well documented".
"We could have tried the big blingy hotels in Tunisia, but we had an international cast and some of them were nervous about travelling there. We eventually managed to find a place in Morocco that worked. Proof of that is when somebody who had worked at the Republican Palace said she was reminded of the place, although she did point out that the toilets in the film were a lot cleaner," laughs Harwood.
Another significant aspect was identifying good Arab talent. The team cast its net wide for this series.
"We looked all over the Arab diaspora. It was important to have British Arab actors in it because we have an industry at home we need to look after and it was important to me that we find the right people. Most of the Americans were played by British actors and they did a great job, but there is not a big community of Iraqi actors available internationally. So we only had around five Iraqi actors altogether in the series.
"If we were a small indie movie, we would probably have done an open call in Iraq. Our actors, therefore, come from different parts of the Arab world. July Namir has an Egyptian background and Youssef Kerkour hails from Morocco, and there's Thaer Al-Shayei.
"And many of them live in different countries. Nora El Koussour lives in Holland, for instance, while Leem Lubany, who plays Sawsan Al Khafahi, lives in Munich. We also had leading actors in their home territory like Tawfeek Barhom and Maisa Abd Elhadi, who play small roles in this drama but provide the intensity it required."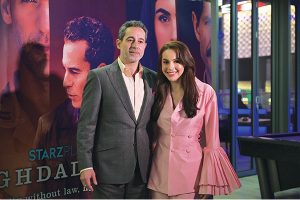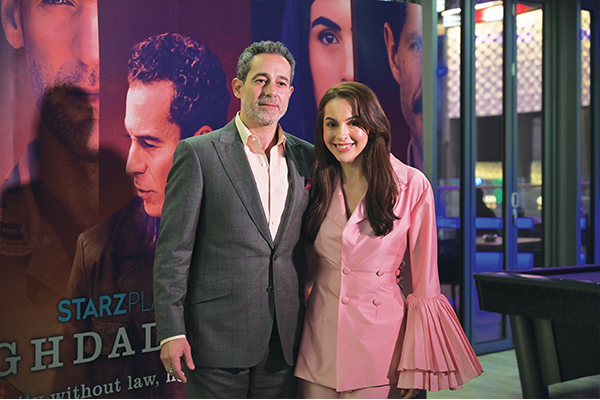 The series also gave Palestinian-American actor Waleed Zuaiter a much-needed break from the small TV roles he was playing. Tired of usually being cast as a terrorist, he shines in Baghdad Central.
The team had a London-based Iraqi consultant and an Iraqi dialect coach with them from day one to ensure the actors had the right Iraqi accent.
"Both were on set all the time, and the cast took that incredibly seriously and worked at it. I obviously can't tell the difference, but I saw a tweet saying how lovely it was to hear the Iraqi dialect, and that was rewarding."
Such an elaborate series doesn't come without challenges, and the biggest of them was running such a big production so far from home base, says Harwood.
"It took three months to shoot this and they were all in Morocco. It was quite a juggling act bringing actors from all over the world, and Morocco can be quite tough on its visas. We would look at each week's schedule and see what worked, and in the end, it all came together."
This series is considered a high-end drama by British standards, says Harwood, and that means "productions of this scale are in the £2m (approx. $2.5m) per hour mark … This is pretty standard for high-end British drama, although it is considered low-budget for American programmes. We had the British tax break and the Moroccan tax break as well."
Baghdad Central seems to have followed a slightly unusual business model, with three different entities buying into the production at various stages of commissioning.
It is a StarzPlay Original in the MENA, where the streaming service operates. Similar arrangements have been made with Hulu and Channel 4 in their territories of operation.
With first windows on two different streaming services, we asked if the production team needed to take different angles or shoot differently.
"We always imagined that people would watch everything on a big cinema screen or bring the theatre to the home, didn't we? We never imagined back then that people would be watching more entertainment on their phones, but these opportunities for scale have also brought a new kind of intimacy with the screen."
Harwood says that has been superbly captured by director Alice Troughton and cinematographer Christophe Nuyens.
"Alice is a superb director; she pitched a vision for this show and delivered it. Knowing immediately that this was not a big Hollywood movie, she said that even if we can't do the great big screen, we can do a point of view of Khafaji's world. It doesn't need massive cityscapes; it just needs Al Khafaji to be on the wrong side of the door and keep the focus on him. And Christophe ensures that we never feel hemmed in by the cinematography; the viewer always wants to remain with Al Khafaji. We maintain that intimacy, creating an epic intimacy if you want."
Baghdad Central is a fascinating drama series, and just as significantly, it underscores a new strategy that StarzPlay has explored for funding its productions. As a small but ambitious and aggressive player maintaining its lead position in the market, it knows it will have to continually innovate and strategise to stay ahead of Netflix and Shahid, both with more money behind them.
This strategy of pooling into a high-end production and buying into an original production only for the region it operates in may well be a business model that other players will also explore in the future, as it mitigates risk and reduces investment while also helping to achieve the main objective of offering an exclusive to viewers.