Mustafa Abbas was recently in the spotlight for his latest short film, 'The Long Game', which won Best Mystery Film at the Los Angeles Film Awards 2020 and Best Action/Crime Short at the London Independent Film Awards. It also picked up accolades at the New York Film Awards and the Top Shorts Film Festival. The Emirati filmmaker talks about the making of 'The Long Game', his upcoming projects and what makes him tick with Shifa Naseer.
Director Mustafa Abbas has been making films for the last decade and has won critical acclaim in the festival circuit for several of his shorts. Known for making films that evoke different interpretations, he made headlines recently with his latest short, The Long Game, a 30-minute crime thriller in which a former criminal teams up with a mysterious woman to avenge his lover's murder.
"The plan for this film was conceptualised in 2016, but I only began working on it last year," explains Abbas, who has a penchant for crime stories. "I've focussed on this genre ever since I was a kid. I'm proud of what I have achieved with The Long Game. It is a bit of a heavy film, and such films take a toll on you when you're writing as well as directing."
While Abbas doesn't reveal the inspiration behind The Long Game, he explains that the paradoxical nature of the characters appealed to him. "A former criminal leaves his life of violence for love. And it is that love that takes him back on the same road. The film portrays the test of character, a point of no return. This is what I built my story on."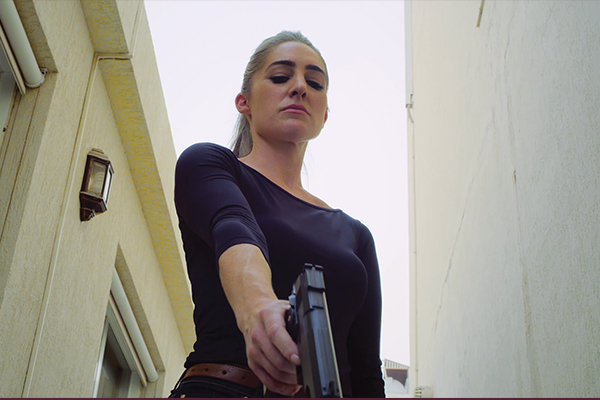 The Long Game was still doing rounds in film festivals globally until the Covid-19 outbreak. Scripted for an English-speaking audience with an almost-all British cast, it was completed over summer last year and screened at film festivals earlier this year.
"A lot goes into the production of a film: there is pre-production, filming, post-production, and all of this involves a number of other steps before the final packaging. We took our time with this film," says Abbas. "It was such a great experience for me, especially interacting with the actors. It was heartening to see that the entire team was on the same page and vision to bring the characters to life."
When directing thrillers, he prefers dark visuals and hard lighting to convey the mood. For instance, a scene from The Long Game, which Abbas claims is one of his favourites, shows a woman hidden partly in the shadows against a bright backdrop, and a man in black standing over her, delivering lines in a deep, coarse voice. The clip has been shared on his Instagram profile.
In stark contrast, Sunset State (2013), another Abbas short, explores the inner thoughts and feelings of two neighbours. "Writing something like Sunset State doesn't come as naturally as the crime genre, in which I have more practice. To me, Sunset State was a movie about human beings and emotions. The film tells the story of two men battling the same situation in completely different ways.
"The response to the film has been overwhelming, because it is a film people can relate to. Even years after its release, we used to get requests from exhibitions and festivals to screen the film with Q&A sessions."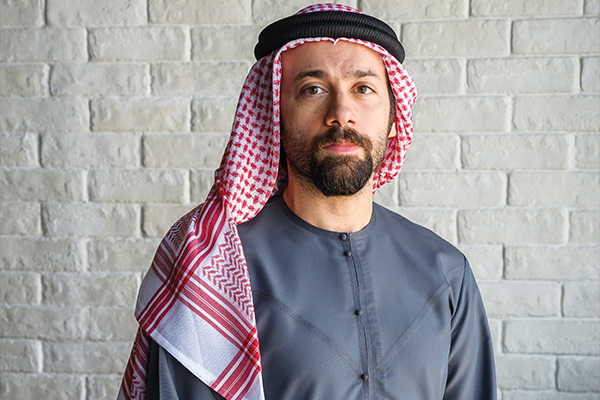 Sunset State was screened in at least seven film festivals globally, including the now-closed Dubai International Film Festival (DIFF) and festivals in Chile, Russia and Poland.
It is interesting to see Abbas as a filmmaker evolve through the various themes and characters he has penned and directed over the years. While the films are well made, he admits they are not for all audiences.
His psychological thriller Saraab (2016) is a case in point. The film appears to be exploring the relationship between a husband and wife, but we learn that appearances can be deceptive. The film does not offer the usual closure expected in traditional storytelling. In fact, it leaves us disturbed.
Abbas admits that the storyline has indeed confused many viewers.
"Saraab is more of a puzzle. It is a 10-minute film; it couldn't be longer than that. The film is a puzzle you CAN solve; the clues are in there. I don't believe in open endings; I believe in endings that look open, but the answers are always in there."
This thinking outside the box is perhaps what probably makes his plots unique and artistically appealing.
"You can write about things that excite you, intrigue you. But with the fourth or fifth project, you form a style and then you no longer consciously get inspired by other works of art. So it's hard to tell where the ideas come from, and thus you keep the mystery alive.
"There are a lot of elements that go into making a film, but more than anything, you need passion. It's the passion that you put into it that acts like the fuel."
That passion is also reflected in the other life Abbas leads as Managing Director of Legend Group, his family business.
"For me, the film part came first, and then slowly I got involved in the family business and took off from there. As they say, with time you come to realise that you're passionate about more than one thing."
To that end, Abbas founded a gentleman's salon named Chivalry, a leather product brand called 35 Burgundy, and Aficionados PR and Communication, an agency to support home-grown businesses and brands in the UAE.
In writing, directing and editing almost all his films, Abbas makes sure his stories don't fall into the trap of giving just one perspective. "I listen to whoever is watching the first cut, the second cut, and keep asking if we need to make any changes. If I'm unsure about something, I make it a point to get a second but valid opinion. Sometimes I just show the film to a handful of friends and see what feedback they give, before releasing it to a film festival or to the public."
Asked to pick a favourite, Abbas says: "With each film, you improve. A lot of times, creatively or intellectually, the latest one is better than the previous one. I am probably yet to make that one."
Having had success in the short film format, Abbas is eager to now venture into his ultimate dream of making a feature film. He had the opportunity to make one 12 years ago, but it fell through.
"I'm glad it didn't work out. To be honest, one needs to keep growing and learning with time. But now that The Long Game is done, my next project is a mob mystery feature film, and I will leave the rest to your imagination."
Local actors will be recruited, and the film will be in Arabic, he confirms. And apart from the usual equipment he rents for his films, his first feature is likely to include drone footage.
"Drones are helpful in achieving difficult shots. I'm yet to use drones, but we will use one for my feature film as we have some top-angle shots in mind."
For Abbas, films offer the perfect medium to tell a good story.
"Everybody makes movies for different reasons. It's not about culture or society for me. It's about the characters and the story."
Abbas' signature style seems to be to leave his viewers unsettled; or perhaps it's his stories that have that quality to them.
"When you form your own style, whether good or bad, people need to compare it to something, especially if it's a short film. They can't go online, read reviews and see how many stars a film has received or go to the rating on Rotten Tomatoes."
Therefore, finding the right audience is important.
"Without an audience, a film is incomplete. So you have to find out whom your film is made for. I have been told my films are for people who like to think, and I would like to agree with them. I focus on an audience that wants to be intellectually stimulated, perhaps because I like to be intellectually stimulated."
Stressing on the importance of evolving with time, Abbas believes it's the desire to never stop learning that makes an artist grow and improve.
"I believe in the saying that your best work is always ahead of you, never behind you. When a person thinks that they've become the best version of themselves, that is when they're in trouble. There is always room for improvement. As long as we give you something that you will take home with you, it is worthwhile. That's how I look at it."
Whether Abbas heads a large business empire or not, funding for films and making money remains a challenge. For Sunset State, he secured funding from Creative Lab, part of twofour54 Abu Dhabi. For The Long Game, he dipped into his own wallet.
Making money from short films is equally challenging.
"Some platforms will give some sort of an income for short films, others don't. In most cases, short films are made to get your foot in the door, whether it's for film festivals or connections or producers.
"The industry here is still in its formative phase. It is not yet in a place, where we can see 10 or 20 feature films coming out of the UAE. We do see some feature films from the UAE on a yearly basis, but you can't compare it to other industries. But it's an exciting time for the industry – a lot of short films!"
Mustafa Abbas has been fortunate on several fronts. With the ability to tell good stories and win awards at festivals, he has done his country proud. More importantly, he has an edge over other filmmakers, with funding coming from both external and internal sources.
"I am not the kind of filmmaker who wants to make 100 films in his life. That is not me. Quality has to be the utmost priority, and if I happen to make at least 10 feature films which are good, I'll be happy," says Abbas.
Driven by his passion for filmmaking, this promising Emirati writer and director has a lot more stories to tell. After making a mark on the international platform with his work, it's only a matter of time before Abbas sets his own stage for his films.