From playing professional football to developing unique software-based technologies that have taken the world of sports broadcasting by storm, Mohammad Ali Abbaspour, founder and CEO of Sponix Tech, has come a long way. In an exclusive interview with Vijaya Cherian, Abbaspour takes us through some of the ideas that have catapulted Sponix Tech to fame.
A young UK-based technology company, backed primarily by Arab investors, is setting a few world firsts by developing next-generation sports technology solutions that are being fine-tuned for global deployment. Sponix Tech tested one of its point-of-view (POV) innovations during the last season of the UAE Pro League, in conjunction with the UAE Pro League Committee (PLC). The company is now making waves worldwide for a raft of software-based innovations in sports broadcast that are scheduled for roll-out this year; and last month it was also chosen from among 1,400 companies to be part of the Qatar Sports Tech Programme, which works with beIN Sports and the World Cup Committee to develop new sports technologies.
Sponix Tech was founded in 2018 by CEO Mohammad Ali Abbaspour, an ex-professional football player and IT management specialist. It initially started in Dubai, and some of the ideas for its solutions originated in the emirate, but the team eventually registered an office in the UK.
"Sport and technology were always the two big elements of my life," says Abbaspour, who is currently pursuing a PhD in IT management. "Around eight years ago, I stopped playing football and graduated with a master's degree in IT management and decided to focus on sports technologies. Since then, we have developed some sports technology products, but we started to make real progress when we consciously decided to develop technologies designed specifically for the sports broadcasting market."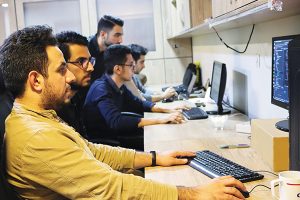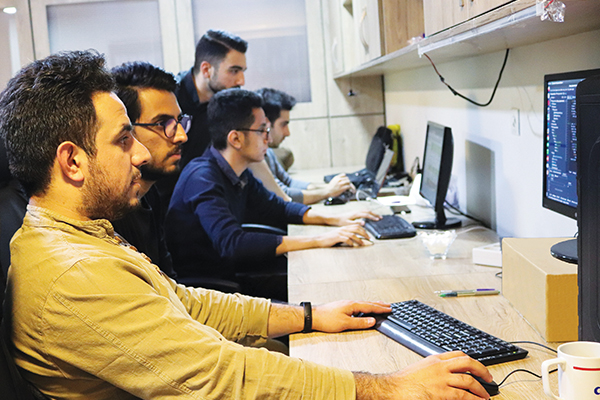 The company now boasts 17 technical experts in various fields including computer vision, artificial intelligence, machine learning, image processing and programming.
"We have a great team at Sponix Tech, and each of us has made significant contributions to the technologies we have created. In 2014, we developed a unique personal trainer solution for athletes that included both software and hardware. It is a motion detection-based solution that helps athletes increase their performance and decrease injuries during their exercises."
The most recent innovation is a POV technology that helps produce immersive content derived from the views of the players and referees. It was successfully used to produce an immersive shot during the UAE League Cup Final in March last year.
"We produced a POV shot from the first goal of the match, and it was broadcast live from the main channels of the country like Abu Dhabi Sports and Dubai Sports," says Abbaspour, who admits the idea came from seeing Intel's True View technology at work. However, he points out that True View requires huge installations and as a result has been deployed in only nine stadiums worldwide.
Intel True View provides three different outputs: statistics, 360-degree content and POV content. Statistics are already provided by many companies, and Sponix Tech has its own statistics solution; it's the POV that was complicated to achieve. "The unique aspect of True View and perhaps the most complicated to achieve was POV, and this is why we are proud of what we have achieved. In fact, our output quality and the processing time is the same."
Sponix Tech's USP is that its solutions are entirely software-driven. "Producing this kind of POV angle and content for a 38-camera installation typically requires huge investment in infrastructure within the stadiums. By comparison, Sponix Tech just needs a high-quality feed from the match to create this, and it is entirely software-based, requiring no installation at stadiums. This is what makes our technology unique. It took some time for us to arrive at the algorithms and code the software, but now we have a solution that uses only a broadcast feed and can produce immersive content for any stadiums worldwide."
The solution is a blend of computer vision, artificial intelligence, machine learning and image processing, says Abbaspour.
"With this, we can now bring new and unique angles from the field to sports fans. All we require is a high-quality feed of the match."
The POV angle can be achieved in two ways, he explains. "First, there may be a standard priority for the client. Based on that, we produce the shots. For instance, if goals are important for the client, we will produce POV shots of any goals of the match instantly. The second is when the client decides that he wants a POV of a specific moment of the live match. In that case, we will produce POV shots from that moment as well and these are all immediate. Also, our solution does not interrupt the workflow of the production team in the stadiums. It is easily integrated with the broadcasters' feeds."
Abbaspour adds that other POVs are also in the offing. "Right now, we can produce unique videos from the view of the players and referees. We are now working on other features like revising the referee positions, semi-motion POV and so on."
Sponix Tech is presently finalising contracts with some of the biggest leagues and clubs in Europe and hopes to have signed three of them by the end of March. For instance, at the beginning of the year, it finalised a deal with Benfica TV to produce immersive replays for Benfica home matches in the Portuguese Primeira League.
"For leagues, we can produce immersive content during the competitions. These videos can be broadcast live as replay during the matches. Also, for clubs, we produce unique immersive content for their apps, TV channels and social media. Right now, only the Manchester City app is able to offer this content after their home matches. This is because they have installed Intel's True View technology at the Etihad Stadium, but as I mentioned, this requires significant investment."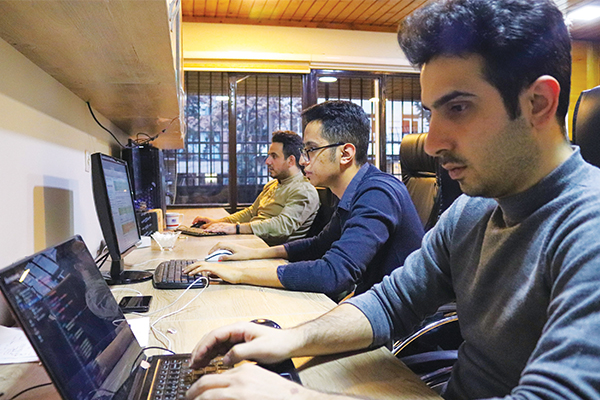 This is only one of many sports broadcast innovations emerging from the Sponix Tech stable, with in-house solutions being developed for other sports like ice hockey and cricket. More importantly, the company is gearing up for a special launch within the next two months: a 360-degree software-based technology that will be finalised in March and requires only existing camera feeds from within stadiums.
Sponix Tech is simultaneously working on a software-based digital billboard replacement (DBR) solution that can add virtual advertisements during sports live events in real time.
"Right now, only a few companies worldwide can do this, but they need to install sensors, specific billboards and specific cameras. Our DBR technology will be a revolution in the sports marketing industry. This is intended for roll-out in April 2020," explains Abbaspour, adding that the company has big plans for all of its new technologies in 2020.
Clarifying what Sponix Tech can do, as opposed to the features of existing technologies, Abbaspour cites the case of La Liga, which installed a hardware-based technology in 18 stadiums three years ago and recently added the Santiago Bernabéu stadium.
"With this technology, each billboard in the stadium can screen ads that target a different market. So many Arabian brands that you see during the La Liga matches are not visible to fans in stadiums and other places around the world. They are intended just for La Liga audiences in the MENA region. This technology can help clubs and leagues increase their revenue from sponsoring spaces in sports venues.
"Our DBR technology will be a revolution in this market because it will be the first time that even within a broadcast layer, the billboard can be changed in real time without the need for any installation at the stadiums. Our technology contains virtual signage, 3D sponsor logos, multi-regional ads, banner replacement and virtual mats (3D carpet).
"At present, our DBR technology is ready for static camera sports like tennis and badminton, but the final product that is for moving cameras like football and basketball will be ready in April," Abbaspour proudly remarks.
And back in the UAE, where Sponix Tech first began its experimentation, the company hopes to continue its collaboration with the Pro League Committee.