Nigerian filmmakers Saheed Apanpa and Tchidi Chikere and production house PUE Pictures CEO Phina Egbuchu speak with Shifa Naseer about the evolution of the cultural identity of Nigerian cinema.
Watching a Nigerian film is an experience. While much of it is inspired by Hollywood and Bollywood, there are some added elements which set it apart. Bright colours, loud dialogue and elaborate scenes are the major features that greet the eye and ear, with traditional themes of action, drama and suspense. Since the early stages of Nigerian cinema, informally called Nollywood, the industry has moved ahead in leaps and bounds.
UNESCO conducted a widely cited survey in 2009 that claimed Nigeria had the second-largest film industry in the world after India, producing almost twice as many films as the US per year, around 700 on average. Although its revenues are not on a par with Bollywood and Hollywood, Nollywood still generates $590m annually, according to the Nigeria's Film Industry: A Potential Gold Mine report published by the United Nations Department of Global Communications.
Up until a few years ago, the quality level of an average Nollywood film didn't even come close to that of its American counterparts. Only recently has the desire to make films on a par with other film industries, in order to compete on a global level, seen a surge in production standards.
Nigerian cinema took off in the 1960s, around the same time as the country asserted its independence from the United Kingdom. However, it was only in the 1990s that there was a boost in the film industry in terms of intensive production patterns, made possible by advanced digital filming, production and editing tools.
Since then, Nigerian cinema has established its name with in-house content distributed globally to a welcoming audience. Netflix has also hosted Nigerian films like Lionheart and The Wedding Party on its platform.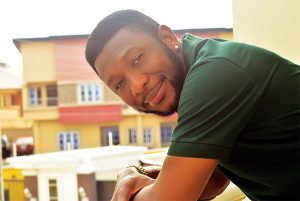 Nigerian film director Tchidi Chikere, who has over 300 films to his credit, calls it a diaspora advantage. "Most Africans and Nigerians travel a lot for economic tourism. They are well settled in different parts of the world and Nigerian films travel with them."
Notable works of Chikere include Blood Sisters, Light Will Come and Stronger than Pain. The director has won many awards, including Best Director nods from Nollywood Africa, The City People and the Department of African Studies in Perimeter College at Georgia State University, and a Nollywood Movies London nomination for Best Screenplay.
"Nollywood has been gaining ground and will continue to grow in the coming years. We are visible on Netflix as well as film festivals around the globe. We have a large population in Nigeria, and that audience is a huge part of our success story," says Chikere.
Filmmakers are looking more and more into their own culture for inspiration. This has been possible with the experience and the exposure the Nigerian filmmakers have brought to the industry. "As Nollywood is dressing African themes in universal clothing and vice versa, the industry is bound to thrive," adds Chikere.
Nigerian filmmaker Saheed Apanpa agrees. "The Nigerian cinema is here to stay with the type of productions that are being made, from comedy to drama to action films." The director, whose latest film Jumbled was released in 2019, believes there is both passion and business in the Nigerian film industry, with one fuelling the other.
The industry is rapidly gaining ground with intensive film production, reportedly as high as a thousand films a year. The audience is also eager to consume more and more content. The National Film and Video Censors Board reported that by the end of 2009, the NFCVB had registered more than 14,000 Nigerian feature films made on video. The real number could be higher, as the figure doesn't include films denied registration or filmmakers who failed to apply.
With so many films produced every year, there is growing concern about quality, as filmmakers know. "Nigeria produces a lot of movies within a short period of time. Earlier, we used to have video movies and the consumption rate was high. People wanted to see something new as soon as they were done seeing the last one. But that is changing now," notes Chikere.
In fact, Nigerian production houses and filmmakers have taken steps to improve the quality of films. "We are paying more attention to quality and detail, as our audience is exposed to films from around the world. There is now a demand for quality, so the number of movies being produced has reduced because quality takes time. I started filming a film in August last year. I am still working on that. In the past, I would have been done in one week," says Chikere.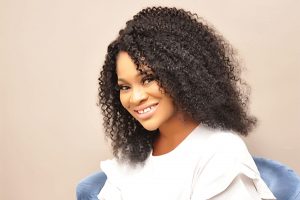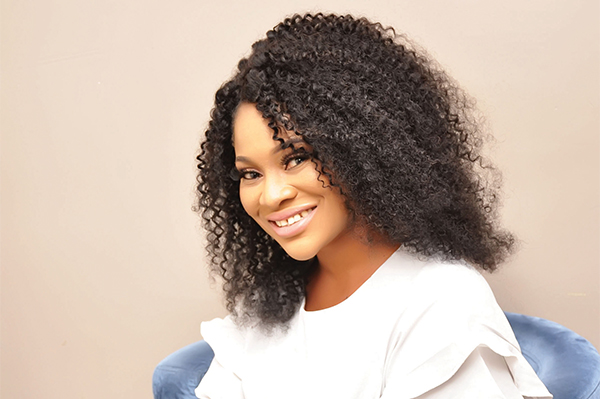 Quality affects production time, and focus is now being shifted to perfecting details in a film. For Nigerian production and distribution company PUE Pictures, the aim is to spend money on equipment to produce quality films, rather than a large number of films.
A fully registered business entity with the Nigerian Corporate Affairs Commission, PUE Pictures has set a goal to meet international distribution and production requirements.
"Quality control is a vital part of production in Nigeria, as some producers ensure they get the best equipment and crew for excellent output. Having quality control in mind, enough funding is required and we don't seem to have a lot of investors in Nigeria. So we minimise the number of movies being produced yearly so we can channel enough funds to each production to ensure it doesn't affect quality," says CEO Phina Egbuchu.
With quality in mind, there is now a healthy mix of good content, lighting, storyline and performance which is helping raise the standards of Nigerian productions, remarks Chikere.
Nollywood has succeeded in finding its footing in terms of identity and style, though Western influence is still evident. While the focus is on the authenticity of the films, there is nonetheless a concern among filmmakers about the influence of Hollywood.
"I think that the authenticity of Nollywood is validated in the truth of the African experience. By experience, I mean ancient, modern and futuristic. However, through a disease of culture, Hollywood influences Nollywood from time to time. This usually happens when Nollywood is trying to tell stories to cater to the desires of our younger population who are also exposed to Hollywood," says Chikere.
Hollywood churns out better films because it can afford it. "Hollywood has the budget to enhance films, and in doing so open our eyes to the realities of the richness of the culture and stories we have. We can tell better stories than Hollywood if you give us the money and enhancements," Chikere adds.
For that, funding plays a very important role in reaching international standards. Despite the cinema's popularity, investors are hard to come by, forcing producers to dip into their personal funds.
"We usually face financial challenges, as we rarely get investors who are willing to put money in the production," notes Egbuchu. "We also encounter challenges in distribution, as payments from some platforms are delayed or sometimes paid on instalment."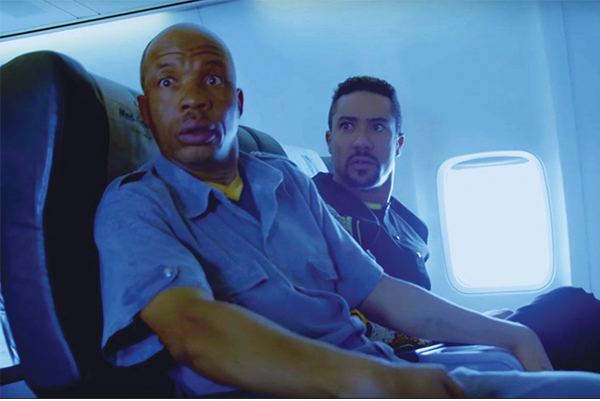 Funding is a huge challenge, says Chikere, adding that limited money and distribution are big challenges for filmmakers. "Films are mostly funded via personal sources. One can get funding from banks, but they usually ask for an arm and a leg, so it is not a very popular funding alternative. There are film grants from NGOs sometimes, but such instances are rare."
"I shot a film called All for the Money. There was no money for the production, but I was ready to go all out," says Apanpa, who personally invested in that film, shot in Lagos.
From a wider perspective, financing is different from other film industries like Hollywood. On average, producing a movie in Nigeria costs between $25,000 and $70,000, estimates the BBC. However, the cinema market space requires lots of funds to accommodate the budget for production, post-production and publicity, according to PUE Pictures.
PUE Pictures mainly focusses on making films for a mass audience. The budget depends on the script. "The script tells us the budget for a film, which is based on the number of locations, cast, props, among other factors. Cinema movies are more expensive to produce than movies that are made for just TV," remarks Egbuchu.
It is a challenge to be able to pull off the production of a full feature film with a short time frame and a small budget, says Apanpa. "Give them [other film industries] our budget and see if they deliver."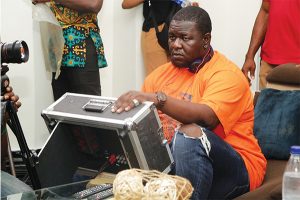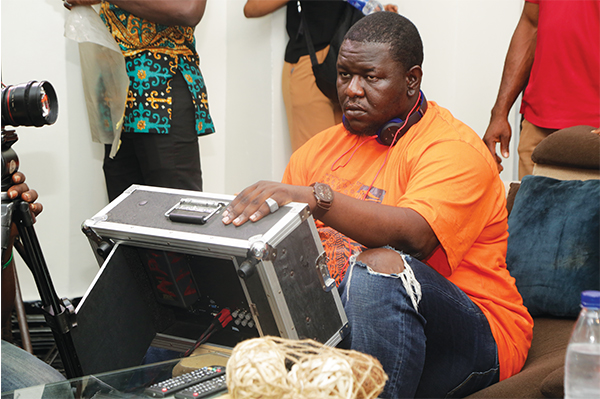 Apanpa makes art films with consideration of what the audience would like. After two decades in New York, he came back to Nigeria to make films. Living abroad helped shape his mind towards what kind of films he wanted to make, and how.
Stressing the importance of a script, he says: "I worry more about directing great scripts. For me, scripts always come first. That is the key to having a great production. It's all about shooting good films."
This attitude and maturity of filmmaking is a very new phenomenon. Early Nigerian films were not made for the big screen. They were made on VHS tapes to be sold and rented cheaply, distributed via methods ranging from DVDs and theatres to downloading and streaming online.
Now things are changing, says Egbuchu, adding that new cinema facilities are coming up across the country. "The cinema market space is growing now. The popular cinema houses include Film House (IMAX Cinema), Silverbird Cinema, Ozone Cinema, Genesis Deluxe Cinema, etc, with three or more screens in different locations."
The market, fuelled by the eagerness of the Nigerian audience, has been evolving and welcoming new productions, supported by the latest market and technology trends which have become the backbone of Nigerian cinema. The films are more advanced now, due to the digital tools available.
The bridging shot is a film technique employed by most Nollywood filmmakers these days, because films centre around developing stories, sometimes from one generation to another. Films use high and low angles to tell stories of oppression or inequality. Other techniques include dissolving, cross-cutting, crane and dolly shots, and drone shots – one of the new trends in filmmaking.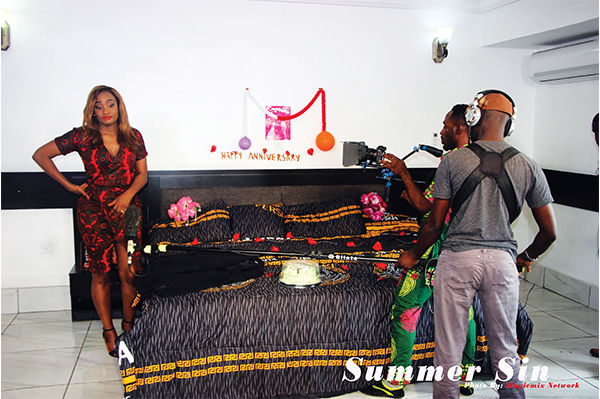 The popular mass-market genres are romantic comedies, dramas and movies of exploits, says Chikere, who mostly produces commercial films. "Our people also love the action genre, especially when there is poetic justice at the end and good triumphs over evil. We hardly tell horror stories. Times are hard and people just want to feel good. Intellectual films don't do well, except when a filmmaker knows how to mix the right doses of comedy and romance into them."
The style has also evolved with the growing exposure provided by the internet, says Apanpa. "You have to be ready to move with the trends. As the demands in the market changed, I changed. The tables have turned from those days when the marketers ran the industry, to now where we have plenty of avenues to sell our content. It has evolved."
However, Apanpa says Nollywood can further grow only with government support. "The revenue that comes in from Nollywood alone is massive. We need film villages, better equipment, more training and bigger facilities. Taking such steps will help Nollywood compete with other film industries."
Being in the same league as other film industries is important for Nollywood since it provides a platform for the people to represent themselves without any filter: the films are made by Africans, about Africans, for Africans, which fills a void. "Nollywood is different from other film industries, as we tell our stories in a unique way. We showcase our rich cultural heritage through our movies and our actors are simply amazing in their characterisation," says Egbuchu.
Performances have improved too, says Chikere. "There has been a shift from a single storyline to multiple narratives that hold the audience by offering more than one plot conflict."
However, with the rising growth of the industry and various forms of distribution, piracy is a rampant challenge. Although Nigeria has laws against piracy, it thrives due to poor implementation of copyright laws, almost no prosecution of offenders, and corruption in governance.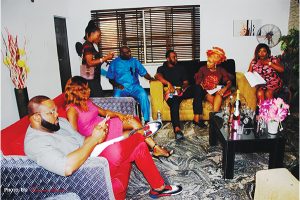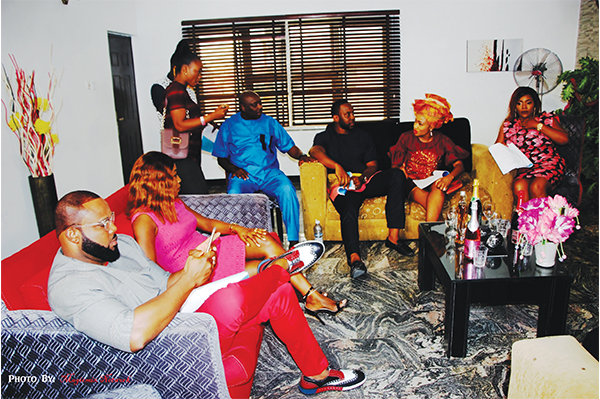 The World Bank estimates that for every legitimate copy sold, nine are pirated. In 2013, "It was estimated that pirated films outnumbered legitimate ones in the market by five or ten to one," according to a Jonathan Haynes' in his book: Nollywood: The Creation of Nigerian Film Genres.
Piracy is increasingly recognised as a socially unacceptable practice, due to loss of revenue in the potentially billion-dollar industry, and the Nigerian Copyright Commission has taken steps to shore up copyright protection for producers.
"Over the years, piracy has been a major headache for producers. However, we are trying in our own little way to manage the situation. They submit watermarked preview copies of their films to intended buyers and exhibitors for approval first. That way, the watermarked copy can't be used publicly. We only release the master copy once the deal is at the completion stage, though this does not apply to all producers and platforms. However, most platforms usually protect the content. They ensure proper documentation for acquisition because they know the legal implications if piracy of any sort is traced back to them," says Egbuchu.
However, in the Nigerian film industry, piracy is mainstream rather than an exception. "We can only try the best way we can. However, there is politics involved. I just wish the government would be more organised and introduce a better structure in terms of distribution," says Apanpa.
Chikere calls for unity among filmmakers to address piracy issues, and for the government to take steps to prevent the loss of revenue, as the Nigerian film industry contributes to the country's economy.
"We are facing online piracy. The government is aware of this. The question is who should tackle it. Filmmakers need to come together to address this. The government is not a professional film authority. The responsibility falls on the practitioners to tell them what to do and how they can be needed as far as piracy and other issues go," says Chikere.
While the struggle against piracy is just beginning, the actors and filmmakers of the Nigerian cinema industry are beginning to get the recognition they are due.