CNBC Arabia recently migrated its Dubai facility from SD to HD, revamped its digital offerings and made ambitious cloud investments. It has now built an IP facility in Doha with plans for subsequent upgrades to its bureaus across the Middle East. In conversation with BroadcastPro ME, Mohamad Burhan, the network's CEO, and Shabbir Hussain, Director of Operations and Engineering, walk us through the technical highlights of the facility and the company's future plans.
Free-to-air news channel CNBC Arabia, the regional arm of CNBC, has been operating in the Middle East for the last two decades, covering regional and international affairs from an Arab economic perspective. Headquartered in Dubai under the leadership of CEO Mohammed Burhan, the channel recently completed a long overdue migration to HD, with Director of Operations and Engineering Shabbir Hussain leading the project.
Hussain, who has spent the last couple of decades working as a systems integrator with numerous regional broadcasters, was familiar with the various combinations and permutations that come with such migrations. So when he moved over to the end user side, he quickly identified some of the common challenges that could crop up in such a project, though he admits he had some surprises along the way. The broadcaster roped in Doha-based systems integrator Salam Media Cast for the migration in March 2022. By summer, a newly revamped CNBC Arabia channel was on air with a state-of-the-art HD set-up.
The Dubai facility, however, is only part of a grand plan that includes a stellar IP-only studio facility in Doha in the commissioning phase now, with subsequent upgrades planned in Saudi Arabia, Kuwait and Egypt, where the channel has bureaus.
Mohamad Burhan, CEO of CNBC Arabia, says: "It's part of a bigger vision as well as the new face of CNBC Arabia. We aim to have the latest in terms of technology and simultaneously ensure all our bureau offices are upgraded and connected. We also intend to localise our services better to meet the needs of our audience."
Hussain elaborates: "CNBC Arabia first planned this migration to HD back in 2019, because legacy equipment was significantly hindering the network's operational efficiency. The pandemic, however, delayed that project and when we revisited it in March this year, we realised that a bigger, major horizontal expansion that would include all our bureaus and platforms was necessary. The aim was to ensure that all our systems were working well in parallel across all platforms, that the bureaus would all be connected, that the technology was up to date and everything was in sync. This was essential for us to be on a par with the rest of the industry."
Prior to this integration, CNBC had already embarked on a project with Qvest Media that included upgrading the newsroom solution with an Avid system, shared media storage and post-production solutions. A major upgrade undertaken as part of this project was the deployment of Pebble playout automation and a BTS scheduling system. The playout solution was then integrated with the new transmission room, which includes an Evertz presentation switcher and Viz tickers. Both the Avid and Pebble solutions were then reconfigured to support the new HD format.
One of the biggest challenges the team faced was space constraints. CNBC Arabia occupies the first and second floors of Building 7 in Dubai Media City, home to most of the broadcasters and media houses in the emirate.
"Dismantling the old system while creating space for the new installation was a cause for concern, especially since we have only one CAR, which already houses a lot of equipment and critical cabling laid during the various projects in the last 20 years. We had to rearrange our space to enable migration by creating separate PCR, ACR and playout rooms, and this called for some out-of-the-box thinking," explains Hussain.
Migration to the new system therefore required a lot of meticulous planning. "As our live broadcasts were going out from the same facility, we couldn't afford to face any downtime or blackouts … [but] every single equipment in the facility needed to be changed."
The entire newsroom system was upgraded from ENPS to Avid iNews in HD format. As part of the HD upgrade, an additional shared Library and Edit on Demand (EOD), Avid's cloud-based media composer for editing over the cloud, was also deployed.
"We are the first in the region to implement the Avid EOD," explains Hussain. "We went with Avid shared storage because it allows the whole newsroom to work from one central location, making files easily accessible. And the key part was that we went with the Edit on Demand, which is cloudware. So all our bureaus are going to do their edits in the cloud and the files can be easily retrieved to the system without wasting any time on transcoding. Here again, we have thus far worked with different formats from different CNBC bureaus. All that will now be standardised and centralised."
The new CNBC Arabia headquarters in Dubai boasts two news studios, replacing the existing studio. Studio 1 consists of five Grass Valley LDX-92 cameras with Fujinon 4K lenses and two Sony PTZs supported by Vinten Robotics, a Kahuna 6400 vision mixer and a Calrec Brio audio mixer. Studio 2, primed for a virtual set-up, is also equipped with GV cameras and supported by Ross Robotics. This studio includes Viz virtual solutions, a GV vision mixer and Calrec Brio. In time, the team hopes to add remote functionality.
The refresh includes new sets with a touchscreen, a 3×98" LG video wall, a 2×98" additional video wall and a brand-new IPTV system. Studio 2 now also has a second PCR gallery to cater to its production requirements.
The entire facility is supported by Evertz infrastructure, which includes the Evertz EQX-10 core router with integrated Evertz VIP multiviewer and an Evertz Magnum control & monitoring system. Other components include autoscript, Sennheiser microphones, a Riedel Intercom system with the capability to communicate with other bureaus, Plura monitors for video, TSL for audio monitoring and lighting from Coemar.
"We had to ensure that we did not disrupt the existing broadcast while we migrated to the new system. So we would remove two racks, put in a new system, then remove another two racks and install another new system," explains Hussain.
With these constraints, Hussain is proud to have completed the project within four months. "We signed the contract in March and went live just two days before Eid in July. Everything went without any glitches on air. That was the biggest takeaway on that day."
Systems integrator MGI played a big role in ensuring that the project was delivered on time. "One of our challenges was integrating and migrating the upgraded BIT system with the new broadcast infrastructure to have a full HD on-air system by July 2022," explains Ashraf Mannath, Manager Operations at MGI, adding that MGI helped CNBC Arabia "to change its lighting fixtures to LEDs as well as upgrade Studio 2 with the GVG cameras and Ross Robotic system".
Hussain explains: "One important element of this project has been data migration. Most of our content was stored on SD tapes so the process of digitisation was quite tedious, but we accomplished this within a couple of months. All the content was migrated from OMF to MXF. The entire data storage will be maintained in Dubai, where a huge Avid Shared Library maintains the old assets, while new information will also be stored in that from now onwards."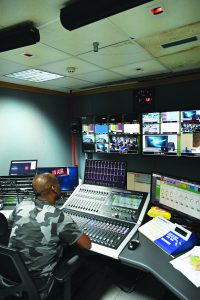 Alongside this, CNBC Arabia staff were also being trained on the new systems. "This was a challenge because when the migration was going on, the team had to work on the old system and in parallel be trained on the new system. This was especially true for the newsroom staff, who would train at the end of the day for two or three hours on the new system. On weekends, we used to do a complete trial."
Mannath credits the success of this project to the collaboration between the end user, the vendor community and the systems integrator. "Typically, the supply chain was severely impacted due to Covid, which means we had very long lead times for everything. But the vendor ecosystem we worked with ensured timely delivery of the systems and has continued to provide support for CNBC Arabia's operations."
With this project, the infrastructure is now ready and can easily accommodate 12G, UHD or IP in the future. "We first wanted to ensure a smooth transition from SD to HD/3G and then evaluate a potential upgrade," Hussain clarifies.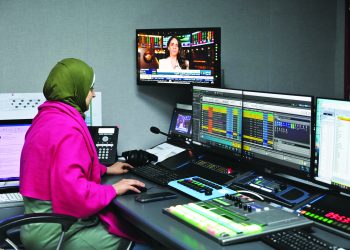 In the meantime, the team is in the process of commissioning a whole new IP-based facility in Doha, with two studios and control galleries. The facility is based on the SMPTE 2110 standard and well supported by Evertz infrastructure. It is integrated with CNBC Arabia's Dubai headquarters for monitoring and troubleshooting from either site.
The IP infrastructure is built on core Evertz NATX switches and orchestrated by Magnum OS & IS-05 to integrate with all other third-party systems, including Grass Valley cameras, Lawo audio, Riedel Intercom, Avid newsroom solutions and Vizrt graphics. It is also equipped with a 12m x 3m video wall from Delta and includes Vinten Robotics, Jimmy Jib and ARRI lighting. The facility will also have approximately 30 Vizrt integrated newsroom clients with Cloud UX, and a couple of graphics and edit suites.
The facilities at Doha and Dubai will be connected over lease line, enabling journalists in either site to search for any file on the Avid Shared Library. Feeds from here will also be received on both ends over fibre and, as a back-up, over the LiveU.
The intercom systems will be connected over VoIP to ensure seamless connection between facilities. While the other sites are not yet connected, they eventually will be through different cloud-based solutions, assures Hussain. For compliance, CNBC replaced the existing legacy solution with Actus Broadcast logging, an advanced broadcast compliance and monitoring solution designed to record both transmitted content and studio clean feeds, repurposed for the website and social media platforms.
"I think we were very fortunate that we had the right people at the right time in each place, because migration projects can sometimes be very unrewarding," explains Hussain.
CNBC Arabia updates and enhances online offerings
In September 2022, CNBC Arabia launched a revamped website and mobile apps on Android and iOS with the help of Reidheiser, a company that primarily designs websites and apps. The network removed the walls between its mainstream TV channel and its website, mobile apps and social media platforms. Its videos were prepared editorially and technically to be published on TV as well as on other OTT platforms.
"They built a complete integrated system for us. The aim was to adopt a convergent approach towards news so CNBC Arabia could apply cross-platform postings," says Hussain.
To enable this, CNBC Arabia's website and mobile apps use Amazon Web Services (AWS) as the hosting infrastructure. AWS helps CNBC Arabia to scale bigger and adapt to changes over time with a wide option of hosting services, and with auto-scaling, storage and advanced monitoring tools, so that CNBC Arabia can grow and monitor the health of its services.
A critical partner for CNBC Arabia's website and mobile apps is ZagTrader. The financial data provider consolidates a database of worldwide companies and market data and delivers customised data feeds based on the requirements of the broadcaster. The service includes index prices, stock prices, charting, financials and profiles, market movers and search tools.
CNBC Arabia hopes to have a detailed social media strategy with social content retailored for the broadcast screen, adds CEO Burhan. "We will reintegrate this for the big screen, and for now they are serving as fillers, but eventually we hope to feature the best of the best segments."