Kirill Kripak's short film Captain Detective won the Dubai leg of the 48-Hour Film Project in 2015. The filmmaker speaks exclusively to BroadcastPro ME about his winning entry and some of his other projects  Filmmaker Kirill Kripak's film Captain Detective was the winning entry in the 48 Hour Film Project that was held in Dubai. […]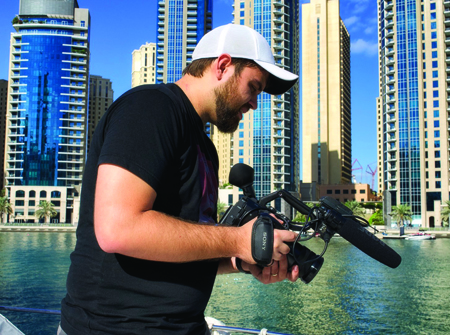 Kirill Kripak's short film Captain Detective won the Dubai leg of the 48-Hour Film Project in 2015. The filmmaker speaks exclusively to BroadcastPro ME about his winning entry and some of his other projects 
Filmmaker Kirill Kripak's film Captain Detective was the winning entry in the 48 Hour Film Project that was held in Dubai. The film now goes up against films from around the world at Filmapalooza 2016 for a chance to secure the grand prize and an opportunity to screen at the Cannes Film Festival, Court Métrage.
Kripak attributes his win to rock-solid performances by the leads and keeping the film dynamic and visually interesting – the fundamentals of a good film. You get your basics right and you know you have struck a chord with your audiences, he says.
Captain Detective is a coming of age story about a protégé's journey from being a new recruit to becoming his own person. Kripak and his team shot the film in eight different locations all over Dubai over the competition weekend.
The film was shot on the Sony PXW-FS5 in different locations, backdrops and light conditions.
In fact, the competition served as the perfect backdrop for Kripak to test a prototype of the FS5.
In the 48 Hour Film Project, participating teams are given a character, a prop and a line of dialogue that must appear in their film. All creativity – writing, shooting, editing and adding a musical soundtrack – took place in the 48-hour window beginning Friday at 7pm and ending Sunday at 7pm from November 12 to 14, 2015. The following week, the completed films were screened to an audience.
"I wasn't planning on doing the 48HFP, but when I learnt that Advanced Media had received a prototype of the FS5, I thought this might be a good opportunity to test the new camera. The dates also worked and I went on to take part. If the competition wasn't on, I would have still taken the camera and shot with it. I wanted to test this camera because I was planning to use it for my work," says Kripak.
After a bit of convincing, Advanced Media lent the camera to use for the competition.
"We opted for a wildcard genre and got 'coming of age'. Based on the guidelines and genre, we wrote the script."
In fact, Kripak's original genre was fantasy, which he changed because he had done fantasy before, in the 2014 edition of 48HFP.
"Last year, we couldn't submit our film in the 48HFP competition because we missed the deadline due to a technical glitch. This time around, we had multiple backups for getting the film submitted on time, but even then ran into unbelievable traffic issues. The three backups left my house about two hours apart, and all of them arrived on-site within 10 minutes. But we made it on time," he says.
Kripak sent the film he made for the 48HFP last year to the Phoenix Film Festival and Indifest, where it was recognised for best cinematography, special effects, location and direction.
Kripak's go-to camera for the last three years has been the Sony FS700 with an external 4K recorder. He was not particularly impressed by the FS7 though, he says.
"The FS5 comes with built-in 4K capabilities, which got me interested in the camera. Having used it on the project, I would say the FS5 is a versatile, run-and-gun ENG kind of a camera, but has enough to be used as a cinema camera. It has a better grip, an LCD screen which you can see in daylight and XLR inputs, which are all great features," comments Kripak.
He plans to replace his FS700 with the new FS5.
Kripak's day job involves making marketing and ad films, but his passion for feature films has had him undertake some personal projects. He runs his own company, Scope Media Experts, in Dubai Marina and has been making films for the last 15 years.
He is presently working on a rather ambitious project that involves a series of films. The first of the series is PROJECT: Destiny, a sci-fi film universe comprising three feature films that span about 250 years. It follows a generational ship that leaves Earth in search of a new home for humanity.
"I came up with the concept one summer while on holiday. I immediately pitched it to my wife, who liked it, and called one of my writing partners, Nidal, who immediately agreed, thought it was a great idea. I wrote up the overall structure that same night. About six months later, I told another of my writer friends, Dennis, about it, and he was also instantly on board to help," says Kripak.
The second in the series is PROJECT: Columbus, about a remote space repair/rescue craft sent to investigate a distant outpost which has mysteriously gone dark, to restore communication. They land and discover strange clues which lead them to question if completing their mission will lead to the death, or salvation, of all mankind.
"PROJECT: Columbus came about when Nidal read my plot draft for Destiny and really liked one part of it. He expanded on the idea, and over time, it grew from a few scenes to a proper short, and now to a feature film."
The final film in the sci-fi series is PROJECT: Horizon, a prologue that sets up the Columbus feature.
"And as PROJECT: Horizon was the most viable to actually produce, we went ahead and created it, hoping that there would be interest in seeing more."
PROJECT: Horizon was shot in the desert mountains between Sharjah and Fujairah, primarily on a Sony FS-700 with an Odyssey 7Q+ in 4K RAW. Some moving gimbal shots were shot on a Sony A7s outputting 4K Pro-Res to an Atomos Shogun, mounted on a DJI Ronin-M. The aerials were done with a DJI Inspire 1 in 4K.
The script for this project was written in early 2015, when Kripak decided to do a film for My Rode Reel, a global film competition. The first version of My Rode Reel is done, but there is an extended director's cut that he hopes to work on soon.
"It was a small idea that I had been thinking about for a while, but didn't have a plan to do until then. PROJECT: Destiny is about three years old, it is still in the plot structure phase, but the key elements were thought up long ago. PROJECT: Columbus is about two years old, and we have completed a rough draft for it.
"The hardest thing about this project was learning and then producing the special effects, all within a two-week span. My team typically does not do 3D work, but we had a requirement and had to work within a deadline so we stayed up for 20 hours at a time, watching tutorial after tutorial online and just working away with what we learnt.
"For the render times, I not only had to use my wife's laptop and my old server, but also bought another iMac so that multiple machines could be exporting at the same time. This is because we worked in 4K throughout," adds Kripak.
Kripak says that the project could work well as a television series also but for now, he is pitching it as a film.