UAE content creation and production company Blink Studios launched a short-form animation series for children titled Karim and Noor this Ramadan. In an exclusive interview with Executive Producer Nathalie Habib and Director Hani Kichi, BroadcastPro ME finds out how the series came about and where it is headed.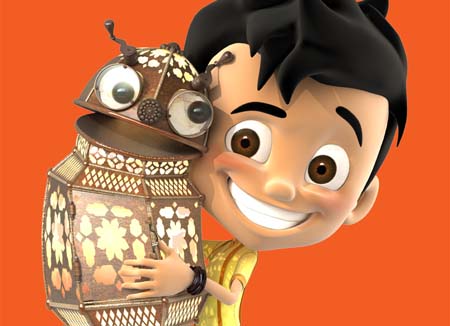 UAE content creation and production company Blink Studios launched a short-form animation series for children titled Karim and Noor this Ramadan. In an exclusive interview with Executive Producer Nathalie Habib and Director Hani Kichi, BroadcastPro ME finds out how the series came about and where it is headed
Children's animation series Karim and Noor launched this Ramadan as short two-minute webisodes on YouTube and programme fillers on pan-Arab TV channel Spacetoon. Created entirely in the UAE, the series was conceived and produced by Dubai-based Blink Studios.
The series revolves around two main characters – Karim, a young boy, and Noor, a robot.
Though Karim is inspired by Arab traits, he has been carefully designed to also carry a universal non-stereotypical personality that can engage children from around the world. Noor is a machine-like object, a cross between a robot and a lantern – LANBOT. It has a fascinating 'wonder belly', which gives it the special ability to produce from behind its lantern door anything that the pair might need to tackle a problem.
The two characters' physical attributes and character traits carry cultural nuances from the region but also appeal to a global audience. Through their fun and humorous interactions, they discover the importance of friendship. They engage a young audience with a short plot that focuses on positive values.
Short-form series are seen as working well with younger audiences on web-based platforms, according to Creator and Executive Producer Nathalie Habib.
"We saw an opportunity to highlight simple values in a fun, non-didactic approach, which we hope will produce a positive impact on children in the way that they perceive themselves and the world in which they live," she says.
The series primarily targets both genders aged three to six and has spill-over appeal to seven- and eight-year-olds. The studio has already developed 15 episodes, with its second run currently in production.
Music and SFX are key creative drivers of each story, according to Habib. As a scripted, non-dialogue format, music and sound play a fundamental role in driving the story from start to climax, making a fun and entertaining journey.
"The animation is in minimalist style using 'pose-to-pose' exaggerated movements which highlight key action points in the story and create humour," explains Habib.
Karim and Noor's animation production pipeline was achieved through 3DS Max for character animation, modelling and texturing; V-Ray for rendering and After Effects for compositing.
"The series is purely an investment made by Blink Studios, therefore, the key creative and production assets had to be built to deliver on a sustainable pipeline with room to allow the series to grow as it gains audience popularity. Starting with two characters is only the beginning. What will follow in the coming seasons is actually planned to be more exciting from both a storytelling and visual engagement perspective," comments Habib.
Director Hani Kichi adds: "We had to be smart and efficient in setting up a sustainable, cost-effective production pipeline. We have a total of eight main artists and two production management support members working from script to screen. It's almost a value engineering approach to creating a practical and efficient pipeline of strong talent and tech tools that reduce the time, with negligible compromise on the quality of storytelling and visual experience."
Pre-production carefully briefed character design to the character artist, coupled with in-house script writing and story development.
"Production was all in-house, utilising our highly experienced 10-year UAE-based artist pipeline. Post-production was also in-house for final edits and musical composition. As we further develop the series for a global audience, we are already exploring co-production deals with international studios," points out Habib.
Karim and Noor recently featured at Annecy's International Animation Festival and its international content market. The series garnered significant interest from a number of global representatives at the festival, which is a good sign for regional animation, says Habib.
"We are confident this is a sign that the intellectual property will grow and thrive beyond its borders, which will attract increased revenue streams and offer a sustainable business model," she adds.
The entire score and musical as well as sound compositions were created and produced by Director Hani Kichi using Seaboard Rise, a high-end musical technology instrument that allows composers to create and express a conversation and impression through a flexible composition technique. It replaces the piano's black and white keys with a continuous, touch responsive surface that combines the expressive capabilities of many instruments in one interface.
"The five-touch feature on its silicon pad allows the composer several features such as bending notes, changing expressions, velocity and musical accents. This is coupled with a vast library of sounds provided through its Equator software that delivers thoroughly distinctive audible sounds," Kichi explains.
According to Kichi, animation can only look better with more time and money. To this end, the team identified its limitations at the very early stages.
"Time and budget constraints are some of the limitations one faces. We did not see them as a hindrance, but rather as an opportunity to produce a show that could launch with limited resources yet still achieve visual appeal, engage with good storytelling and fun characters. In doing so, we are also inviting leeway for investments from third parties in its following seasons."
Licensing and merchandising was a major focus for developing the show's creative assets, which allows access for ROIs beyond distribution fees and other monetisation tools.
Google-certified, regionally recognised MCN Kharabeesh was chosen to help support the Karim and Noor YouTube channel. Blink Studios closely collaborated on achieving maximum reach, as well as examining monetisation possibilities through the youtube.com/karimandnoor platform.
Commenting on the partnership, Hana Malhas, VP of Talents and Partnerships at Kharabeesh, says: "We are very excited to have Karim and Noor join the Kharabeesh network. These intriguing characters have the potential to appeal to a universal audience, transcending the boundaries of language or even age, delivering positive social messages with light-heartedness, music and high-quality content."
In addition to YouTube, Karim and Noor also airs on Pan-Arab children's TV channel Spacetoon and other terrestrial TV stations. The programme is delivering fillers for TV broadcasters, thereby demonstrating the effectiveness of its two-minute format for its first season launch.
The producers plan to go global with this series and will be partnering with international companies for a wider reach.
"As a property built for trans-media potential, we are also in talks with a VR developer based in Los Angeles. There is not much we can reveal at this stage except that Karim and Noor is being built to appear as part of a global VR children's content platform," says Kichi.
Going global is not easy, points out Habib. She laments the fact that animation in the Arab region hasn't gained much traction yet and very little from the Middle East has gone out into the international market.
"The first milestone is growing audience traction, and that in itself is a massive challenge due to the high volume of content available for children today. However, there is always a content checklist that guarantees audience engagement, and we aim to carry this out over the creative development and delivery of Karim and Noor.
"We are aiming for a successful and sustainable children's IP created from the Arab world that can speak to its own children, as well as any child around the globe, and we hope Karim and Noor can make that happen for Blink Studios, for the UAE and for the region," Habib notes.