Arab Telemedia Group has upped its game in the regional television market, with an incremental investment in FilmLight's colour management techniques for its drama production. BroadcastPro ME takes a look at how the solution helps the media company produce more high-quality 4K dramas Arab Telemedia Group is an independent commercial media enterprise run by Adnan […]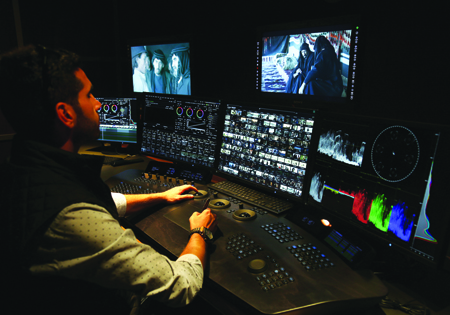 Arab Telemedia Group has upped its game in the regional television market, with an incremental investment in FilmLight's colour management techniques for its drama production. BroadcastPro ME takes a look at how the solution helps the media company produce more high-quality 4K dramas
Arab Telemedia Group is an independent commercial media enterprise run by Adnan Awamleh, Founder and Chairman, and his son Talal Awamleh, Producer and CEO. The media house has produced more than 5,000 hours of drama, including Al Ijtiyah (The Invasion), Abana' Al Rasheed (Sons of Alrasheed), Alhajaj, Zaman al Wasel (The Gathering Age), and Abu Ja'far Al Mansour, shown on prominent channels such as MBC, Dubai, Qatar TV, Abu Dhabi and Rotana.
The Jordanian production house offers creative solutions and a comprehensive production package to media houses. Recent investments include 4K camera systems and a colour management workflow from FilmLight.
In recent years, however, the media house went through an overhaul, primarily to ensure it could handle all aspects of a show's creation, from production to post and final delivery. In addition, with new platforms emerging, the media house felt the need to reinvent itself to cater to multiple platforms.
"We have produced many dramas, but in 2008, we won the first ever international Emmy for a telenovela, Al Ijtiyah, which I produced," Talal Awamleh proudly points out.
This encouraged the team to invest more heavily in technology, with the aim of producing more engaging and compelling high-quality content.
"If Arab Telemedia is to be a leading player, we felt we had to incorporate the most recent systems. If our creative and technical experts benefit from the best equipment around the globe, we felt they would lead the way for Arab culture," says Awamleh.
This prompted the company to add 4K capabilities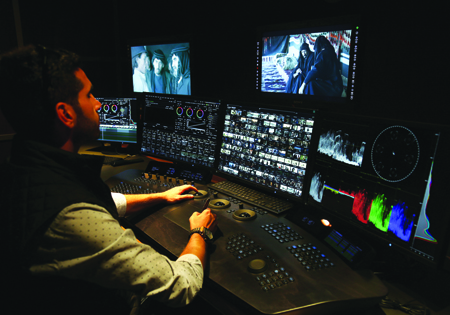 o its existing skill set. This included an investment in ARRI and Sony digital cinema cameras, an end-to-end tapeless post-production and archiving system including Avid editing and Spectra Logic storage, and a comprehensive colour management workflow from FilmLight.
"This provides for conversion of the raw ARRI and Sony images on or near set, and non-destructive colour grading at every step of the process," explains Awamleh.
"The workflow begins with four FilmLight FLIP systems for on-set colour correction. Each unit is capable of handling four channels, so they can be used in multi-camera shoots very efficiently.
"The FLIP units are loaded with pre-selected LUTs to create the initial look the director and DoP want from the cameras, but they can also be loaded with basic grading information. This is particularly useful on a long-running series, where the action regularly returns to a number of fixed sets. As scenes are shot, the crew get a strong feel for what the final result will look like. FLIP has the ability to update these grades too, allowing the director and DoP to show the colourist how the look should develop in different scenes.
"As well as the FLIP on-set colour systems, we also use Daylight. This is a Mac-based data wrangling and dailies production system, which takes images straight from the set and creates editorial media."
According to Awamleh, one important point about the FilmLight system is that "it does not fix the grade at any point".
It keeps the footage raw and transfers colour decisions as metadata. When it gets to the grading suite, where the colourist has a full Baselight TWO system, all of the decisions are shown in real time. That look can then be finessed and refined, leading to the best possible image results in a compact timeframe.
"Another benefit of this render-free workflow is that it extends further into the post-production process with Baselight Editions for Avid. Baselight for Avid is a software plug-in that sits inside the Avid editing workstation and provides us with two sets of functionality.
"First, and most important, it imposes the latest grading information onto the pictures the editor is working with. As the colourist publishes an updated grade, the look is updated in real time. Second, the editor can open a Baselight user interface in the editor and make any adjustments to the grade needed for smooth transitions. Once again, these are not permanent changes: they are simply updates to the metadata, and the colourist can further adjust these changes for perfect results. Only once the final grade is signed off is it rendered in all the resolutions required for delivery."
The media house first used this set-up on Wa'ad al Ghareeb (The Promise), a high-value, high-profile 30-episode series produced in 2015-2016.
"We wanted it to have great production quality, even within a tight television timescale. Now we are grading our latest historical series Malik Bin Al Rayeb using this set-up, and the results are astonishing," Awamleh says.
Arab Telemedia Group first talked to FilmLight at IBC in 2014.
"We realised immediately that the Baselight pipeline and its seamless, render-free concurrent workflow had huge potential. At that time, we were making a significant investment in Avid technology, so the fact that Baselight Editions could add colour grading to the edit stations was a huge benefit. It meant we could see precisely what the finished product would look like, at any point from the set to the finishing suite."
Awamleh says this addition to its technology has significantly improved the company's profile in the regional market, owing to its ability to now produce more high-quality drama productions.
"We know we are getting the best possible quality, quickly and economically, because we have a colour pipeline that is the best in the Middle East."