New exhibitors! A brand new Content Marketplace! More conference specials! Andrew Pert, CABSAT's Show Director, tells us what to expect in the 2016 edition of the Middle East's largest broadcast show The 22nd edition of CABSAT, which will be held from March 8-10, 2016, will feature some elements never seen before at the show. CABSAT, […]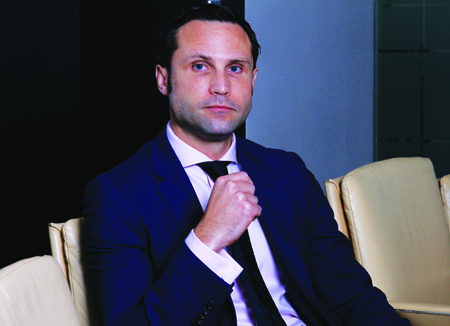 New exhibitors! A brand new Content Marketplace! More conference specials! Andrew Pert, CABSAT's Show Director, tells us what to expect in the 2016 edition of the Middle East's largest broadcast show
The 22nd edition of CABSAT, which will be held from March 8-10, 2016, will feature some elements never seen before at the show. CABSAT, this year, is not merely a broadcast technology showcase; the show will lay equal emphasis on content and the business of filmed entertainment and its future delivery.
Show Director Andrew Pert explains: "CABSAT is now disrupting the future delivery of content production, management and distribution. The show will provide a platform for industry experts to engage, strategise and debate future market trends, whilst being able to source, experience and test the latest electronic media technologies. The idea is to have a measurable growth for the regional market and to drive business in these areas.
"CABSAT will introduce the buying, selling and co-production opportunities for all types of filmed entertainment content. For the first time this year, a focused content market is being developed purely for the MENA region."
There will be more than 30 brands represented within the Content Marketplace, offering content in TV, serial dramas, documentaries, sports, kids TV and films to content buyers from across the region. The programme is expected to host more than 800 meetings around buying, selling and co-production of content.
"Content Marketplace is the introduction of the buying, selling and co-production opportunities within the film and entertainment market. This is quite topical now with Netflix coming into the market and a lot of Hollywood productions taking place in the UAE. You will see the likes of NBC Universal and ITV Studios offering premium content for sale. Exclusive content screenings will be a part of the initiative," Pert explains.
"Yet another highlight this year will be a two-day Content Congress programme, which will see a lot of the studios discussing and looking at new opportunities to create content in the region," Pert adds.
The conference programme will cover key Hollywood, Bollywood and Arabic TV and film content – creation, distribution and monetisation trends. Attendees will meet, network and learn from global transmedia, technical, engineering and production leaders around the future of broadcast, satellite and content delivery.
In addition to studios and content creators from across the world, CABSAT also has some new entrants in the exhibition area this year. There will be a Nigerian pavilion this time with companies from West Africa represented there. The Nigerian Broadcast Association will be part of CABSAT for the first time.
The GCC, Egypt, Morocco and West Africa will be priority regions.
Dubai Studio City, Dubai TV and Film Commission (DFTC), and Dubai Film will be present in full force to support the production and content creation side of things.
"It's going to be a showcase for new opportunities to create new ways of producing content," says Pert.
"Content Marketplace will also have locally produced content that can be potentially exported and monetised. There will be discussions around how to brand content and communicate through video content to a worldwide audience to create more business opportunities," he comments.
Content Marketplace will connect companies that acquire, programme and commission the buying of content from TV channels and stations, broadcasters, free-to-air and pay-TV operations, sportscasters, distributors, telcos and satellite companies and digital TV and video content platforms.
Pert claims that there will be more features and content available at CABSAT 2016 than ever before. The Content Delivery Hub and Satellite Hub seminars – presented by the GVF – will deliver 30+ interactive presentations.
Several closed-door roundtable discussions will be a part of the programme to address the future of production and screening of content within the region with special focus on content delivery. The Content Congress, presented by CABSAT, Content Marketing and NABShow, will centre on the future of TV in a connected world. There will be opportunities to learn from speakers from Dreamworks, Hasbro Studios, Dailymotion and Fremantle Media about strategising for the future in the region.
The certified post-production training workshops have been expanded this year and will be delivered by certified Apple and Adobe instructors from the US.
The sessions are geared for beginner to intermediate level professionals with two to five years' experience and are conducted by experts, authors and trainers. The two-day programme will feature workshops for students and up and coming filmmakers in the region.
Two matchmaking programmes –the Global Meetings and Red Carpet Meeting lounge programmes will deliver 800+ pre-arranged business meetings, whilst the Screening Theatre, in partnership with CABSAT & Content Marketplace's official title sponsor – Selevision, will see exclusive premieres of filmed entertainment
and dramas for sale leading up to the holy month of Ramadan.