Italian tenor Andrea Bocelli, one of the biggest-selling artists in classical music, will perform in a one-off concert at Etihad Park in Abu Dhabi on November 24. Haidar Shukry, VP of Operations with event organiser Flash Entertainment, tells BroadcastPro ME what it takes to put together an event of this scale.
Tell us a bit about the kind of tech prep that goes into creating a live experience at Etihad Park. Does Flash Entertainment manage all the AVL experiences at the venue?
We are well equipped to deal with all levels of organisation for individual event needs. For a show on the scale of Andrea Bocelli for example, the tech preparation is huge, with safety being our primary concern. The audience journey is where we begin the base of all our plans; the entry points must be clearly marked and operated in a way that reduces any formation of crowds. This can be quite challenging, especially dealing with thousands of people wanting to experience the show and all arriving at the venue within a two-hour window. It is key that we work closely with a dedicated health and safety team from early on to work out and manage ingress, egress and crowd movements.
In terms of AVL systems, these are usually based around the artist riders, which vary. That said, Flash Entertainment adds to peripheral areas, further enhancing the customer experience.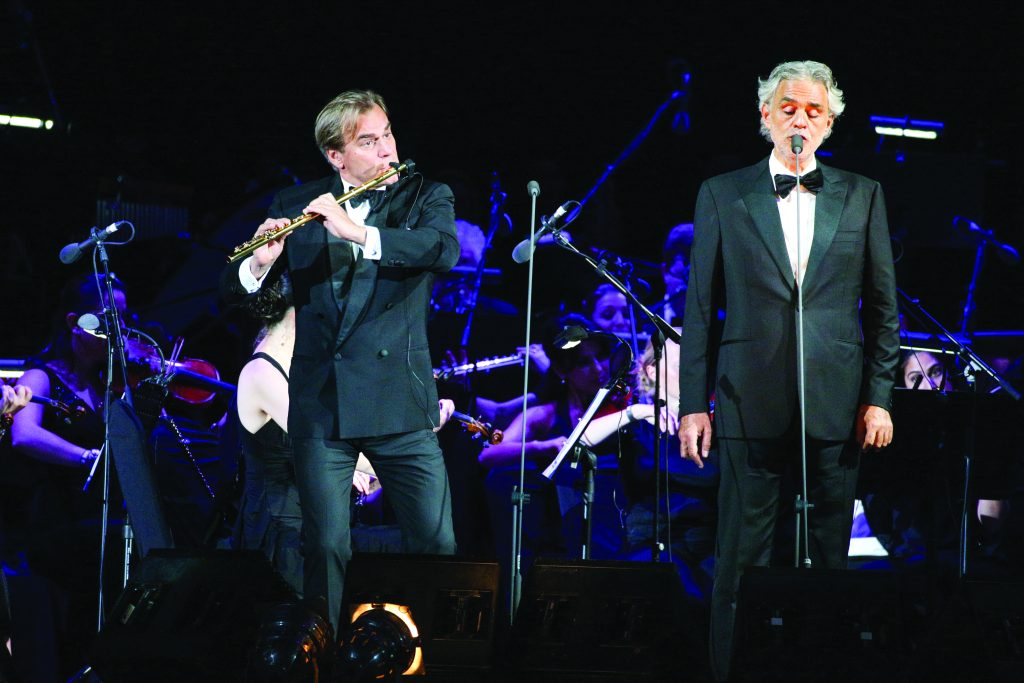 What does hosting Andrea Bocelli require in terms of mics and sound systems? And having a large audience – what does that require, especially if it is outdoors?
The Andrea Bocelli tech specs are very detailed due to the nature of the show. Amplifying an orchestra is not an easy thing to do. The sensitivity of the orchestral instruments in an outdoor set-up is one of the biggest technical challenges. The strings, brass, wind and percussion sections are susceptible to natural elements, as the heat and humidity can affect the tuning of the instruments. The PA system is meticulously designed to mimic a studio concert hall, which allows the engineers to mix and deliver a natural acoustic sound, covering every seat in the house.
SPL (sound pressure levels) are also managed in such a way that what is being heard in the front row is the same as in the back rows, without quality loss. To achieve this, we will install a left, centre and right (LCR) system with front fills and additional delay speaker hangs to cover the grandstand. We are confident this system will offer the ideal experience for a concert of this style.
There are a whole range of microphones and techniques that can be used to mic up an orchestra. Andrea Bocelli's team uses a combination of close-up and ambient techniques with mics from Schoepps, Sure and Sennheiser, among others. Additionally, the microphone positions are very important and will enable the audio team to best capture the natural acoustic sound of the instruments.
How will this experience differ from others at Etihad Park, given that the venue plays host to many high-profile artists?
Non-classical music shows are referred to as high-level shows; however, for Andrea Bocelli, it is much more refined. We must emulate the sound of a studio with an orchestra throughout the entire venue. Fortunately, Etihad Park has a surrounding roof structure that is beneficial to the audio systems used, as it creates a natural reverb tunnel.
The Andrea Bocelli concert will be a seated show, which creates a fixed listening field that is very different to a standing high-level show. The visuals for Andrea Bocelli will be based on the music tempo, making the visual experience very smooth. For a high-level performance, the upbeat tempo will allow vision mix engineers to chop and change more frequently with faster moving images and other visual effects.
The same can be said for the lighting, whereas the Andrea Bocelli show is more static with very slowly changing lighting effects during each song and scene, changes happening at the start of each song or piece – contrary to a high-level show, where there will be lots of movement and several colour changes along with additional lighting and laser effects during each song.
Does this performance require a different AV configuration or set-up? If so, why?
Aside from the speaker configurations mentioned, we will also group certain instruments and send these to specific speaker hangs, creating what we call a point source effect. For example, instruments positioned on the left will be louder in the left speakers, and the same for the centre and right hangs.
This will create a focal point based on the position of the instruments on stage. The AV equipment used will be the same type of equipment as those that are often used for a high-level show; however, the configuration and quantities will vary. You would think that fewer speakers would be used for an orchestral show, but in fact more speakers are required. This is because of the careful attention paid to the consistent SPL levels throughout Etihad Park as well as maintaining the LF contour across the listening areas.
What are the challenges of hosting such an event?
Anticipating and strategically addressing challenges is all part and parcel of the role as event organiser. The biggest challenge we foresee is managing the orchestra and choir when at the venue; however, other logistics also come into play. These include creating and managing the space needed for dressing rooms, catering and transport. Flash Hospitality teams use their experience as well as their suppliers to manage these tasks seamlessly.
What key kit will you be using?
The sound system will be an L-acoustics rig using K1, K2 and Kara cabinets with flown and ground-stacked subs. Audio control will be through Digico SD7 quantums with 32-bit cards in the supporting stage racks. There are several lighting fixtures that will be used, such as Clay Paky, Ayrton, Robe and others, all controlled using Grand MA consoles. There will be three large LED screens as well as six vertical fingers that will add to the look and feel of the stage, displaying content produced by the Andrea Bocelli team.
How many people are required to put in place the surface infrastructure for a project of this scale? What numbers can you share in terms of people, cabling, infrastructure, gear, etc?
The technical team will consist of approximately 30 engineers, technicians and stage crew. The production team, including F&B, ushers, security, medical staff, cleaners and general site staff, is the largest workforce at approximately 10 times the technical team – around 300 people.
Almost all the staff employed during our events are residents of the UAE and have developed an incredibly high standard of delivery. This contributes to why the UAE is such an attractive destination for artists – the suppliers that operate within the region stock the most up-to-date equipment, alleviating the need for costly freight and again enhancing the experience of both the customers and the international touring production teams.