IBC CEO Michael Crimp talks to BroadcastPro ME about new developments and trends, Covid-19 measures and sustainability.
After two years, IBC seems to be gearing up for a full-fledged show. Could you tell us what changes we might expect?
It's been an incredibly busy time as we gear up for our first live, in-person show at the RAI since 2019. Our industry has faced a challenging couple of years through the pandemic, and we all know how much we missed doing business in person. We've looked at ways to improve the show experience for visitors and exhibitors – and naturally, things have changed since 2019. This year, IBC Show will be made up of eleven halls and an outside exhibition area, featuring world-leading technology players and market innovators covering all elements of the media value chain.
What are some of the traditional highlights to focus on for this edition of the show?
IBC2022's two-day paid-for Conference (Friday 9 & Saturday 10 September) boasts a stellar line-up of visionary speakers from some of the world's biggest media brands, including Marvel Studios, Warner Bros. Discovery, Paramount Global and Universal Pictures.
The Conference theme this year is 'What's next? Design the future together'. We have a range of top-quality speakers, in-depth panel discussions and cutting-edge technical paper presentations in store this year, allowing attendees to gain critical insights on some of the most pressing business issues faced by our industry today.
Alongside the IBC Conference, our expanded free-toattend content programme across our showfloor stages is a fundamental element of this year's IBC Show. It's key to our mission of fostering knowledge-sharing and fuelling business conversations. Showfloor stages include our new Showcase Theatre in Hall 12, offering thought-leadership sessions and demonstrations on rapid-growth markets from leading exhibitors and sponsors, including Accenture, AWS, EVS and Zixi.
Our expanded Content Everywhere area, with its new home in Hall 5, will also include a rich speaker programme. Delivered on the Content Everywhere stage across all four show days, the programme will include a series of presentations, panel discussions and case studies exploring the rapidly evolving content distribution and consumption ecosystem, with insights on areas like live streaming, video-on-demand, achieving low latency, content discovery and recommendation, audience engagement and ad tech.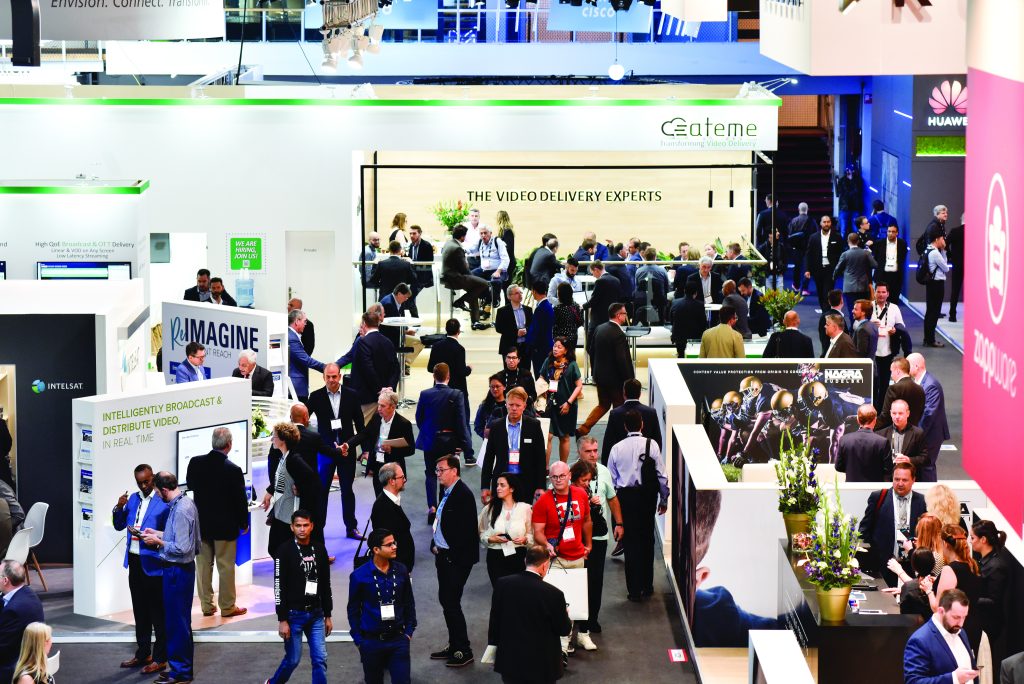 What are some of the new features you want to highlight at the show this year?
New this year, IBC's Partners' Programme is hosting IBC Changemaker sessions. These bring together industry trailblazers to discuss opportunities for positive change, covering topics such as raising equality, advancing sustainability and mental health awareness. All IBC attendees will enjoy free access to Changemaker sessions from organisations such as RISE, Albert, MovieLabs, Soho Media Club, Marketing Leaders Circle and more.
Our Accelerator Media Innovation Programme is a relatively new element of the live show, having been launched in 2019. Innovation is in IBC's DNA, and the programme is a fast-track innovation framework for the media and entertainment industry. It brings together broadcasters and pioneering technology companies to collaborate on ways to solve real-world challenges and common pain points, experimenting with new technologies and innovative approaches.
This year we have an incredible line-up of projects breaking new ground in areas such as cloud production, lower latency, metaverse, extended realities (XR), 5G remote production and blockchain. Accelerator proof-of-concept demonstrations will be presented at IBC in Hall 2 on the Innovation Stage – where other thought leadership sessions will also feature – and in a dedicated Accelerator Zone in the same hall. Each project has its own pod to outline its challenges and findings, so I'd encourage you to head over there to learn more and see these innovations come to life on the showfloor.
What new challenges or concerns have come up for IBC owing to Covid?
Naturally, with Covid-19, we were forced to pivot the show to virtual formats for two years running. This year, live, in-person trade shows are taking place around the world safely and successfully, with some attendees electing to wear a mask. The majority are reporting good attendance. The positive momentum towards a strong IBC2022 continues, and we remain aware of new developments around Covid.
Our approach has always been to follow the regulations and guidelines set by the Dutch government and, aligning with that guidance, there are currently no formal restrictions or requirements relating to Covid at IBC2022. We are working closely with the RAI to ensure we can organise and deliver an engaging live event in a safe way, and we of course encourage show visitors to be mindful of hygiene measures and other attendees' personal preferences.
What new trends and technologies do you expect to see at the show?
IBC champions ground-breaking technology and new ideas. Today, IBC is as much about streaming, social media and personal devices as it is about broadcasting, cable and satellite. The adoption of cloud, IP and software-based solutions will remain an important theme at this year's show, as well as some particularly exciting advances made with new 5G use cases for broadcasting. We're also seeing more immersive and unique audience experiences than ever before, as next-gen tech such as AI, VR/ AR and the metaverse begin to play an increasingly influential role in our market.
Any new exhibitors you'd like to name?
New exhibitors that we're excited about include the likes of Ad Insertion Platform, Blitz micro, Ceeblue, Castify. ai, Castr Live Streaming, Green Streams, PikoTV, LiveAPI, Riverside.fm and XroadMedia – just to name a few!
How is IBC addressing the sustainability element at the show?
Sustainability is of massive importance to our industry today. All companies have their own roles to play in making media and entertainment a greener sector, and at IBC we're committed to fostering and driving sustainability knowledge sharing, best practices and initiatives.
Visitors can enjoy a range of sessions and demos from exhibitors exploring sustainability. The IBC Changemaker sessions will also look at sustainability questions and best practices. Attendees can learn from Albert, the organisation supporting the global film and television industry in reducing the environmental impact of media production.
IBC's Social Impact Awards celebrate outstanding projects aimed at reducing our industry's carbon footprint, with winners to be announced online preshow and presented with their awards at a physical ceremony at IBC2022. IBC will also be playing its own role in reducing the show's footprint this year, utilising recycled materials wherever possible.