In a candid chat with BroadcastPro ME, Mohammad Abdullah, Managing Director of TECOM Media Cluster gives an overview of the milestones so far and what lies ahead TECOM Media Cluster has witnessed unprecedented growth in the last year. 2012 was an exceptional year for the media cluster that comprises Dubai Media City, Dubai Studio City, and International […]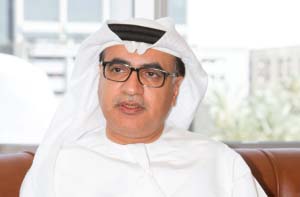 In a candid chat with BroadcastPro ME, Mohammad Abdullah, Managing Director of TECOM Media Cluster gives an overview of the milestones so far and what lies ahead
TECOM Media Cluster has witnessed unprecedented growth in the last year. 2012 was an exceptional year for the media cluster that comprises Dubai Media City, Dubai Studio City, and International Media Production Zone (IMPZ) as it saw notable expansions
from its business partners. The media cluster expanded to more than 230 thousand sq. ft., adding 257 new business partners to its portfolio.
The global business information company, Thomson Reuters, increased its footprint within Dubai Media City while broadcaster and broadcast service provider, View Mobile moved from Dubai Media City to Dubai Studio City, and Costra Group, a commercial retail design company expanded its operational space in IMPZ. At an operational level, Dubai Studio City completed the construction of its first soundstage, with two more due later this year. The 15,000 sq. ft. facility is a first of its kind in the region. Mohammad Abdullah, the head honcho of TECOM talks about all that and more…
Tell us a little about yourself and how you came to this present role at TECOM.
Mohammad Abdullah:
I started my career as a broadcast journalist and worked for Emirates Media and Abu Dhabi TV before joining the media cluster.
My previous experience gives me a wider perspective to look at issues as it gives me a view from the other side of the table as well. I very well understand the challenges the media faces today.
Media has undergone a complete transformation over the past two decades. 25 years ago when I used to travel from Sharjah to Abu Dhabi, Dubai Media City was non-existent. There was just a handful of media companies active in the region, unlike now when there is a lot more exposure and the choice is much wider with international as well as local players in the market.
Since DMC came about, 12 years ago, a lot has changed and changed for the better for media professionals as well as for the public. Today, there is a thriving community of 16 to 17,000 professionals working in different segments of the media, which is a very positive development.
How has the TECOM Media Ccluster progressed since you took over as Managing Director?
There has been a trend of growth in terms of the number of companies registered in the zone, the occupancy as well as TECOM's expansion.
We are pleased with the growth that has happened so far, especially after the downturn of 2007-2008. Looking at the trend, growth will be the order of the day for the next few years.
Out of the 257 new companies licensed in 2012 across Dubai Media City, Dubai Studio City, and IMPZ, 233 licensees were new entrants into the Emirate. Most of these are streamed from the film and TV, new media, event management, as well as the services sectors, reinforcing Dubai's global status.
What role has Dubai Film and TV Commission played in propping up TECOM?
Dubai Film and TV Commission was a new initiative launched last year to promote the emirate as a filming destination for local, regional and international productions across a range of mediums, including film, television, corporate videos, advertisements and online content.
This came about after we noticed certain growth in production of TV as well as films. There was a definite demand for such a body to nurture talent and to widen Dubai's scope as a production hub.
The interest in Dubai as a location for film shoots didn't start with MI4 but it turned out to be a watershed movie for
us and it has definitely opened many
more doors.
Historically, Dubai has been a popular location for film shoots,and Dubai Film and TV Commission takes that a step further.
What is your vision for 2013?
It is going to be a continuation of our ongoing partnerships. We give an environment to companies to flourish by providing them with international standard facilities and state-of-the-art infrastructure.
Big projects such as the soundstages and the Stargate partnership with MBC are going to be game-changers as we expect a lot of movement in the production segment once they are fully established. We are very proud of this initiative and the soon-to-be-ready 50 thousand sq. ft. area soundstage space will add yet another chapter to the growth of the media cluster.
In the coming year, we expect significant growth in mobile internet advertising across the region, in line with an overall rebound across advertising, in general.
We also expect an increase in transparency in the television advertising sector as new tools for audience measurement become more prevalent across the region.
This should lead to greater investment as the industry will have more clarity on how to monetise content.
What will the new entrants bring to Dubai and what are your expectations from these partnerships?
While production has been in the spotlight with companies such as Deluxe and Serena setting up shop here, the news sector too has shown strong growth potential for TECOM. We are proud to have Asahi Shimbun, Japan's second largest newspaper with a circulation of more than 10 million; Anba Moscow (Ria Nostovi), a Russian state-owned multi-lingual news agency, and Euronews, a pan European multilingual news TV channel.
How do you propose to bring in more business? What steps are being taken to encourage that? What kind of facilities do you offer to new businesses planning to gain a foothold in the media cluster?
We offer several incentives and facilities to attract new businesses. Our objective is to provide a knowledge-based ecosystem and our offerings don't end at providing visa and real estate. There's more to it.
In addition to providing the visa, office space, and a one-stop shop for setting up a media business in Dubai, we offer on-going support to our business partners. There are regular networking events and we even lobby for services that we can provide to our partners to give them an environment that is conducive for growth.
Our lobbying for a people meter initiative was a success. Our sister zones in the information and communications technology (ICT) value chain offer a healthy symbiosis for the nurturing and growth of our partners. Then there's the education zone, which also offers a support system. We have special products to support freelancers, small-and-medium companies; whether it's providing them with business centres for giving them their own administrated services or other facilities. We regard them as important partners in our growth.
Have you followed any similar models like the media city in Singapore?
There are media clusters in Singapore and Manchester and other places around the world but Dubai has its unique offerings, and for that matter, each media zone offers a unique set of opportunities to their respective clients.
We are located in the heart of the Arab region, which puts us in a very strong position to cater to the 300 million Arabic-speaking population here.
It's not only the media cluster but the whole package that Dubai as a city offers. It's an international city and the media cluster compliments that.
Our target audience resides in the Gulf and the wider Middle East, where we have an edge because of the common language.
With regards to film and production, we see a strong potential in the subcontinent as well. Recently, we have seen interest from China with the establishment of majore Chinese production companies such as CCTV.
What projects would you like to see here?
My dream is to build a thriving community within the media cluster to cater to different segments of the media in order to create better opportunities for businesses. In the success of these companies lies
our success.
It's not always the big names that raise the profile of your product. Take for example, the partnership between Yahoo and Maktoob, the latter was a small start-up when it entered into this partnership. It did not start big but developed over time. similarly, we supported Freej when it was newly established and today, it is a well-known brand name.
I can name several Emarati companies that began from scratch to grow into successful enterprises over time.
Where do you see TECOM five years
from now?
Five years from now, we will be in expansion mode. There is huge potential for growth, and our success lies in identifying the right areas of growth and tapping into the potential to gain from it.
We are investing in the infrastructure as well as building the knowledge pool to establish a thriving media community here. We will see many of our ongoing projects come to fruition in the next few years. The foundation stone has been laid, we need to build on that.
What are the lessons learnt since you have been in the business?
One important lesson that I have learnt is the importance of closeness between us and our business partners. We maintained close ties even during the downturn, which goes to show our level of commitment to them. We are partners in growth.
When we invite a company to set up a business in any of the business parks, we set out on a journey together. It's an ongoing partnership and doesn't end at leasing out space or signing a contract.
There are many challenges such as piracy to name one, but we stand together to seek solutions to counter them.
Do you see any gaps in Dubai that you feel is a challenge for the media cluster?
There are gaps in certain areas as nothing is perfect, we can only strive to achieve perfection. We need to nurture local talent, especially Emirati talent and give them the right avenues to grow.
Building our local talent pool is one of our key focus areas, in the current scenario it needs greater support.
What are the key focus areas that you intend to improve over the next few years?
We want to encourage production and content generation locally.
The Dubai Studio City's soundstages are a space to watch, as they are poised to be game-changers in this field. Dubai is hosting 14% of public broadcasting channels, which put us in a very good position to generate more content locally.
We will also keep a close watch on new media. Another key development area is events management, which holds tremendous potential.