ALTV is a community-led digital media platform launched in 2016 to bring more locally produced content to underserved areas of the world, especially the MENA.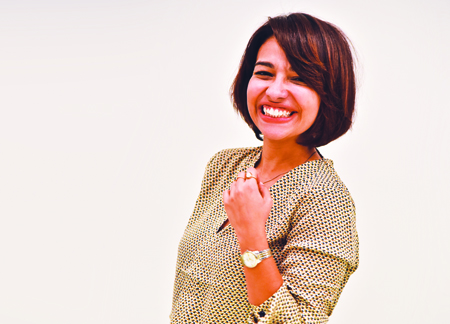 ALTV is a community-led digital media platform launched in 2016 to bring more locally produced content to underserved areas of the world, especially the MENA. Rehab Hany, ALTV's Team Lead and Community Manager for Egypt, speaks exclusively to BroadcastPro ME about her role in helping young filmmakers hone their skills through the web site's creative collaboration
Rehab Hany's remit at ALTV is to focus on the new collective of content creators in Egypt and build an online community that is involved in not just the consumption of content but its creation as well.
Hany is no newcomer to the media landscape. Having worked extensively with the New York Times and more recently with Egypt's CBC television network, she brings a lot of experience to her new role at ALTV.
What is ALTV.com all about?
What sets ALTV apart from other services such as Netflix and YouTube is that the content is user-generated, but we're not talking about vlogging or the type of low production value content that users can submit on YouTube. ALTV cultivates a creative community in each region, working with the creators to develop their skills and provide them with professional equipment to enable the production of quality localised content that is relevant to local audiences. These content creators can also earn from their content through the highly targeted advertising tailored at specific audience demographics.
What is the current state of the Egyptian broadcast market? Who are some of the main players?
Here in Egypt, and across the Middle East, there is growing discontent with the programming available through linear TV channels. In their search for content that caters to their personal tastes, audiences are increasingly turning to online services to find relevant entertainment. The figures on mobile data usage are rocketing here in the Middle East, more so than anywhere else according to reports, which point to video being the main cause of increased data usage.
We have national TV, which is currently going through a period of uncertainty due to budget and identity issues, then we have the private broadcast market comprising satellite channels, and there are far too many there to count.
CBC is one of the biggest Egyptian satellite channels, covering news, social and entertainment programming, and then we have ON TV, which initially identified itself as a serious news broadcaster but is changing its image and tone since it was bought over by businessman Ahmed Abou Heshima. DMC is a big new player which had a huge launch recently and dominates a big portion of the broadcast market.
It certainly seems as though the established channels are undergoing a shift in identity or struggling to adapt to new trends, while new players are generating a lot of interest and claiming big stakes in the market.
Is there a big creative community in Egypt?
Yes. Here in Cairo, there is plenty of talent, but those with the vision and the ideas and the drive don't necessarily have the means to turn those ideas into content. They lack the training and the platform, but now, with ALTV, they're able to produce low-budget, high-quality productions.
What I really like about ALTV is that they actually provide these training sessions and the fundamentals of how to light a scene, record the sound, right through to how to structure a compelling story. The first one I witnessed as a Community Manager was a one-man crew workshop which explained how you can do everything on your own – the shooting, the editing, the production and everything else.
People need the training, and at the same time they need a platform to showcase their ideas and put into practice what they have learnt through the training as well.
Is there a big appetite for local content?
Yes, of course. There is a severe lack of locally produced content that really speaks to the underserved communities across the MENA region. We're subjected to plenty of content produced for Western audiences and dealing with Western values and cultures. Viewers from these regions are looking for content that speaks to them and engages with them.
There is a troubling lack of credibility at present in Egyptian mainstream media, and when it comes to news or other content, the same templates are used frequently. We also experience an obvious lack of objectivity in political commentary.
The internet is allowing people to express their opinions and explore other angles that are not explored in mainstream media. Our mission is to produce and share as much local content as possible, creating local content that feels relevant to the viewer and true to the producer.
There is a rich collection of vibrant cultures across the MENA region, and within each of these cultures there are questions, themes and ideas that there is opportunity now to express and share through our platform.
What are the latest market trends? What are the challenges of working in the Middle East?
The new trends are the integration of social media and its tools in the broadcast market and mainstream media. Now we are seeing big talk shows going out live on social media platforms or using that facility for its benefit.
The challenge lies in the opportunity. There are many mass communication graduates who are eager to be part of the whole broadcast market, but then again, there are others who are not media school graduates but are very clever and talented and find routes into the market because of their passion. So it's brought down to the challenge of finding an opportunity to get into the market in the first place, and then comes the effort of proving yourself.
What kind of demand is there for OTT services?
Broadband rollout has been patchy, and speeds are among the slowest in the world. Everything fixed-line runs through Telecom Egypt, which also owns 45% of Vodafone Egypt, and it also leases network space to many of its competitors. This has hampered the successful development of OTT broadcast offerings. Despite this, OTT is in high demand, particularly among millennials.
How does Egyptian content fit within the global landscape?
There is no real appeal for global audiences when it comes to watching mainstream Egyptian content. Global audiences don't have the means to access it or the want, but ALTV's content is accessible to anyone – and this is exciting for content creators, because it's an open channel through which global audiences can view their content and engage with Egyptian culture.
We are working with young, exciting creators and this pool of talent is positioned to create content that engages and interests those outside of Egypt, as well as the Egyptian audience for whom this content is primarily created.