Executives from new and traditional media discuss whether digitalrnis a threat to traditional media and how TV producers need to rethink their strategy to win eyeballs and stay relevant.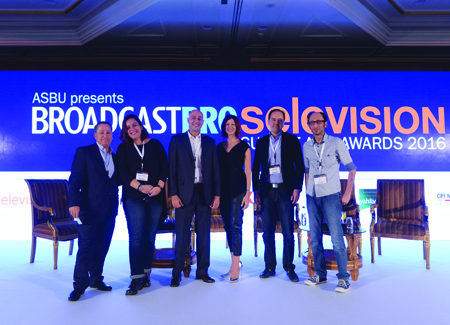 Executives from new and traditional media discuss whether digital
is a threat to traditional media and how TV producers need to rethink their strategy to win eyeballs and stay relevant
The ASBU BroadcastPro Summit 2016 began with a panel on production. This discussion addressed the opportunities and limitations of TV production in the Middle East. The panel was moderated by Badih Fattouh, CEO of Creative Ventures, and had a mix of panellists from both traditional and new media, including Tarek Amin, CEO of Digital at Adline Media Network; Karim Sarkis, CEO of Sync Media; Lina Matta, Senior Channel Manager at MBC Group; Wael Attili, Co-Founder & VP Content of Kharabeesh; and Shereen El Meligi, Senior Manager, Content at O3 Productions.
Badih Fattouh introduced the panellists and headed straight into the discussion to ask them about the challenges they encounter in the wake of changing user habits, and having to keep up with evolving digital trends and shrinking advertising budgets.
The biggest challenge, according to Karim Sarkis, is the mindset. Several broadcasters are stuck in an unhealthy ecosystem because of a lack of sustainable business models and inconsistent revenues.
"Digital is interesting and it looks promising, but it needs a different mindset and different players, and a new approach. It's a tough transition for people stuck in the old ways of doing business. Brands are increasingly using digital to spread their message. So for them also the definition of content is changing, and that is bringing producers into more and more conversations with brands, which is also a positive thing," said Sarkis.
Wael Attili of Kharabeesh, a Jordan-based MCN managing several channels on YouTube and other social media, responded by saying that the true value of digital content lies in its data.
"People are realising the immense potential of data, which will only grow in the future. Digital platforms are growing in reach and numbers, and the trend will continue in the years to come."
Fattouh then asked the panellists if there is a pronounced move to new media and whether traditional players are switching to digital in the coming year. Is the market hungry for more digital content, he queried.
The panellists agreed that there is a palpable shift in advertising revenues, with more money gravitating towards online platforms. Sarkis pointed out that broadcasters' ad revenues have been dipping for the past three to four years.
"There is very little experimentation going on, because broadcasters don't have the money to take those risks right now. There is pressure to maintain a certain level of viewership, but overall, the projection has been quite bleak for production."
Lina Matta of MBC noted that from the channel's perspective, budgets are a huge constraint.
"Space for experimenting is very narrow when it comes to running a business. We are relying on the big formats such as Arab Idol, The Voice Kids, Top Chef and so on. If we have the budget, we go after these formats that are sure to bring in money. There is more room for experimentation on the scripted content side, as viewers are now exposed to HBO and Netflix, and that's what we should replicate in the region. We want something different to attract the viewers' attention," explained Matta.
"Viewers are also looking for life beyond the screen. Whether it's games based on those shows or more webisodes for the second screen, I want that spirit to continue beyond the primary screen. It has to be an immersive experience on every level."
Everyone agreed that OTT platforms have more room for experimentation because they don't have a legacy of ratings to maintain. Matta added that while formats work across the pan Arab audience, drama is a more niche offering.
The stories need to be organic and relatable, El Meligi from O3 pointed out. Cultural nuances are the highlight of regional drama, which is defined by where it is produced. Kuwaiti drama and Syrian drama, for instance, have certain traits that are easily recognisable, and such programmes may not work on a pan Arab level.
Attili said that digital has the ability to transcend regional prejudices.
"YouTube is about personalities; it is not about formats. Data shows that YouTube personalities are popular throughout the region, irrespective of their country of birth, if they strike a chord with the viewers. A Kuwaiti YouTube star has a massive following in Saudi Arabia, and similarly, a Syrian vlogger is one of the most popular personalities in Saudi Arabia," Attili explained.
Tarek Amin said that the money is definitely shifting towards digital, although slowly. He also stressed the importance of digital influencers and their ability to drive markets.
"The viewer is in control. More content is being produced specifically for online. A lot of content on TV today was born online, and one sees a reverse movement from online to TV, which is the ultimate goal of many digital stars," he said.
Attili added that social media influencers have a lot of power, but more often than not, they need to be steered in the right direction, as they don't have formal training.
Social media influencers should not be "polluted" by traditional players, El Meligi pointed out: "It's time we shaped up and started producing content that the viewers want. We need to break the 13-episode mould and create something edgy and different to woo audiences."
Matta and Amin seconded that, saying that broadcasters need to harness the power of digital.
Matta made a very interesting point: producers today are in a very good position, as they can think beyond MBC, LBC and the big names and create content for other platforms such as Amazon, Netflix and so on.
According to Sarkis, broadcasters need to rethink the linear method of distribution and aggregate viewership to bring in advertising. They need to disassociate from their method of distribution and own content that can be delivered to wherever audiences want to consume it.
"Digital should be seen as an opportunity in this region. Unlike in the US, where broadcasters are worried that digital offerings will cannibalise their market share, MENA broadcasters are mostly not profitable and should see digital avenues to reach new audiences with targeted programming and use them to make money," Sarkis explained.
Amin said that the digital revolution has had an impact on all industries, not just media and entertainment, and TV should use it as an opportunity to monetise content. Traditional players such as Endemol have a full-fledged digital team; such companies have woken up to the digital revolution and are turning the threat into an opportunity.
The panel agreed that big players should invest now in building a 360-degree experience for viewers and work hand-in-hand with digital players. It's not for the future – they need to act right now.
El Meligi added that programming should be based on the needs of the viewer, who is both intelligent and well-informed. This is more so now, as control has shifted into the viewer's hands, he said.
Fattouh asked Attili if online was suited to short-form content only, and how content creators navigated the war of sorts between platforms.
"People in this region don't have their own local platform. The big international platforms are completely controlled by their policies, algorithms and business models, which don't necessarily work in favour of the creator. Influencers should know how to position and promote themselves on each platform," Attili stated.
According to Attili, the digital sphere is highly competitive and cannot afford unprofitable productions. There is a push to improve quality on digital platforms, as they are being considered more seriously by brands. This phenomenon will be advantageous in the long run for digital content.
Amin reiterated that the value of content lies in its ability to be monetised. It should be backed by data and analytics to bring more value to the table, he added.
Sarkis said: "Quality is contextual. The tension between what a broadcaster is willing to pay and what a producer would like to spend has always existed, regardless of the platform. The two sides meet at a point of economic reality, and that will define quality and format on digital platforms."
The panellists were unanimous in their take on the power of new media and the need for traditional media to adapt to the change. A change in mindset is the key to move forward.